Killie comments
Author: Brian Date: Thursday, 26th Dec 2002

A disappointing result today after a good enough performance, but what did the managers say ?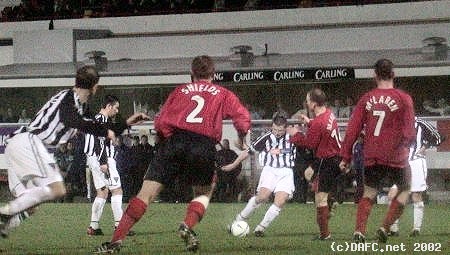 Jimmy Calderwood
Gentlemen `Merry Christmas to you`.

I thought we were tremendous first half, final ball let us down cetain times, but if it was a boxing match it would have been a knock-out at half time !

but you all know in this game you have to score goals, we never did that and Kilmarnock won it, the few chances they got they took them well. It didn`t break for us today, we got the ball kicked off the line, sometimes our choice of pass was wrong, but our final pass let us down in the final 3rd.

It`s a funny feeling sitting here, there`s ways of losing games, they`ve [the players] gave everything, you can`t blame them for effort, at away games when you`ve been really annoyed with them, like Partick, it just wouldn`t happend today, you can look for all the excuses, there`s a lot of disappointed lads in there, I`ve said many times they are a great bunch, we just got to fight back from this. It`s a shame, the record and the other results went for us, but that`s football. I`m disapointed in the result, but not disappointed in the attitude. and I`m normally a very bad loser.
Jim Jefferies
That was terrific, you saw the boys, the conditions, you look at Kilmarnock and look at Dunfermline more physical than us the type of game. You just need to dig in and battle for each other.

We couldn`t go into it with any less confidence because we`ve been on a good run, we said before the game they`ve not been beaten for a long time for any club outside the OF and it was there for us.

I felt Dunfermline had a lot of the ball in the first half and didn`t create very much, we dealt with everything, defended well with Greg Shields.

The second half I just felt the two chances one Dargo put over the bar, great move with one touch football Mahood got in the back of them squared it I felt we could have got across it the defender. I sensed at that time we looked the team more likely to score. It was a good goal, we had to withstand a lot of pressure, a lot of possesion trying to break us down, they were resorting to corners and freekicks trying to cause us a problem, but we coped with that well.

With them always pushing forward I thought we could get a second, put Boyd on and time and time again coming on as a sub and scoring goals. Sometimes it when it comes off its inspired, we got over a bad run because we`ve players back from injury.

We were the last team that won here so it was for us to break the record. It was a good team effort.
Barry Nicholson
Barry was asked about his injury, Its just a light plaster, to wear in the house and at the game, its nothing serious.

Yes, we did work hard today, and there is a lot of disappointed boys down in the dressing room, we thought we did enough to take something from the game. The manager came in to try and get our heads up, certainly wasn`t a lack of effort, a good attitide, it wasn`t going to be our day.

We had a lot of possesion in the first half, we thought we passed it about well, we didn`t want half time to come.

The manager told us to keep playing away and that the chances would come couple of slack goals, a few mistakes from us have let them into the game.

Barry was then asked whether they defending well or was it your final ball ? a bit of both really, we certainly wern`t happy with our final ball, manager told us at half time, we maybe tried to play the killer pass too often rather then keeping the ball and trying to find another opening, and we lost two silly goals.

Obviosuly next two games are really important for us, Parkhead game will take care of itself, but we have to get something from the game against Livingston. We go into every game thinking we have a chance, a lot of people say that you go in with no chance [against OF], but everybody that it would be dead easy for the OF, we`ll get back into training and be up for it on Sunday. Before the cup tie against Rangers the manager said you have to look at teams like motherwell who get results against motherwell so we have to be up for it also.
Related Stories


views: 3,648