Lee Bullen answers your questions!
Author: Jason Barber Date: Monday, 5th Jul 2004

Many thanks go to Lee for taking the time out from his move down South to Sheffield Wednesday. The now ex Pars defender/midfielder/striker/utility man is in the process of moving his family down to Yorkshire but here he answers many of your questions to him: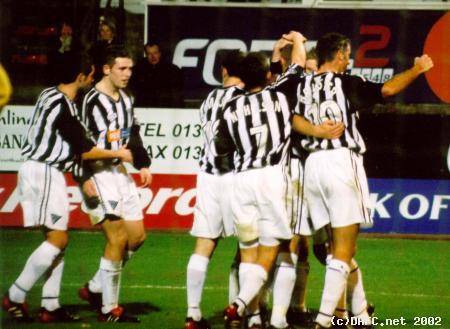 There were quite a few "light hearted" questions asked of Lee, and here he settles a few myths!

1. My hair is naturally ginger and i`m proud to be one of the `master race`! no i`m not irish, scottish 100%. (FALKIRKHATER)

2.The side-burns are a work of art that has taken a long time to perfect ! (GAZ MOUNTAIN)

3.(GIBBO) you can keep the shin-pads as a memento of Hampden 1994.

4.(DA-go PAR ADONIS) Yes i do read dafc.net and will continue to do so. No one poster comes across as being a complete muppet, but I don`t like to see players being singled out for abuse as he has had one or two bad games. No player goes onto the park to play poorly but WE all have off days.

5.(VANOLI FAN CLUB) I would love to receive an invite to the supporters trust golf day then i will be able to accept or decline depending on the schedule of work I may have at the time.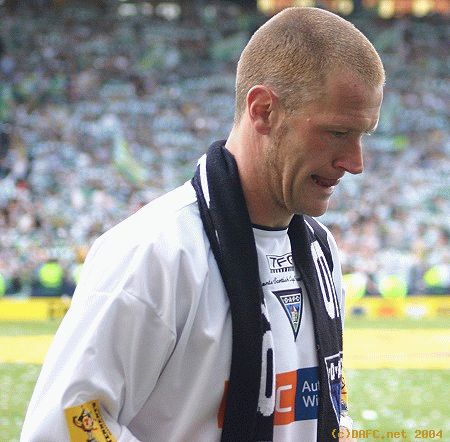 Lee Bullen`s final game for DAFC, Cup Final 2004
Many of you had questions relating to Bullen`s role in the team and also his relationship with ex-head coach, Jimmy Calderwood. Again, he speaks with honesty throughout:

6.(COVENTRYPAR, POMPY PAR, PARS GAL,) if i had known jc was leaving before i had given my word to wednesday, then i could well still be at EEP. But as most of you know the type of person I am, I would not like the `dirty` done on me so I would not do it to anyone else. once i had made the agreement with Chris Turner my mind was set and i started to look at the new challange with excitement. I would like to point out one thing, I did not dislike JC ! the reason i didn`t accept the offer he made to me to stay at EEP was because i was one of a little group of players that it didn`t matter how well you had played on a saturday there was a good chance you would still be dropped for the following week if there was a full squad to choose from. As a player, you accept that you will probably get dropped if you have a stinker on the saturday but you also like to think if you have done well then you deserve another chance the next week. That`s what i think anyway but mabe not everyone.

7.I have no real comment to make on JC`s cup final selection, that is his decision but I will say that it is the lowest I have felt in football when I was informed on the Thursday morning before the game. Even worse than when I was told I was being put on the transfer list.

8.(SQUIRREL DODGER) I`ve got to say that I prefer the more
traditional black/white stripe top rather than the new one.

9.(POMPY PAR) Overall feeling in the changing room was that the players would much rather play on grass every matchday, but we did enjoy training on it every day.

10.(DEEPAR)I very much hope to be at the european games this season. maybe even doing the radio with BBC.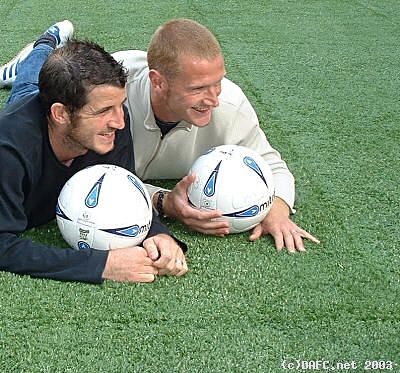 Bully and Stevie Crawford
test out the XL turf!
Finally, I would like to wish everyone (Players, new management, fans, board members, staff etc...) all the very best of luck this season and hope to see a few of you soon.

thanks for the memories

Lee Bullen

www.dafc.net would just like to add our kind thanks to Lee for his interest in the website and for taking the time out to read what we have to say!

On a personal note, I`m sure it will not be long before he returns to East End Park in either a working capacity, or purely as a spectator. One thing is for sure, he is guaranteed a warm welcome back anytime.

Thanks once again to Lee Bullen.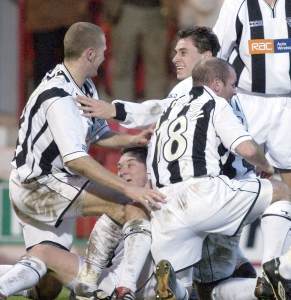 Another Bullen goal celebration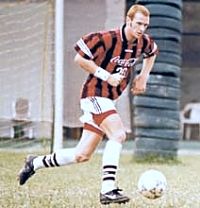 Bully in Hong Kong,
gliding past some tyres!
Related Stories


views: 6,855