Lee Makel poised to sign for the Pars.
Author: Neil Farrell Date: Thursday, 30th Dec 2004

Under fire Pars boss Davie Hay is this week poised to sign his former Livingston midfielder Lee Makel (31) back to Scotland, after his family failed to settle in the South of England.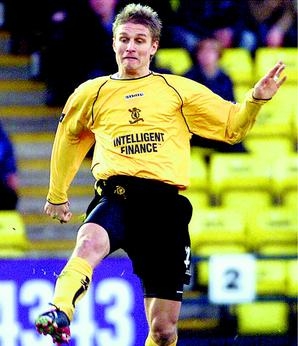 The Pilgrims playmaker has been involved in talks with both David Hay and Jim Leishman since deciding that his family is unable to settle down South.

Former Killie and Hibs boss Bobby Willianson has cancelled his contract to accomodate the return to Scotland. He told the Pilgrims` official website "We wish him all the best. It is dissapointing things did not work out."

Pars chairman John Yorkston told BBC Sport: "We have come to an agreement with his agent and with Plymouth and it should be done and dusted shortly."
Despite family troubles Makel has made 13 starts and six substitute appearances for Plymouth Argyle.

Lee told the Pilgrims` official site "My decision has nothing to do with Argyle, or the city itself."

" The city`s great, the club is up and coming, and the other players will come down here and have a really good time."

"However, my wife and I just want to be happy and neither of us are all that content at the moment. I come in from training every day and Claire can see I`m unhappy and it`s difficult for her as this is her first time away from home. Also, all her family are back in Scotland."

All here at www.DAFC.net welcome Lee back to Scottish football and wish him all the best in his Pars career.
Related Stories


views: 4,655