MARV-E-LLOUS!!
Date: Monday, 30th Dec 2019

There was ill concealed delight around East End Park on Saturday as the wonderful news broke that life long Superfan Marvyn Stewart had received the BEM in the New Year`s Honours List.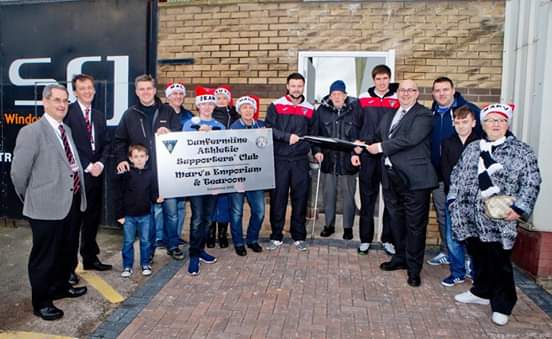 There was a heartfelt round of applause from the Stands before the game. Chairman Ross McArthur spoke for us all in his warm tribute to all the self effacing Marv has done for the club and the Community.

He said that she epitomises what our club is about and she had contributed so very much since the dark days of Administration.

It was as recently as May that the Scottish Football Supporters` Association chose her for the prestigious "Fan Of The Year" award for raising more than £50,000 from her fund raising efforts.

As News broke of her BEM, Marv typically echoed her words of last May in saying, sincerely, that the award was not just for her but for all those who came together to help the Club.

The Pars are fortunate in having a large unpaid dedicated army of volunteers who commit long hours to the Club and whose efforts are indispensable.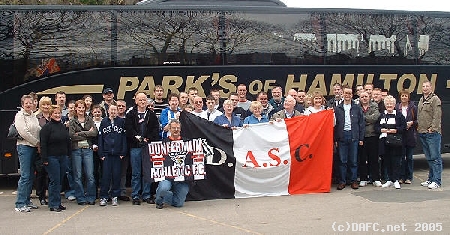 On the Pars Fans Forum she recalled the days of selling Pars merchandise outside the East End of the main stand with Kenny Cowan before such goods were available in the town. These were in the days before the DASC Donation Shop and Marv`s tea room.

Known affectionately as Marv`s emporium, it started as a way of raising cash as fans donated tops, strips, programmes, Pars books, scarves, Team photos, plaques and other memorabilia.

Supporters of all clubs received a warm welcome as they popped in for a hot drink and snacks. Soon she was posting on other Clubs` Forums so word soon got around.



Marv is quick to pay tribute to Ross McArthur, Bob Garmory, Jim Thomson; her army of unpaid volunteers and the local Community.

"We never have to pay for coffee,tea and sugar" she quips!

Marv has had a difficult time of late but this will have brought much pride and happiness to her husband, George, and her two daughters.

And yes you WILL have to curtesy as you enter her shop or bow when you next meet her on the Dunfermline Athletic Supporters` Bus!!

JL.



views: 1,211