Management team cleared out of East End Park
Author: Jason Barber Date: Monday, 2nd May 2005

It has been officially confirmed that Davie Hay, Billy Kirkwood and Paul Hegarty are all now leaving East End Park. A short term replacement will be put in place before the Dundee game on Saturday, who will have the sole task of getting Dunfermline off the bottom of the league. Here we take a look back at the short lived Hay era.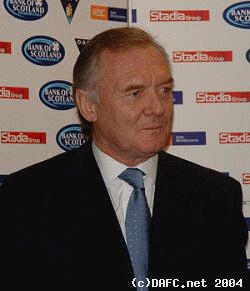 Hay was appointed on the 17th June 2004, and his departure (officially by mutual consent) on the 2nd May 2005 makes him one of the shortest serving managers in the club`s long history.

Whilst no one expected the success of last season to be repeated, it is doubtful that anyone would have foreseen just such a plummet down the league.

With a squad reduced through pay cuts and players leaving at the end of their contracts, Hay was always going to have to find bargain basement solutions.

All smiles when Kirkwood joined Hay, they did not last
Simon Donnelly was the first signing made by Hay, picked up as he was out of contract with St. Johnstone.

The pre season injury to experienced front man, Craig Brewster, did not auger well for the new potential pairing up front.

The first match Hay took charge of was an uninspiring 1-1 home draw to Clyde in a pre season friendly, with Gary Dempsey saving our blushes thanks to a last minute free kick.

Away matches to Queen of the South, Arbroath and East Fife gave the management time to assess their players before heading over to Holland. One win out of four (against Dutch amateur side Vogido) was hardly ideal preparation for the UEFA adventure that lay ahead.
A crowd of 6,512 attended East End Park for the opening match of the 04/05 season against Dundee United. Andy Tod scored the first official goal of the Hay era, though the soon to be regular scoreline of 1-1 was the final result.

Hundreds of Pars fans then travelled out to Iceland and experience record high temperatures in a fantastic black and white party. As soon as the match started, however, things started to turn sour. 2-0 down against the part timers, Brewster was brought back from injury to try and salvage some pride before the home leg. Skerla and Brewster did just that and 2-2 was not that bad a result considering the lacklustre performance.
A sore 2-0 defeat to newly promoted Inverness occured after returning from Iceland, as well as a defeat away to Kilmarnock. Another 1-1 draw, at home to Motherwell this time, meant that the first win was a 1-0 victory over Hearts on the 19th September 2004. Levein may have rested some players, but everyone was grateful for the three points courtesy of Barry Nicholson`s superb goal.

Further poor results soon followed though. A 2-0 loss at Livingston saw a truly awful Pars performance, yet back to back wins in Dundee against both sides on Tannadice street did well to get points on the board. In between the Dundee trips, Dunfermline narrowly lost out 2-1 at home to Rangers.
Those Dundee victories have since proven to be the ONLY away wins all season though, a truly abysmal statistic.

A fantastic 4-1 home win over Kilmarnock again gave false hope that improvement was not far away. Points were dropped however at home to Inverness, Livingston and Celtic.

The New Year game saw ANOTHER false dawn! 3-1 victors over Dundee saw a great performance, one that belied the league position.

A very weak exit from the Scottish cup saw many Pars fans leave early as we went 2-0 down in the opening minutes and feelings were often boiling over amongst Pars fans who were tired of the performances, results and excuses given for the ongoing failures.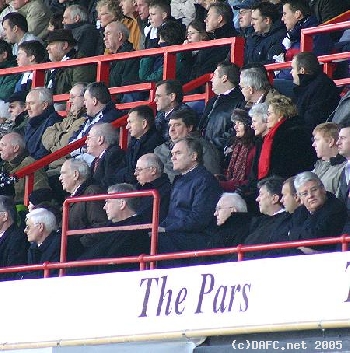 Hay was often criticsed for his style




The second visit of Jimmy Calderwood`s Aberdeen side seemed to finally inspire some blood and thunder into Hay as he was given a rather sneaky dig by Calderwood in the press. Hay was finally seen to show his battling side as he responded with great dignity, whilst privately seething. It worked as Dunfermline beat The Dons 2-1. Alas, it was false dawn time once again and as things stand, that is the last game Dunfermline won.

In the 14 games since the New Year win over Dundee, that Aberdeen game is the sole victory. A run of results which has now seen Dunfermline hit the bottom of the league for the first time this season.

Dundee United and Livingston have improved greatly in recent weeks, with United having sacked Ian McCall and appearing all the better for doing so.

Davie Hay now joins him at the managerial job centre, with Billy Kirkwood and Paul Hegarty also looking to jump back onto the Scottish football management roundabout.

Not too many victories, all too few goals. Hay conducted himself well throughout his time with Dunfermline Athletic, but as he often quoted himself "Results matter"

Jim Leishman must surely now be appointed as the caretaker manager for the remaining three games. A full article will follow once an announcement is made by Dunfermline Athletic FC.



views: 5,049