Managerless Pars take on managerless Jambos
Author: Jason Barber Date: Thursday, 26th Oct 2006

The second Jim Leishman era at Dunfermline ended earlier this week, with Leish deciding to revert to his behind the scenes role as Director of Football rather than the man in the firing line as head coach. With Dunfermline having suffered their only heavy defeat of the season at home to Hibs on Monday night, the manager was under pressure from a disgruntled support. However, the players will now find themselves in the spotlight at management can no longer absorb all the blame for their lacklustre performances in recent weeks.
Craig Robertson is taking charge of the team on Saturday in a caretaker role, whilst rumours abound that Craig Levein is about to make the short journey from Pratt Street in Kirkcaldy along to East End Park. Until anything is signed and sealed, Robertson finds himself in temporary charge of the underperforming Dunfermline first team squad.

Hearts are the opposition in his first, and potentially last, game in charge and they have upheavals of their own to contend with, though that is perhaps not seen a very abnormal situation in this day and age.

First team coach, Valdas Ivanauskas, is on a two week break from his working duties, a rather unique situation in top flight professional football. Sporting Director at Tynecastle, Eduard Malofeev, is himself caretaker manager on Saturday afternoon and will be the man shaking hands with Robertson on the touchline.

With all the off pitch activity hogging the headlines, it is easy to forget that an important SPL match between two comparatively struggling sides is meant to be centre stage. After Dunfermline's capitulation against Hibs on Monday evening, a similar "performance" against their city rivals will do little to enhance reputations amongst a side doing little in terms of results. Three defeats on the bounce, with barely an attempt at goal during those 270 minutes, have seen Dunfermline slip to joint bottom of the table alongside Dundee United.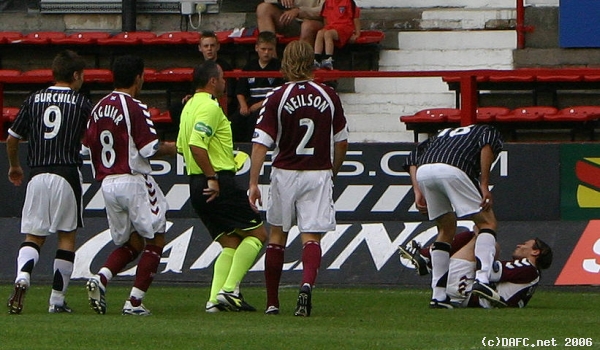 Tod given a second yellow out of nothing. 29th July 2006
Meanwhile, Hearts have yet again proven to be "coupon busters" by stringing together some fine results only to turn in one shocker every now and again, which does little to back up their title ambitions. Clubs which go onto win the title, and as everyone knows it has been either of the Old Firm for twenty years now, don't usually do so whilst losing at home to an off form Kilmarnock. Having already lost at home to St Mirren, and drawn with Falkirk, Hearts have won only half of their home games this season.
Burchill in action last season
As no Dunfermline fans need reminding though, The Pars have yet to win a match away from home after six rather long and drawn out attempts. A solitary point was gleaned from the trip to Tannadice, since then it has only been defeats. On a plus point, Stevie Crawford did manage to score the only away goal of 06/07 so far at Motherwell recently………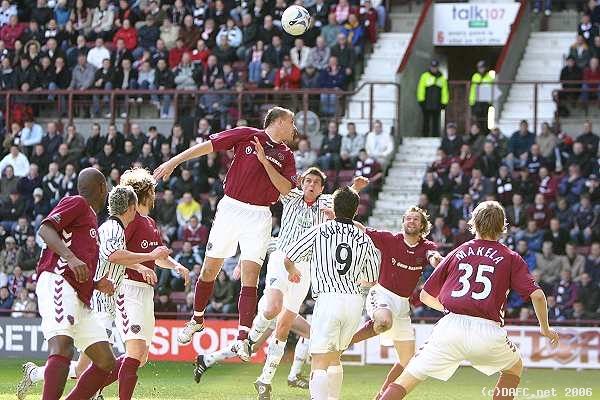 Pars defending last April




The return of Mark Burchill on Monday saw him line up alongside Crawford and Jim Hamilton (who has yet to open his own account) Robertson is unlikely to keep all three for an away trip to Tynecastle, and a change of personnel will be watched with interest in the starting line up.

Dunfermline fans have decent away day prices to look forward to on Saturday. Whilst the majority of SPL clubs seem blind to the price versus value for money argument, Hearts have reduced ticket prices once again for this fixture. Top tier tickets are £15 for adults, whilst lower tier tickets are £12. Concessionary prices are equally well structured to try and encourage as many seats to be filled as possible.


It is now 16 years since Dunfermline last won at Tynecastle, with Jim Leishman's first spell as Pars manager ending with two wins out of two during season 1989/90. Other than Ibrox, it is Dunfermline's worst run of matches without victory in the league and one that has rarely looked like being broken in recent years.

Records are there to be broken, and if the players picked on Saturday can start looking more interested in the task at hand, then we will be in with half a chance against a Hearts team with issues of their own.

COME ON YE PARS!




views: 2,094