Morton 2 - 1 Dunfermline Athletic
Author: Alistair Campbell Date: Saturday, 6th Nov 2010

Dunfermline's title challenge suffered another blow when they went down 2-1 in Greenock. Two defensive errors led to a two-goal deficit at half-time, and despite Gibson's late goal it was too little too late. Other results went the Pars' way, again emphasising the closeness of this division.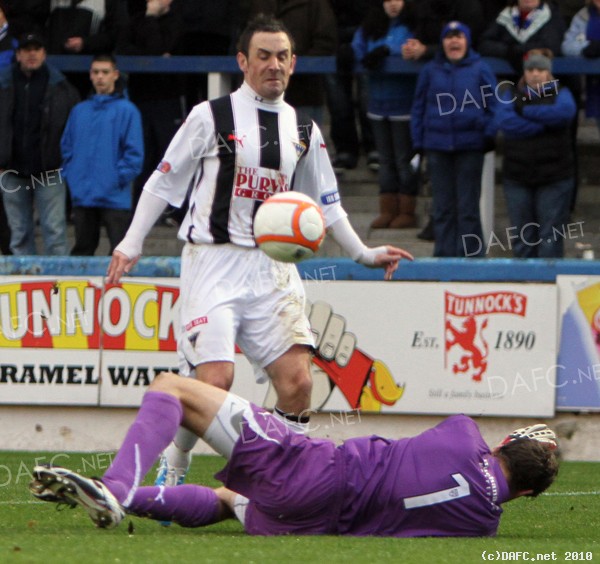 For once the M8 journey through Glasgow was on the smooth side of appalling, and clutching the sausage-based local delicacy of a roll'n'slice'n'tattie scone I took my seat in the cramped Cappielow stand, if not with confidence, then certainly with some optimism.

There were no changes to either the Pars' starting eleven or their bench – Graham continued to keep Cardle out on the left wing, and Chris Smith's facial injury had healed sufficiently to allow him to retain the goal-keeper's jersey. Alex Burke participated in the warm-up but didn't make the cut, Ryan Thomson retaining his place, a fact that would be significant.

On the other hand, Morton made three changes, among them the Cameronian Jonathan Toto coming in for Peter Weatherson, and gave another start to their trialist – who looked a lot like Darren Young.



Stephen Bell hits the ground akwardly




The match was scrappy to begin with, but the Pars looked the likelier of the two sides in the first quarter of an hour. Graham's 8th minute shot took a deflection and looked to be dipping in, only for Colin Stewart to claw the ball away from under his own cross-bar, and the same player had a great chance 3 minutes later when one on one with the keeper after Smyth had let Woods' seemingly harmless forward punt bounce over his head. As the keeper dived at his feet, Graham lofted the ball over him, and was brought crashing to the ground. For a moment it looked like a penalty had been given, but Mr Northcroft was merely indicating the award of a goal-kick.



In 16 minutes we had what may have been the game changing incident. Bell went down under an innocuous challenge, tried to regain his feet, then went back to the turf. On came the stretcher, and a couple of minutes later on came Ryan Thomson for his Pars' league debut. Whilst this was ostensibly a like-for-like replacement, it did necessitate a minor tactical change – whereas before long balls from the back had been aimed at Bell in a forward position on the right, now Clarke would move there to try to win the header (but with less success).



We hadn't seen much of the home team, but that was soon to change. Brian Graham g got down the right midway through the half, but his dangerous looking cross found no takers. Not so 3 minutes later when Graham got his head on a Jenkins cross, but Smith pulled off a fine save low to his right. A corner to the home team, which wasn't properly cleared by David Graham when he had the chance at the edge of the box, Dowie headed it sideways to where Brian Graham was waiting, and he didn't need a second invitation, lashing the ball in at the far post. 1-0 Morton.



The referee continued to baffle and bemuse in equal measure – McKinlay was penalised for stealing too much distance at a shy, yet Woods didn't get to reclaim the lost yardage (and then Thomson passed the ball out of play anyway) – and just before the half-hour Smith got no protection when spilling the ball under challenge from Toto, Higgins clearing off the line. Then to make matters worse Mr Northcroft gave the home team a rather soft penalty. Woods looked to have leant a little on McCaffrey whilst defending a corner, and after a delay the ref pointed to the spot. Carlo Monti stepped up and sent Smith left and the ball right.

Half Time: Ton 2 Pars 0





views: 5,150