Nathan Davies tour of Scottish Grounds in Aid of Ataxia UK.
Author: Nathan Davies aka Tartan Red/ Neil Farrell Date: Saturday, 17th Sep 2005

During the 2005/06 football season, I will be attending as many football grounds and matches as possible in a bid to raise money and awareness for Ataxia UK (Registered Charity Number 1102391). This charity is important to me as I suffer from Friedreich's Ataxia – a rare, progressive disease of the nervous system that has confined me to a wheelchair. Details of my fundraising tour of football grounds can be found on the top of the two links below or for more information on Ataxia UK please visit the bottom of the two links below.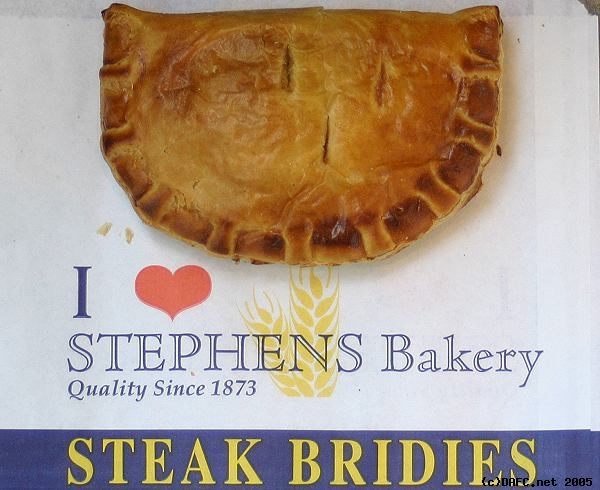 I am writing for your support in this project as on September 17, I will be at East End Park to watch Dunfermline Athletic take on Aberdeen. I would like to boost the fundraising potential of this initiative by collecting football memorabilia to be auctioned on behalf of Ataxia UK. Several Scottish clubs such as Dundee United, Ross County and St Johnstone have already donated signed footballs and I have already raised over £300. My end of season target is £1000.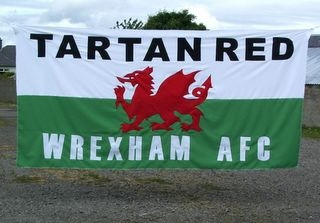 This is the banner that Nathan brings to all the grounds and games he goes to see.
Do you know if Dunfermline Athletic would be able to donate any memorabilia for auction? A signed shirt or signed football would be of enormous help in my fundraising efforts. I would of course keep the club informed on the progress of the auction and the final amount raised. I will also publicise the club`s generosity through my web site. Any donations should be sent to the above address.

Neil here. I had this information passed on to me by the messageboard poster Peter.

Nathan is a Wrexham fan living in Inverness and will be doing a full report on todays game on his website.

The Club has donated a signed football to Nathan for auction to aid him in his quest to raise £1,000 of which £300 has already been raised.

This ball will be presented to Nathan prior to todays game and us all here at DAFC.net wish him well in achieving his goal.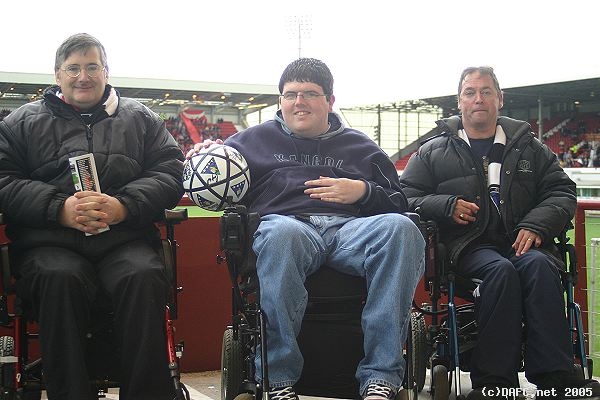 Nathan Davies aka Tartan Red pictured here with Peter (left) and Old Bendo (Ian, right).
Related Stories


views: 2,841