Pars Superstore – Super Sales
Author: DAFC Date: Friday, 20th Dec 2002

Since opening on the 23rd November the new Pars Superstore based at the Kingsgate in Dunfermline has been doing a roaring trade.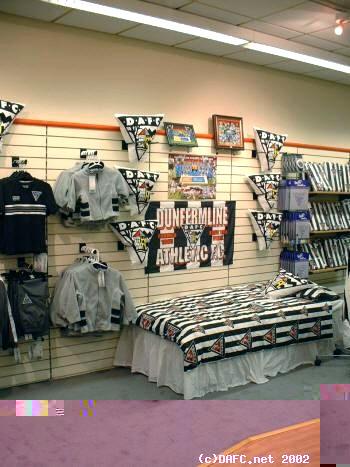 In the first eight days trading the sales surpassed the entire Novembers trade from the previous year. With a trading space of over three times the size of their original shop the level of sales has taken DAFC pleasantly by surprise.

Karen McNeill – Director of Stadia Advisory Services project managed the move from the old premises in Douglas Street and has been responsible for purchasing the vast majority of new merchandise which fans will find in the superstore.

Karen commented 'With a much wider range of stock the superstore is doing a storming trade and the feedback has been great – in some instances we have been selling out which has a positive and negative effect'

There was a real need to update the Club shop and we needed to introduce new product ranges, which we have started to do. We will continue to update the offerings which we have available in the new superstore.

It is essential that DAFC retail operations increases its net contribution back to the club as part of our overall income generation strategy '

'It is easy for fans and their families to show their support of the club through purchasing items at the shop and hope that they will continue to support the club in this way.'

The club superstore is open from 9.30 to 5.30 p.m. Monday to Saturday and is open on Sunday's throughout December.

Related Stories


views: 2,145