Pars head up to Aberdeen as SPL returns!
Author: Jason Barber Date: Thursday, 8th Feb 2007

Whilst Dunfermline have managed to knock out both Rangers and Hearts in the Scottish Cup, with the luxury of four goals scored in the competition, the bread and butter of SPL football still sees us nine points adrift and now eight full matches without a single goal.....
Stephen Kenny`s decision to take his players to La Manga paid dividends last Saturday as Dunfermline won through after a 94th minute winner from Scott Wilson sent Hearts home without even a replay. Any goal, and of course a similar result, could have a much bigger impact on Dunfermline`s season if it could be repeated in the league. Having not scored since Stephen Simmons` last minute consolation against Celtic on the 10th OF DECEMBER!

Two months on and not a jot. Not a scrambled consolation goal deflected off a defender`s backside, no 25 yard volley that is a contender for goal of the season. Nowt! So, time is up and Dunfermline must finally shatter this, frankly embarrassing, record.
In order for our now fully fit compliment of strikers to break that duck, they will need service of course. All too often, some have been too quick to condemn the forwards without remembering that they are barely being given one single good chance in entire matches.

However, Kenny has brought in a couple of (perhaps no longer) secret weapons to provide the ammunition for the strikers to finally work with.

Case in point number one is Jim O`Brien on loan from Celtic. His storming debut against Rangers in the third round of the cup was an excellent introduction into the world of first team football. He may have not quite grabbed the headlines in the last couple of weeks, but his contributions on both flanks have given defenders plenty of problems up to and including the Hearts game last Saturday.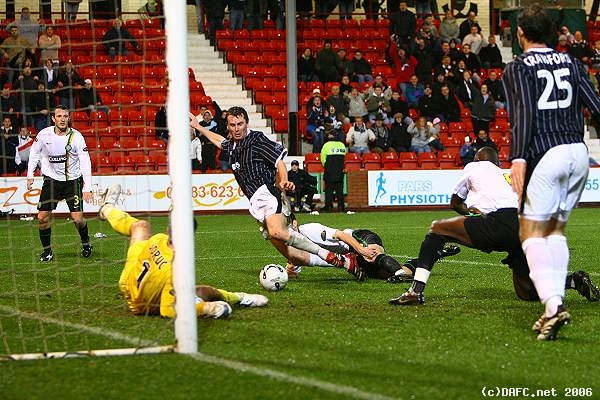 Last SPL goal!
Case in point number two is Adam Hammill on loan from Liverpool. The recently turned 19 year old was given his first start in the cup last weekend after a couple of substitute appearances. At least two Hearts defenders were given the apparently simple task of keeping Hammill at bay during the ninety (four) minutes, but each failed miserably.

A good, almost old fashioned in the current footballing world, display of tricks and teases tied the defence in knots as Hammill seemed to grow in confidence with every opportunity.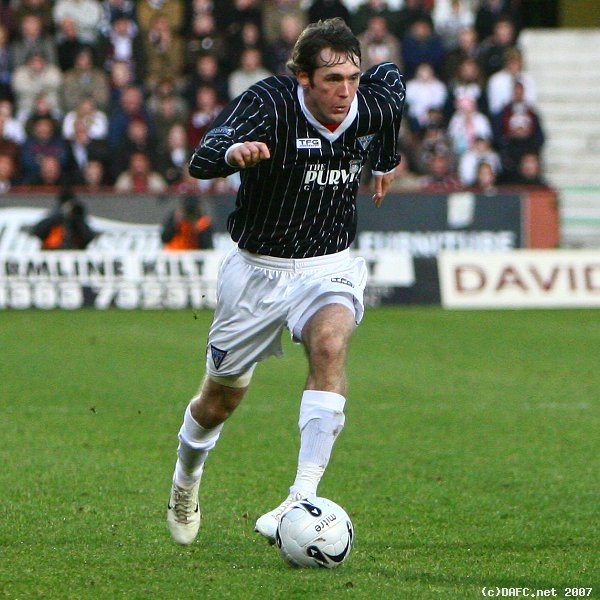 Jim O`Brien
Aberdeen scouted the match last weekend in the form of manager Jimmy Calderwood, a well known figure round these parts. Since leaving Dunfermline in the summer of 2004 (in circumstances which will no doubt be debated for many a quiet moment for years to come) he has improved Aberdeen`s league position year on year, as was the case at Dunfermline. However, the same complaints seem to be eminating from him with regards to lack of finance (!) and crowds not increasing as he sees fit from time to time. Possibly a case of deja vu there?
Adam Hammill, scorer for England U19s midweek




On the park, he has a team which has been challenging for second place for most of this season, behind clear leaders Celtic. Aberdeen are sitting four points behind the once again media darlings that are Rangers, with Hearts one point behind the Dons and the inconsistent Hibs a further two points back.

With Hearts (and of course Rangers!) now out the cup, teams such as Aberdeen need Celtic to reach the cup final itself to allow a European place to be awarded to the side finishing in fourth place. Rangers will no doubt be hot favourites to finish in second place now, despite their main problem of fielding incredibly average players, leaving a tight battle between Aberdeen and the two Edinburgh sides for the other European spot guaranteed by finishing in third place.

Amongst the gathering of players facing their old club this Saturday, Jamie Langfield has been in the spotlight this week. Having been signed by Calderwood at both Dunfermline and Aberdeen, Langfield came on as a sub for the Scotland B team this week. Prior to this, Calderwood proclaimed, without a hint of sarcasm, that Langfield was in fact the best Scottish goalkeeper behind Craig Gordon. Aberdeen fans who have witnessed some very high profile errors may disagree with that assessment, but football is all about opinions, or so we are often told.



views: 4,335