Pars in Scotland `Future` Squad
Author: J Barber Date: Friday, 29th Nov 2002

Following on from Stevie Crawford cementing his place in the full Scotland team, two of his team mates are now hoping to follow in his footsteps....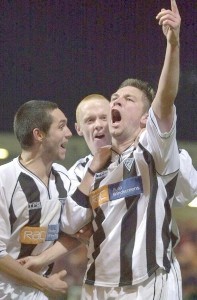 Both Barry Nicholson and Scott Wilson have been selected by Bertie Vogts for the Scotland Future Squad, who are playing against their German counterparts next month.

This is essentially a Scotland `B` cap that is up for grabs and gives both players a fantastic opportunity to try and force their way into the full squad for the rest of the Euro 2004 plans.

Barry Nicholson has previously won two full Scotland caps whilst at Dunfermline, against Poland and Latvia under Craig Brown, but has yet to feature in any of Vogts` plans.

Scott Wilson has excelled since joining Dunfermline at the start of the season. The solid centre half has put in numerous performances which led many to speculate as to how soon he would be given a chance at international level.

His debut apart (thankfully) he has shown how good a signing he has been for the club and a full cap should hopefully follow on from this reserve match.

Congratulations to both players on their selection. Given the chance, we are sure they will prove to Bertie Vogts that they are more than capable of serving the full Scotland team well.
Related Stories


views: 2,233