Pars lose at Tannadice.....
Author: DAFC.net Date: Saturday, 31st Jan 2004

Dunfermline lost out at Tannadice in yet another away day shocker against lowly Dundee United.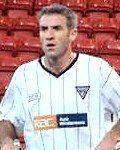 Dunfermline travelled to Tannadice in the hope of getting all the points today. After only one defeat in 11 games, The Pars lined up with the following side:

Stillie, Shields, Labonte, Wilson, Skerla, Thomson, Darren Young, Mason, Nicholson with Derek Young and Stevie Crawford up front.

Craig Brewster missed out through injury, as expected. A very slow burner of a first half saw the sides go in at the break still deadlocked at 0-0. To say there were few incidents up to this point would be putting it mildly!

A couple of half chances were not taken and the Pars fans who made the trip North must have been thinking it was going to be yet another one of those days. Stevie Crawford made a great header which brought out an even better save from Gallagher in Dunfermline`s best chance of the day.

The poor weather conditions perhaps played on the minds of players on both sides, with neither team really getting to grips with any sort of passing game.
The second half saw a change of formation with Jimmy Calderwood moving to a back three, Andy Tod replacing Aaron Labonte.

However, the first major incident in the second half saw Dundee United take the lead. In the 57th minute, Jim McIntyre put the hosts ahead with a vital drive. Charlie Miller was allowed far too much time to dwell on the ball and must have thought it was Christmas all over again as he picked out McIntyre. Miller, Dodds and Kerr were allowed to boss the game throughout and never allowed Dunfermline any serious amounts of possession during the match.

Noel Hunt and then Gary Dempsey were brought on from the bench but were not able to change the course of the game.

A late flurry never materialised and a poor show resulted in Dunfermline getting exactly what they deserved on the day, nothing.

The final whistle went with Ian McCall being the far happier of the managers, no doubt confirming his rantings about the Dunfermline pitch being the deciding factor in the recent East End Park clashes. Perhaps a Dunfermline team able to show any sort of consistency week to week would have made a difference, but yet another poor away performance means The Pars have missed another chance to go third place in the SPL.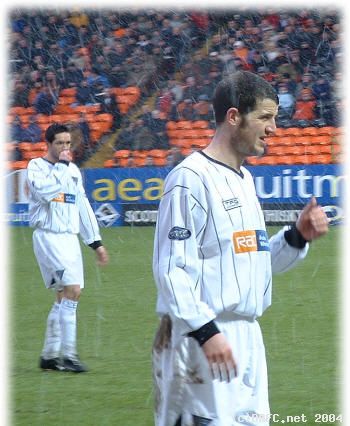 Pars missingthe
injured Brewster
going down 1-0
Who knows if another gilt edged chance will be provided over the next few weeks? If it is, the safe money will be on Dunfermline not getting the vital points based on performances like todays unfortunately.

FULL MATCH REPORT WILL BE POSTED ON WWW.DAFC.NET TOMORROW!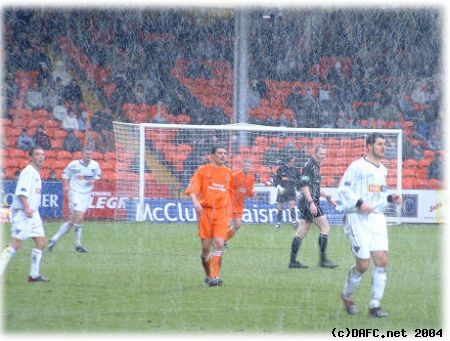 The conditions turned very
snow during spells of
the game. 31st Jan 2004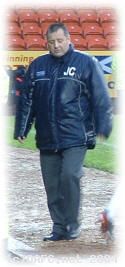 Calderwood not happy
goinfg down 1-0
at Tannadice




views: 2,732