Partick Thistle 2 - 0 Dunfermline Athletic
Author: Alistair Campbell Date: Saturday, 19th Sep 2009

A goal in each half is more than enough to beat the Pars. McCann flogs the first to Cairney before Simon Donnelly adds a second. Kirk's effort off the cross-bar is as close as we come.


Partick Thistle were celebrating 100 years at Firhill - but there have been precious few thrills in Maryhill recently as far as the Pars have been concerned; and after last week's performance at Dundee fans travelled more in hope than expectation. Regrettably, having experienced 9 miles of slow moving traffic travelling through Glasgow last month, I made a complete hash of timing my departure and thus arrived in plenty of time for kick-off, whereas sitting stationary on the M8 before arriving 2 hours late would have been a much more enjoyable option - this really was dire stuff.


Bell was injured and Gibson had returned from suspension, so the latter started, as did Phinn. McDougall and Higgins disappeared completely but Holmes and young Jordan White featured on a bench that had more balance about it. The rest of the line-up was predictable- Fleming in goals, Woods, McGregor, Dowie and McCann along the back, Gibson, Burke Phinn and Cardle in the middle and Kirk and Bayne looking to end a mini-drought at the front.

The home team also lined up in a 4-4-2, but in a celebratory, if slightly unsettling, navy-blue strip and featured ex-Pars Simon Donnelly in the starting line up and Jim Hamilton on the bench. Liam Buchanan, frequent scorer of goals against Dunfermline, was suspended after his red card against Rovers.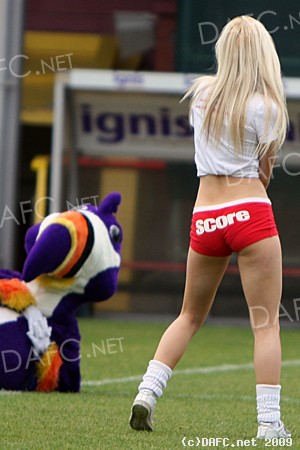 The pars fail to score in another game
Early exchanges were scrappy, with McCann not being firm enough with an early tackle allowing Cairney to squeeze through and even though the midfielder slipped, he was still given enough time to lay the ball back to Donnelly, but Simon couldn't find the target. Donnelly had another chance in 8 minutes after McGregor failed to get the ball away but again it only resulted in a Pars goal kick.

After Fleming had saved comfortably from Cairney, the game's first corner arrived on the quarter hour. Kirk had chased the ball to the corner, and eventually found Gibson but the winger's effort from distance was blocked - Burke's corner was headed clear to Woods but the full back couldn't control.


Woods did have an effort from distance 10 minutes later but it was always rising and Jonny Tuffey wasn't bothered. At the other end, Fleming looked in trouble twice in as many minutes - first flapping at a free-kick after McGregor had been penalised for climbing, then having to scramble across his goal as an inswinger from Erskine crept past the far post.

McCann gave away a free-kick just at the edge of the D just before the half hour and the travelling support was relieved to see Donnelly's effort after Hodge's dummy go over the top. Hodge tried his luck shortly after from about 30 yards, the ball going through a ruck of players but again Fleming didn't need to save.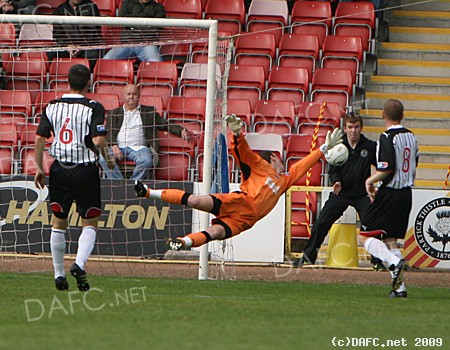 Fleming under pressure early on
However, Thistle were gifted a goal on 39 minutes. McGregor played the ball across the back to McCann, who, under no real pressure, woefully under-hit his pass back. Cairney nipped in, rounded the keeper and slotted home from an acute angle. 1-0 Thistle, and as McCann held his head in shame, his number 3 was held aloft by the Pars bench. Hooked - for Muirhead.

After being barely able to string a pass together, the Pars suddenly created two good chances - first Muirhead went down the left and slung in a cross which Kirk got a boot on, but his hooked effort crashed off the bar, and then just before the break Burke intercepted a poor Thistle pass and set Cardle clear. Paton was lucky that his high challenge got something of the ball putting it out for a shy, Muirhead's long throw eventually finding Phinn, but Tuffey saved well.

A poor half from the Pars' perspective and a very poor goal to lose; Thistle just about worth their lead a the interval.

Half Time: Jags 1 Pars 0.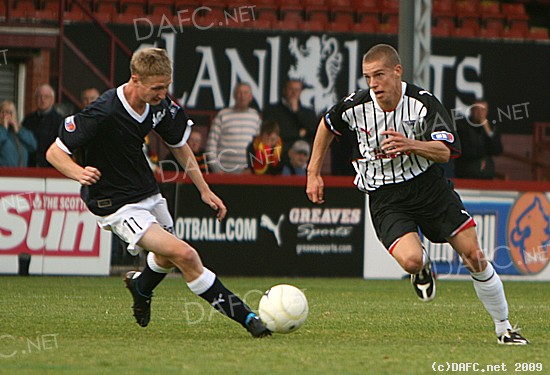 Woods attacking




As always, Jonny Tuffey was first out after the break for his warm-up but when he was eventually joined by the other 21 players it was clear that there had been no more changes. The Pars started slightly the better, Bayne not only winning a rare header, but also getting it on target, the fully warmed up Tuffey not being particularly tested. Shortly after Bayne stretched to get on the end of a deep Woods cross but could find neither power nor direction and the ball rolled harmlessly over the bye-line.

Cardle and Gibson were not being terribly effective (to be fair this was a charge that could be levied at virtually the entire team) and swapped wings 10 minutes into the second half, although it was entirely co-incidental that the Pars soon came as close to scoring as they would all half - Burke took the time 25 yards out to work the ball onto his left foot and sent in a drive that looked as if it would dip over Tuffey but the Northern Irishman stuck out a hand at the last second and tipped the ball over the bar.





views: 6,883