Saturdays game - extra.
Author: Neil Farrell Date: Sunday, 13th Feb 2005

The feel good factor returned to East End Park yesterday whith an emphatic horsing of Jimmy Calderwood`s Aberdeen.

It was a happy day all round for the club and for www.DAFC.net.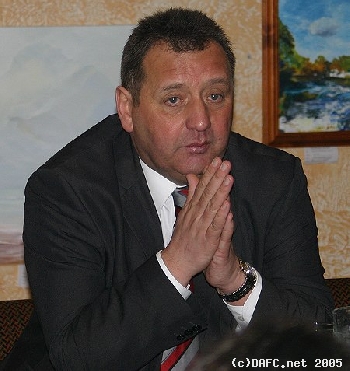 Jimmy Calderwood did all the talking in the papers during the week and the Pars did all their talking on the pitch.

It was ironic that the only Pars player that he actually managed to "steal" for a knock-down price cost his side at least a point. Ritchie "Rio Ferdinand" Byrne has made a miraculous recovery from injury (praise the Lord!)and it was his shortcomings (which was highlighted by Calderwood at the post-match press conference), that allowed Donnely through to score at the second attempt (below).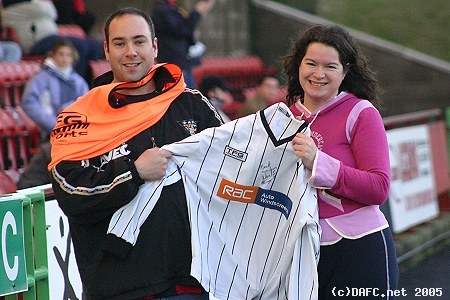 www.DAFC.net presents Noel Hunt`s home top to Lorna Morton for her `substancial` donation to the camera lens fund.The top is presented by DAFC.net`s Neil Farrell.
This result was poetic justice after Jimmy Calderwood angered many at East End, including the Reverend Hay, by bumping his gums to his media chums at every opportunity in the week leading up to the game.

Jimmy was not so talkative at the post-match press conference yesterday (below), nor were there any wise-cracks sadly, which was a common feature after the Pars had lost a game when he was manager.
The funds for the camera lens are still rolling in and yesterday www.DAFC.net thanked Lorna Morton (aka Buffy on the messageboard) for her "substantial" contribution to the fund.
On the trackside before the game she was presented with Noel Hunt`s signed home top from last season which DAFC.net sponsors every year. Many thanks again Lorna. Thanks too go to Alex the tannoy announcer for his help at such short notice.
We now have invested in connectivity for uploading information before, during and after the games. After a few technical difficulties the experiment was a success and will be fully exploited at next week`s away game at Kilmarnock. The "Just In", brief summary, stats, index picture for the frontpage as well as a couple of action shots (simliar to the one below), will be uploaded before we leave the ground. This hardware was paid for by the money generated by people clicking on the adverts...so keep clicking!
Thanks to everryone for their continued support and COME ON YE PARS!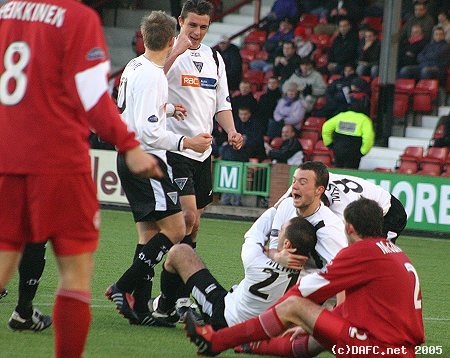 Billy Mehmet celebrates (3).
Related Stories


views: 3,258