Scott Thomson interview prior to his testimonial
Author: www.scottthomson.net Date: Monday, 23rd Jul 2007

Scott Thomson has been interviewed ahead of his testimonial match against Manchester United on the 8th of August, when his own hero brings his current side North of the border:
When a tiny wee lad called Scott Thomson was asked to come and see the heavenly dancers there was only place in old Aberdeen that this local was going. His northern lights were at Pittodrie, it was on his doorstep and the wonderful sight was following this home town club through its best years. Understandably it is the greatest privilege for him to have Sir Alex Ferguson bring a Manchester United team north for his Testimonial match.
Dunfermline Athletic will face the Red Devils on Wednesday 8th August in the first ever fixture between the clubs as Scott Thomson`s contribution over ten seasons at East End Park is marked.

Sir Alex Ferguson was a hero in the Granite City long before he brought honours to Old Trafford and Scott was a keen supporter of Fergie`s Dons as they won back to back league titles and lifted the Scottish Cup four times in five seasons. Scott will be proud to meet Sir Alex in August but he was equally proud the first time they met:-
"When I was 11 year old and just started playing boys club football, I began going to Aberdeen games. Fergie was the Manager, I met him once and had a photo taken with him but I don`t know where it is now. I used to go in and train at Aberdeen from under 11 to under 16s and the first team squad also used to train in Seaton Park near my home. I had photos taken with a lot of the players - big Alex McLeish, Willie Miller, Gordon Strachan and Neil Simpson. Big Alex says that he doesn`t remember me!"

When the youth teams trained at Pittodrie Scott crossed paths with Alex Ferguson and he was as gutted like every Aberdeen supporter when Fergie left to become Manchester United Manager on 7th November 1986.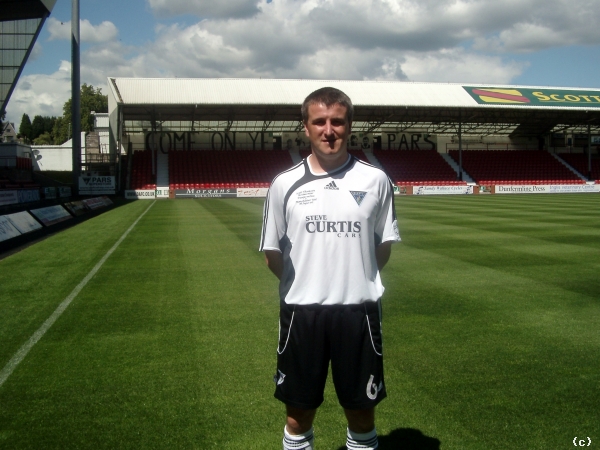 Nipper models the unique kit that will be worn v Man U
"I used to run and get my paper round done at 100 mph so that I could get to Pittodrie to train. Everyone was gutted at the time because they all knew what he had achieved. Any Manager leaving a big club brings a reaction from the fans, they are not happy, the Aberdeen fans were devastated. A lot of my mates followed Manchester United and Fergie`s progress."

Scott Thomson too was to leave Aberdeen for England but to Shrewsbury. He soon returned to Brechin City and was 19 when went home to sign for the club that he supported.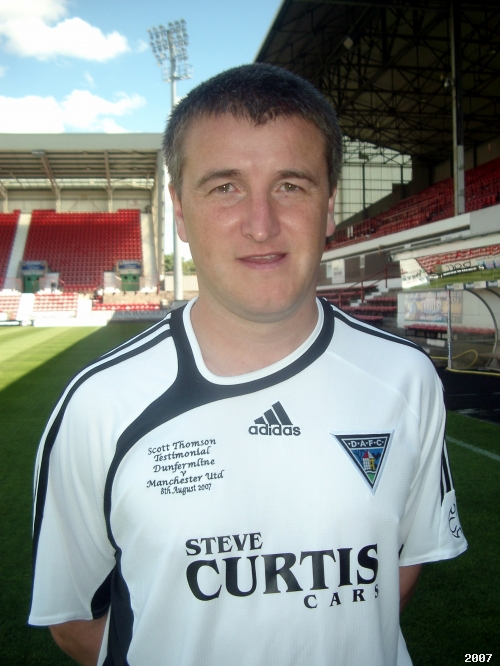 Scott Thomson prepares for the visit of his hero, Sir Alex
"When I signed for Aberdeen it was unbelievable for me. I was in at eight o`clock and Teddy Scott was telling me `you don`t need to be in here until ten o`clock` but I thought, I`m playing for Aberdeen - I am coming in early.
To my surprise as well Alex Smith said `you are straight in to the first team dressing room, that`s where you belong`."

Manager Smith sat Scott in the dressing room explaining that the boys would come round and introduce themselves to him. For the life long Don that was totally unnecessary:-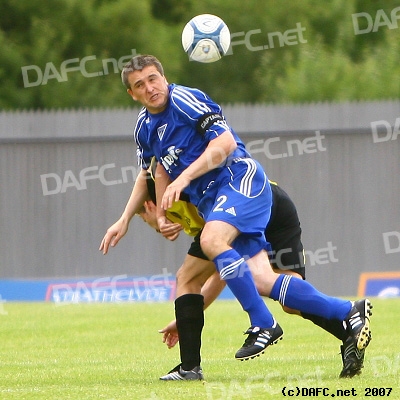 Nipperback in action last week




"They didn`t need to introduce themselves, I loved every one of them. Jim Bett was my favourite - the best player I ever played with - there was Stewart McKimmie, Alex McLeish, Brian Grant, Brian Irvine, Theo Ten Caat, Theo Snelders. All these international players coming over and introducing themselves to me, I couldn`t believe what was happening, that was something else and one of the funniest days of my life."

Scott`s father James and his grandfather before him were Rangers supporters but his uncles supported the Dons and it was they who took him to stand on the terracing at the Beach end where the Dick Donald Stand now stands.

"My Dad wouldn`t have watched Aberdeen if they were playing in the back garden but Aberdeen is the only team I ever wanted to follow. I was born in Seaton only 500 yards from Pittodrie and I always say `support your home town team`. One of the first games I can remember is a game against Dundee United, Eamonn Bannon scored and we got beat and I have hated him ever since.

"It was a really good time to be an Aberdeen supporter. They won the Scottish Premier Division in 1984 and 1985, the Scottish Cup in 1982, 1983, 1984 and 1986, the European Cup Winners Cup in 1983 and the European Super Cup the following season."



views: 4,443