Standing at Football matches
Author: Brian Duncan Date: Saturday, 14th Jan 2006

Standing at football matches in recent years has been a thorny issue, but now Rock Steady have solved the problem !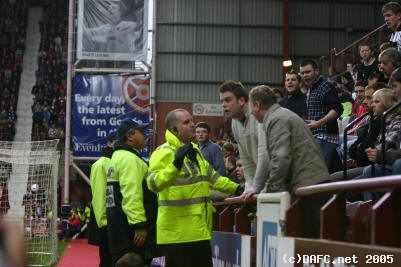 On a recent trip to Tynecastle where a number of Pars fans were ejected from the ground for standing there was an obvious double-standard stance taken by Rock Steady.

Looking at the pictures you can clearly see that in thre Hearts home enclosure all 500 or so fans were standing under the watchfull eye of the Rock Steady supervisor.

Yet, when one Pars fan stood up they were forcable ejected from the stadium.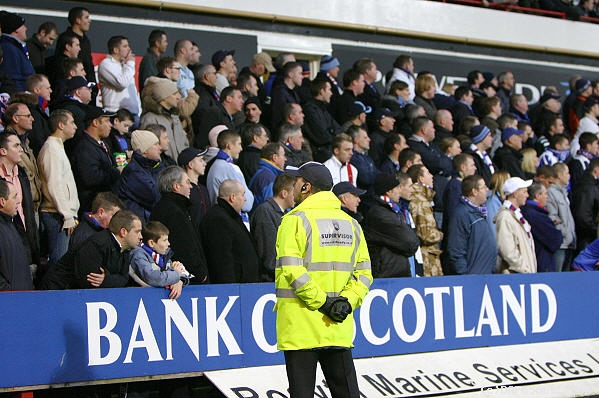 Rock Steady have obviously decided the rules can be relaxed in certain areas of the stadium. Boxing Day, 26th Dec 2005.
At the recent match at East End Park on Boxing Day, Dunfermline were host to Rangers, and as you can see from the images below Rock Steady again were happy for fans to stand during the game.
So the lesson here is if you are in certain areas of the stadium you are allowed to stand - as evidence of Rock Steady images clearly show.

I would think that from this you can deduce that in the North West stand or the enclosure you are quite welcome to stand. I`m sure many fans will be heartened by this news.

The moral is if all stand up then you are fine, if one or two stand up you are not. Please be sensible about the standing at football matches, but if you are in a large crowd Rock Steady or the Police will not throw you out.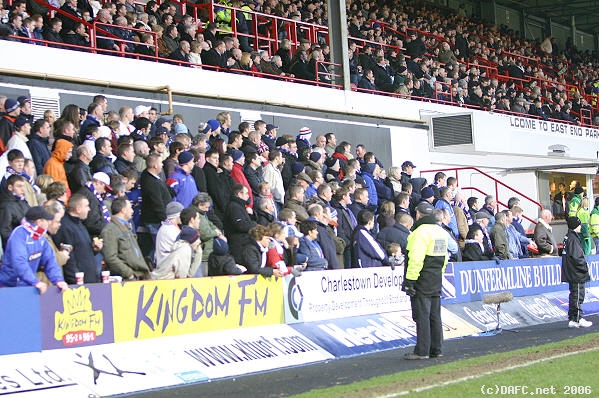 As mentioned standing at East End Park now seems to be allowed by Rock Steady. 26 Dec 2005




views: 8,839