Stevie Crawford leaves DAFC.....
Author: Jason Barber Date: Monday, 14th Jun 2004

Crawford has turned down the club`s final offer of a new deal, and chairman John Yorkston has confirmed that Craw will not be playing in a Pars shirt next season. Instead he will be plying his trade at Home Park. Here we take a look back over the highs, and lows, of his five years with the club.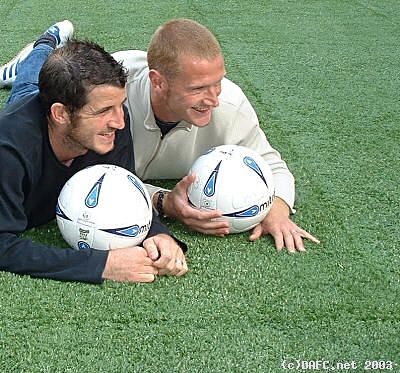 Stevie Crawford started his career at East End Park, however then manager Ian Munro released him! Starks Park was next up on his footballing CV as a successful spell under Jimmy Nicholl`s management saw him win both the League Cup and First Division with the Wee Team.

A brief spell at Millwall saw him end up top scorer there as well, though he quickly returned North when Hibs came in for him. Despite being top scorer during their 1998/99 first division triumph, Crawford was allowed to go on loan by then Hibs boss Alex McLeish.

Dick Campbell took the chance on Crawford and his debut came in a 3-1 defeat at Love Street on the 30th October 1999. Campbell "resigned" just three days later!

With Jimmy Nicholl in temporary charge, Crawford shone. Doubles against both Livingston and Falkirk got his goals tally up and running in the black and white of Dunfermline.

An interested spectator during the 3-1 win at Brockville was Jimmy Calderwood, who later said he would have been interested in signing Crawford for NEC Nijmegen had he not been successful in getting the Pars job.

The loan deal became a permanent one and Crawford became a fully fledged Pars player once Calderwood was in the hot seat. 16 goals in just 25 games saw Craw end up as the only player to hit double figures during the promotion campaign.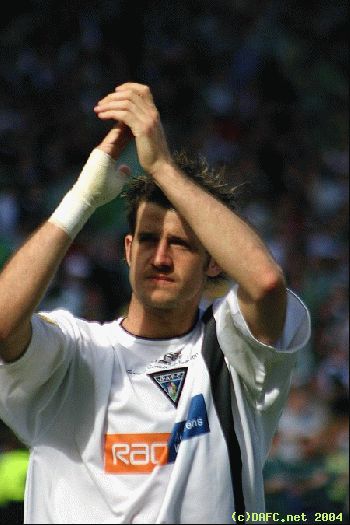 Stevie`s last game for DAFC at Cup Final 2004
Back into the SPL for season 2000/01 and Crawford found himself as Dunfermline`s main hope for goals. Having partnered both Owen Coyle and Lee Bullen in the first division, he found himself without a regular hitman alongside him.

Coyle, Bullen, Tomas Danilevicius, Marinus Dijkhuizen, Davie Graham, Steven Hampshire, Junior Mendes and Davie Moss were all to play alongside Crawford at one point during the season!

The lack of understanding between striker was evident as the team struggled to score on a regular basis. Crawford still managed to become top scorer, with 9 goals from 37 league games and none in the cups.

His skill level saw him make a return to the Scotland fold after a number of years and he was awarded his second Scotland cap away to Poland in April 2001, becoming (along Barry Nicholson) the first Pars player to play for Scotland since 1970)

Calderwood was obviously as aware as everyone else was that a regular partner was required for Crawford to be at his best. Jack De Gier was brought in from NEC Nijmegen for a large fee of £200,000 (unthinkable now!) and scored twice on his debut, a 5-2 win over Motherwell.

De Gier was not here for long however, and after 5 goals in 12 games, he was on his way back to Holland, albeit for double the transfer fee paid.

The long term plan of playing Crawford alongside De Geir was blown out the water, and Lee Bullen played the majority of games up front for the rest of season 2001/02. Senyi N`Diaye was brought in as a target man on loan from Tranmere, with little effect.

Crawford again scored 9 goals in 01/02, from 40 games. Further Scotland caps followed under the new reign of Berti Vogts.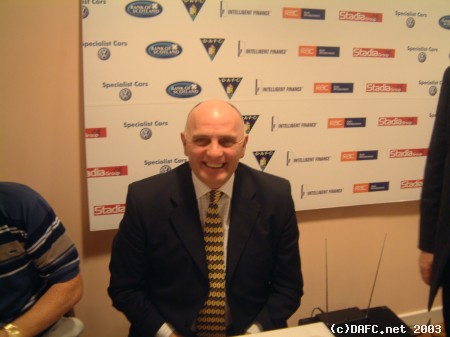 Dick brought Stevie back
Crawford`s entire game was to change for the better during the summer of 2002 however. After struggling to build up any kind of a rapport on the park with so many would be partners, 35 year old Craig Brewster was signed on a two year deal from Hibs. The difference to both Crawford and the team as a whole was immense!

Before long, the two had media reports raving about their play together, with suggestions of near "telepathy" taking place as the two were able to read each others games perfectly.

After a narrow opening day defeat at Parkhead to kick off season 2002/03, Crawford and Brewster both scored in a 2-0 win over Livingston the following week.

Crawford was to better this the following Saturday with a superb hat trick against Dundee, Brewster scored another himself.

The goals continued to flood in for The Pars and it could almost be guaranteed that if one of them did not score, the other would.

Poor team performances post Christmas saw results take a turn for the worse, and the goals (especially for Brewster) dry up.

Overall though, it was a great season for Crawford as he ended up with 23 goals (including a Pars record breaking 19 in the Premier league) from 46 games in all competitions.

This kind of form saw him become a regular in the Scotland set up for the first time. Vital appearances during the Euro 2004 qualifiers were backed up with international goals against Canada (narrowly missing out on a hat trick) and New Zealand during the season.

Last season saw the Brewster/Crawford partnership continue with great effect. Injuries to both players at cruicial times during the 2003/04 campaign however.

Crawford started the season prolifically and was the subject of transfer rumours, with Sheffield United constantly being linked to him, though no bid was ever made public.

The Pars financial problems hit the headlines and players were offered the chance to re-negotiate their contracts, or see the club possibly go into administration. Left with this choice, Crawford (and his agent, who was seen on TV the day problems were announced) shortended the length of his existing contract, enabling him to speak to other clubs with immediate effect.

Mr McMurdo, for it is he who is employed by Crawford to handle his affairs, became a daily news figure whenever fans tried to read about DAFC on the internet.

All of a sudden, and for the purposes of this article, football sadly became a secondary topic. Before I go any further, now would be a good time to note that Crawford managed an excellent total of 17 goals last season (though only 4 were post New Year) from 40 games.

With bids for his signature not evidently forthcoming in the lead up to the Scottish Cup final, Crawford spoke for himself in the media, denying Mr McMurdo column inches for once. Denying he was keen on a move away, Crawford stated that his family were settled and he would like to stay at the club, news welcomed by most Pars fans at the time.

With Jimmy Calderwood and Jimmy Nicholl departing the club whilst Pars fans still celebrated the cup final being reached, the media quickly suggested that Crawford would follow them up the A90.

Rumour and counter rumour has been the story of the day since, with Aberdeen claiming not to have the finances required, to Calderwood publicly admitting he knows what DAFC offered Crawford to stay.

All managers currently being interviewed for the manager`s job have apparently stated their wish to keep Crawford, which is perfectly understandable, however the new man will not now get his wish.

A final contract offer was made last week and John Yorkston has confirmed that this was rejected.

Mr McMurdo will no doubt be the main winner now as a signing on fee makes it way towards his back pocket. Crawford finds himself, at 30, moving way down south to try his luck at that level once again.

He may well struggle to maintain the level of performance (along with the goals ratio) he has enjoyed at East End Park in recent times, but it will certainly be a fresh challenge for him in new surroundings away from the goldfish bowl SPL.

It is a sad, if somewhat inevitable, end to a successful Pars career and one that has been overshadowed by financial issues, rather than football ones.

Many great performances in a Pars shirt, and more than his fair share of goals in a side that always struggled to find the net collectively. Crawford has contributed a lot to the recent good times seen at East End Park.

Now, understandably, Crawford could face his final decent pay day in the game, but questions still remain:

How much will he miss Brewster alongside him?

Can he expect to score as many goals elsewhere?

Will his Scotland chances improve/deteriorate?

How much more money could he have without Mr McMurdo`s slice?

But most of all, is it all really worth it?

Only time will tell.

In the meantime, best of luck to Stevie as he heads to Plymouth Argyle in the English First division.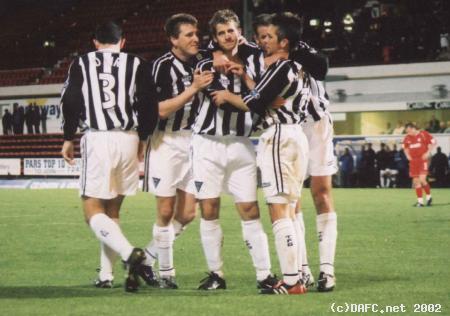 Craw scoring v Falkirk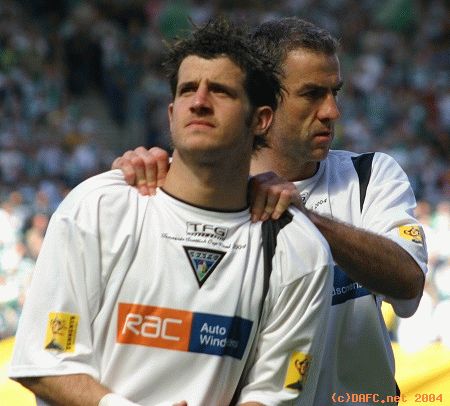 Goals & understanding between these two




views: 4,493