THE PARFECT CHRISTMAS GIFT
Date: Tuesday, 10th Dec 2002

What do you get the Pars supporter who has everything ?

The answer is simple - The Christmas Special Season Ticket.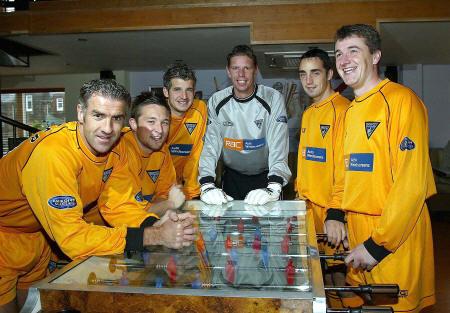 This ticket is valid for all games after the 25th December, which gives you at least ten chances of seeing the Pars at Fortress East End Park. It will also allow you entry into all the remaining home Tennents Scottish Cup Ties, all home reserve fixtures and all home under 18 games.

At a cost of £135 for the Centre Main Stand, and all other areas £110 it really does make it an excellent value package – plus we have our full range of concessions and Family Tickets to make it one the best deals in the Premier League.

Those who take advantage of this offer will also benefit from the many perks our normal season ticket holders receive which include 10% off at our new Pars superstore, 10% of Pars Personal Health, Free Hire of our new function suites – the list is endless.

'This year season ticket sales have been extremely good we have sold just under 3,000 which is actually on a par with the total overall sales from last year. We have found that many people take advantage of the reduced price season ticket package at Xmas in the past and I'm hopeful that with the club doing so well in the league that many more people will take advantage of our Xmas offer. ' commented John Yorkston, Chairman of DAFC.

Application forms for these tickets can be found at the Club Shop, the Ticket Office or at Legends – to purchase these packages please call the Ticket Office on 01383 726863.

DUNFERMLINE ATHLETIC FOOTBALL CLUB
REDUCED PRICE SEASON TICKET
SEASON 2002/2003
VALID FROM 26TH DECEMBER 2002




AREA AND CATEGORY







FULL PRICES

SOUTH MAIN STAND







ADULT/16 AND OVER IN EMPLOYMENT




£ 135




STUDENT 18 AND OVER / SENIOR CITIZEN / UNEMPLOYED




£ 75




STUDENT UNDER 18




£ 35




YOUTH UNDER 12




£ 25




NORRIE McCATHIE STAND/SOUTH WEST STAND/

NORTH WEST STAND







ADULT/16 AND OVER IN EMPLOYMENT




£ 110




STUDENT 18 AND OVER/ SENIOR CITIZEN/UNEMPLOYED




£ 55




STUDENT UNDER 18




£ 30




YOUTH UNDER 12




£ 15







NORRIE McCATHIE STAND/SOUTH WEST STAND/

NORTH WEST STAND

- FAMILY




FAMILY PRICES




ADULT

£ 100

1ST CHILD – U/12

£ 15

SENIOR CITIZEN

£ 50

2ND CHILD – U/12

£ 13

UNEMPLOYED

£ 50

3RD CHILD – U12

£ 10







4TH CHILD – U12

£ 0
YOUTH UNDER 12=BORN AFTER 31 JULY 1990
YOUTH UNDER 18=BORN AFTER 31 JULY 1984

NB – SENIOR CITIZEN IS MALE OR FEMALE 65 YEARS OF AGE OR OVER


views: 2,644