Would be Pars managers apply for hot seat!
Author: Jason Barber Date: Tuesday, 1st Jun 2004

Calderwood WAS the longest serving manager in the top flight, yet Dunfermline now seek to appoint their sixth manager in just the 14 years since Jim Leishman vacated/was pushed out of the manager`s role.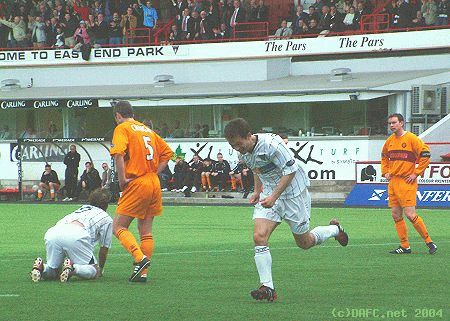 Ian Munro and Jocky Scott were the unsuccessful followers to Leishman, and it was not until Bert Paton took over in 1993 that things started to take a turn for the better. Paton`s five and a half year reign ended suddenly when he handed over the role to his assistant Dick Campbell, who "resigned" just ten months later to be replaced by Calderwood.

No one can deny the turnaround in the club`s fortunes, on the park at least, since Calderwood took over. It is now perhaps even more crucial that the progress made continues under the new man in charge.

The playing squad is a good one, with only Bullen/Stillie/Kilgannon/Grondin having definitely moved on from last season. Stevie Crawford appears to be the subject of daily media discussion thanks to his agent, and it is a case of "watch this space" as far as the strikers next move is concerned.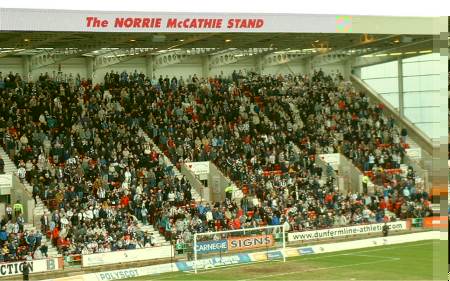 Who will be next to move into the manager`s office?
The finances are a well reported near disaster zone. With cutbacks now in full swing, the new man in charge will have little cash to wheel and deal with. However, the wage bill is now at a far more sensible level and the days of players (and the management....) earning silly money are hopefully now in the past.

The new man should therefore not be someone who has been used to waving the chequebook around in order to make changes to the side!


So, who will be the next Pars manager then?

Candidates seem to fall into two catagories, those who are well versed in the managerial merry go round of Scottish Football, and those who would be "new" to our game, similar to Jimmy Calderwood back in 1999.

The Scottish media have formed their own list of favourites, names who would not be too hard to think up whenever any SPL vacancy arises:

David Hay (out of work at Livi, ex colleague of Leishman)
Sandy Clark (currently Pars under 21 coach)
John Robertson (young ICT manager, won 1st division)
Alan Kernaghan (young Clyde manager, lost out on 1st division)
Terry Butcher (turned Motherwell around with no money to spend)

Those in the "other" camp, who have managed to get themselves off the Scottish managerial merry go round include:

Neale Cooper (ex-Par, succesfully managing Hartlepool through the lower English leagues)
Unknown (as yet) applicants from the USA and Italy. Over 20 applications have been received for the job, and chairman John Yorkston has confirmed applications from these countries have been received.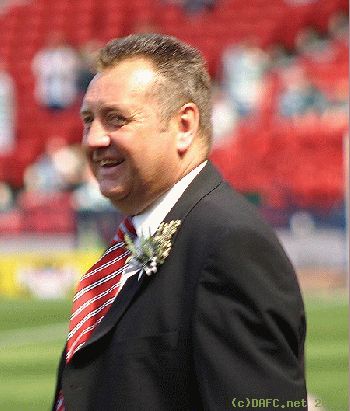 Laughing at cup final, who at?
With Jimmy Nicholl having also trodden the path North to Aberdeen, the number two position is obviously up for grabs too.

Rumours have been circulating the press and the dafc.net messageboard that current Pars striker Craig Brewster could well be offered this post alongside his striking duties.

Ex Pars captain Craig Robertson is currently number two to another ex Par, goalkeeper Jim Moffat, at East Fife and the media seem to have installed him as a possible candidate for a similar job at East End Park.

Needless to say, the number two position will rely entirely on who gets the front man job of Pars manager and no decision is likely to be made until after targetting the main post.

So, who will get the job? No one really knows right now! Jim Leishman, Sandy Clark, Hamish French and, of course, Craig Brewster are all currently employed at East End Park which removes the need for a knee-jerk decision.

The timing of the vacancy means that the playing staff are currently on holiday and pre season training is a few weeks away. However, any new manager will want as long as possible to regroup his squad and bring in any new faces as he sees fit. With every passing week, less and less players will become available as other club managers piece together their squads for next season.

Whoever it is, hopefully he will be able to carry on where the previous regime left off. The chance to manage a side in the qualifying round of the UEFA cup is an enticing one for most ambitious managers and could well up the calibre of applicants.

Feel free to keep discussing the rumours as they continue over the next few days as we all await a press conference to unveil the next man with the fantastic chance to lead Dunfermline Athletic into the next phase of their history.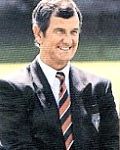 Ex Pars boss Bert Paton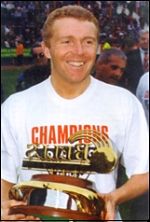 Ex Pars skipper, Craig Robertson




views: 3,591