Eddie Connachan
Date: Friday, 26th Dec 2003

Born 27th August 1935

Signed in May 1957 from Dalkeith Thistle, Eddie went on to make 172 first team appearances for the Pars before transferring to Middlesborough in August 1963 for £5,500.



He was the goalkeeper who defied Celtic time and time again with a string of wonder saves, during both the 1961 final, and the replay. Carried shoulder high off the pitch at the end of the final, Celtic centre half Billy McNeil said at the time, "I have never seen anything like it. He broke our hearts and did as much as any `keeper I have ever seen".



Eddie`s form led to him being capped twice for Scotland in 1962, against Czechoslovakia in a World Cup play off game, and against Uruguay, a match in which he was substituted. He also gained four Scottish League Caps, against the Irish League, League of Ireland, Italian League and English League. After his move down south, Eddie returned to East End Park in December 1963 to guest in Jackie Williamson and Willie Cunningham`s testimonial game against Newcastle.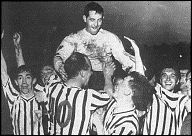 views: 7,735