Jim Jeffries new Pars manager
Author: Jason Barber Date: Monday, 20th Nov 2006

Jim Jeffries will be the new manager from 21st March 2012 at East End Park
Jim Jeffries was offered a short term deal until the end of the season to try and save the pars from immediate relegation from the SPL.








FORMER MANAGERS

Jim McIntyre
Dec 2007 - March 2012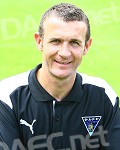 Jim McIntyre took over the reins from Stephen kenny on a temporary basis, then given the job full time. Jim spent a couple of years in the First Division, improving each year and finally in 2010-2011 season won the First Division Championship by 10 points. Without a home win in season 2011-2012 Jim McIntyre was finally relieved of his post with just 8 games to go. The season started off brightly for the Pars but constant injuries and on a few occassions mistakes cost his side dearly. It was with some regret that we heard of Jim McIntyre being removed from his post and we wish him well in the future.

STEPHEN KENNY
Nov 2006 - Nov 2007.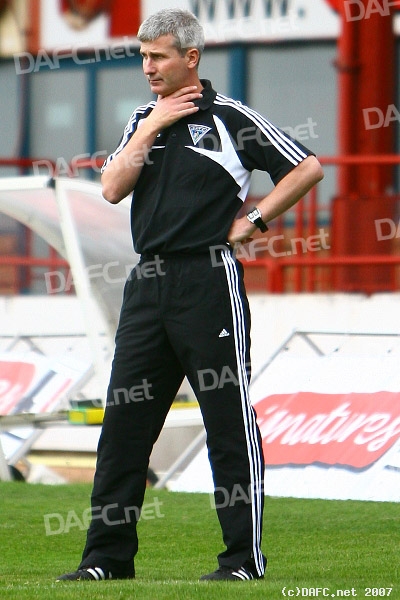 Despite a close call to avoid relegation the defeat at Inverness (depsite being 1-0 up and St Mirren being 2-0 down) the Pars were finally relegated at the end of the 2006-2007 season. A string of poor results, including a bad result away in Gothenberg, and 3 very bad defeats losing 12 goals in 3 games the DAFC board finally moved to remove Stephen Kenny on the 4th December.

Stephen Kenny began his rapid rise up the managerial ladder at Longford Town in 1999, winning promotion in his first season! He brought European football to Longform for the first ever time in their history for season 2000/01.

Bohemians soon snapped up his services in 2002, and under Kenny`s stewardship, the Football League of Ireland title was secured in 2003. The Gypsies, as they are known, brought the title back to Dublin for only the second time in twenty five years.

Surprisingly, Kenny`s services were dispensed with after an exit from European competition the following season.

Taking over at Northern Ireland based Derry City in August 2004, Kenny soon made his mark on the club, on and off the park. Players were made to go full time, and were required to live in the city itself, rather than travel to the club for matchdays only.

Derry were saved from relegation in 2004/05 season and rapid progress soon followed. The club went onto be runners up the following season, qualifying for the UEFA cup in the process.

It was at this point the Scottish media may have finally picked up on Kenny`s abilities when his Derry side thrashed former UEFA winners IFK Gothenburg 8-3 over two legs. A tie against Gretna was the reward, and a 5-1 drubbing of the Scottish side at neutral Motherwell saw qualification become a formality.

Derry, with the league cup already won, lost out on the Football League of Ireland title to Shelbourne on goal difference, with the season going down to the last game. At this point, he was announced as the new Dunfermline manager, taking in the 2-1 victory over Dundee United on the 18th November 2006 (whilst getting more involved than he had originally planned in the process!)


JIM LEISHMAN
May 2005 - October 2006
Born 15th November 1953 in Lochgelly.

Whilst Jim`s record as a manager at East End Park can be favourably compared against the best, his playing career at Dunfermline can probably be best described as fairly unspectacular. Having signed S forms as a 15 year old, Jim was called up as a player in June 1971, making his first team debut three months later against Ayr United at Somerset Park, where the Pars drew 1-1.

Jim played 91 times for Dunfermline, scoring six goals, the most famous of which secured a rare (and still most recent!) victory over Rangers at Ibrox in April 1972. Big Leish`s playing career at East End Park effectively ended in August 1974 when following a collision with Hearts Jim Jeffries, he broke his leg in three places. The break put him out of the game for 18 months, until he returned briefly to first team action in the short lived Spring Cup of 1976. At the beginning of the following season Jim moved to Cowdenbeath in a player swap which saw Bobby Morrison move to East End Park. As a Cowden player, Jim returned to his former stomping ground once, and suffered the ignominy of being sent off following a tussle with former team-mate Allan Evans.

In October 1983, Jim was appointed manager of Dunfermline Athletic and in his seven years at the helm guided the club from the depths of the Second Division to the Premier League. The club won the second division for only the second time in 1986, and went onto win the First division for the first time in 1989.

Crowds flocked, with Dunfermline`s average being over 10,000 in season 1989/90. However, a disgruntled Ian Munro led a campaign to become manager ahead of Leishman and a role upstairs was turned down by Leish. It took the club a few years to recover, with the good times only returning under Bert Paton after the lean Munro and Jocky Scott years.....

However, Leish would return in 2005! (see below)

DAVID HAY
July 2004 - May 2005

Hay took over the club during the summer of 2004, with the Calderwood era suddenly brought to an end. His reign got off to a terrible start with the UEFA cup debacle against the Icelanders, Hafnarfjordur, and the club never really recovered.

Whilst Hay still had the remnants of a very good squad, Barry Nicholson soon became a long term injury casualty, and key player Craig Brewster was released to start his managerial career.

With no money available for signings, Hay flounders in the free transfer market, with Georgi Hristov and Jesper Christiansen failing to set the heather on fire. With Dunfermline bottom of the SPL and only three games remaining, a run of TEN games without victory saw Hay sacked and Jim Leishman returned as caretaker manager. Wins over Dundee (5-0!) and away to Dundee United (1-0) saw Dunfermline pull safety out the bag at the last gasp.

Leishman went on to manage Dunfermline for 2005/06 season, finishing 15 points ahead of Livingston despite working with zero transfer budget and being given the unpopular task of helping to balance the precarious books. A League Cup final was reached along the way, though the final was an anti climax for all concerned with Dunfermline. Leishman resigned 11 games into the 2005/06 season to return to the role of Director of Football to aid the new team manager and also continue in his role of fund raising for the club.

JIMMY CALDERWOOD
June 2000 May 2004

Love him or loathe him, the Jimmy Calderwood era was certainly one of the most "interesting" of Dunfermline managers.

Brought in from NEC Nijmegen in 1999 after Dick Campbell was sacked, Dunfermline were sitting just behind St. Mirren as Calderwood was given his first job back in his homeland.



views: 39,621