---
---
Stranraer 3 Dunfermline Athletic 1
By Alistair Campbell - Sun, 2nd Mar 2014

This was a tale of defensive mistakes and missed chances. An early (and obvious) penalty had allowd Grehan to give the home team the lead before a Page mistake let McKenna add a second. After the Pars had spent most of the second period in the opposition half, Stanraer ran up the park and scored a third. Grainger converted a late penalty to give some brief hope of a comeback, but Stranraer held on comfortably enough.



Stranraer
Grehan (&, pen)
McKenna (39, 72)

3 v 1

Dunfermline Athletic
Grainger (78, pen)

Stephen Stirling (8)
Robertson (15)

Morris (6)

Ref: Greg Aitken
Crowd: 704 Position: 2nd
Click on Logos or Team Names to visit other sites or reports
Stranraer is another long-hike – you get as far as Kilmarnock, and realise you are only half way there. It's not a part of the world with which I am terribly familiar – my only previous visit there was some 20 years ago, when all the excitement was to do with the new National Lottery, rather than a game that featured Craig Robertson as sweeper and which finished goal-less.

It is a pleasant enough drive down the Ayrshire coast, though – skirting the famous golf Links at Turnberry, then through Girvan - famous for its Scottish Cup participating Amateurs (and goalie Peter McCloy) – and down Loch Ryan. Stranraer itself is an "end of the line" town, notable in my book for three things – the ferries to Northern Ireland, the curling rink that produced several champions and of course the football team. The ferry terminal is no longer there but I assume the ice-rink still is; certainly, the town has its best football team for a number of years. The ground itself is a trim affair in the middle of Stair Park – it has a covered terracing down 40% of one side, a covered end behind one goal and a grass bank at the other. From the main stand one has the view of the ferries heading to and from Cairnryan, as well as the famous Stair Park bandstand.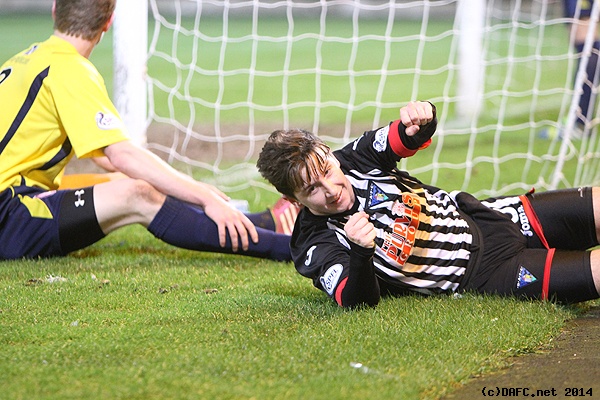 Josh Falkingham makes it 3-0!
Jim Jefferies made one change to the team that had won on Tuesday night, with Ryan Williamson coming in at right back instead of Ross Millen. That meant a team of Scully; Williamson, Morris, Page and Grainger; Falkingham, Husband, Geggan and Forbes; Shankland and El Bakhtaoui. There was still no sign of Ryan Wallace or Jordan Moore, but Allan Smith came back onto the bench instead of Dargo. Joining him were Whittle, Thomson, Martin, Millen, Byrne and goalkeeper Goodfellow.

In Grehan and Longworth, the home team have one of the most potent strike partnerships in the league, but the latter was only on the bench. However, Steven Bell would once more be in the middle of the park.


The Pars kicked off and we had an entertaining start. Within 20 seconds McKeown had headed a Geggan ball straight to El Bakhtaoui but he couldn't connect properly with his first time attempt, and his shot was off-target. The ball went straight to the other end where Morris and Scully got in a muddle, with Grehan getting in between them, but likewise his shot had no power and Morris recovered to hack it away.

Forbes answered that with a run and shot (although the ball bobbled at an inopportune time), before Stranraer were handed a gilt edged opportunity. Andrew Stirling evaded Williamson's attempted tackle at the bye-line to centre to Grehan. The striker still had his back to goal and a lot of work to do but Morris tugged his shirt and that was a penalty. Grehan scored emphatically, hitting the ball high to the right whilst Scully went low the other way.

Stranraer 1 Dunfermline Athletic 0


Husband soon replied, nearly catching Mitchell off-guard with a shot off the bar in 10 minutes, and a flowing move soon after saw Forbes chopped at the edge of the box. However, with both Forbes and Husband standing over the ball, it was the latter who had a go from the free-kick, but he couldn't find the target.

The Pars were looking a little anxious – unlike in the last couple of matches, things weren't going their way and they were in more than a match. Indeed, they nearly conceded a second when Steven Stirling got behind the defence on the right, but Scully managed to get a touch to divert the ball just beyond the far post.


Nevertheless, the 2nd goal did come but only after the Pars had spurned a terrific chance to equalise. Williamson had hit the bye-line but couldn't get his cross past the first man. Nevertheless, he won a corner which Forbes took, and although the referee appeared to obstruct Husband as he chased the cleared ball, he got it to Geggan whose shot Mitchell could only beat away to Shankland but with the goal at his mercy the young striker fired off-target.

This miss was doubly punished almost immediately when Page could only head a long clearance up in the air, and it fell for McKenna who volleyed past Scully.

Stranraer 2 Dunfermline Athletic 0

The scoreline hardly reflected the balance of play and although the Pars strove hard to get one back before the break, Morris narrowly failing to get his forehead onto a Falkingham cross after Josh's original corner had been cleared, they had to settle for a two goal deficit when half-time came.

Half time: Blues 2 Pars 0


Dunfermline made a surprising switch at the break – Falkingham, who had played on the right of midfield giving way to Alex Whittle, who took up station on the left. That made for a small change of formation – more of four in a line rather than a diamond – as the Pars tried to put the home team on the back foot. Certainly the visitors enjoyed the bulk of play without creating anything concrete.


Williamson and Whittle both had chances but couldn't find the killer cross, and it took unti the 65th minute before Dunfermline created a chance, Whittle passing inside to Husband who picked out Shankland with a driven cross but Mitchell tipped his header over the bar. Shankland was again unlucky 5 minutes later when he made space to loop a shot off the far post, but out.

Then wouldn't you know it, Stranraer scored again virtually the first time they had been in the Pars' box that half. A Stirling cross from the left was knocked down by Gillespie and although Scully got a hand to the ball McKenna's shot had enough power to roll over the line.


Thomson came on for El Bakhtaoui in a direct swap before Shankland missed another glorious chance. Having headed on a long-ball to set himself up, he took one touch inside and allowed Mitchell to make another good save.

The Pars did pull one back – winning a softish penalty when Whittle seemed to wait for the tackle as Husband's long cross-field ball picked him out. A spot-kick was awarded and this time Grainger took responsibility, and although Mitchell went the right way, he couldn't keep the ball out.

Stranraer 3 Dunfermline Athletic 1


There was still plenty time to get another one and really put pressure on the home team, but although the Pars won a number of corners, with both Husband and Forbes firing them in just under the cross-bar, the Stranraer defence coped with everything flung at them. Grainger had a long-range shot that never really looked like finding the top right hand corner and his team had to settle for second best.

Final Score: Stranraer 3 Dunfermline Athletic 1


For all I had been singing the praises of the centre-backs earlier in the week, there is no doubt that their mistakes gifted Stranraer a lead that was always going to be difficult to overcome, and so it proved. It could have been very different if Shankland had scored any of his chances. Both will have better days – far better they make the mistakes now, than when it really matters in May.



---
DAFC.net Man Of The Match: Andrew Geggan
---
Choose your Man Of The Match
Stranraer: David Mitchell, Scott Robertson, Mark Docherty, Scott Rumsby, Frank McKeown, Steven Bell, Stephen Stirling (Sean Winter, 62), Grant Gallagher, Martin Grehan, David McKenna (Jamie Longworth, 74), Andrew Stirling (Lloyd Kinnaird, 82)
Subs (not used): David McGregor, Ryan Borris, Adam Forde, Chris Fahey
Dunfermline_Athletic: Ryan Scully, Ryan Williamson, Danny Grainger, Jonathan Page, Callum Morris, Andy Geggan, Faissal El Bakhtaoui (Ryan Thomson, 68), Stephen Husband, Lawrence Shankland, Josh Falkingham (Alex Whittle, HT), Ross Forbes.
Subs (not used): Allan Smith, Lewis Martin, Shaun Byrne, Ross Millen, Ryan Goodfellow
| | Stranraer | Dunfermline_Athletic |
| --- | --- | --- |
| Shots on | 4 | 8 |
| Shots off | 5 | 8 |
| Corners | 1 | 10 |
| Offside | 4 | 1 |
| Fouls conceded | 15 | 7 |
| Possession | | |
Views: 3156