Aberdeen 3 - 0 Dunfermline Athletic
Author: Neil Farrell Date: Saturday, 10th Feb 2007

A poor game on a poor pitch in poor conditions.

That was the plus points of todays game as yet again the Pars return to Fife without even looking like scoring thanks to an ineffective midfield that plays in front of a back line that boots the ball high in the air to a forward line that likes the ball played to their feet.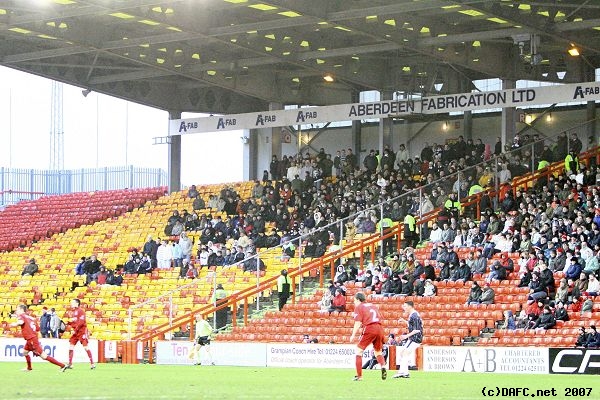 Pars Gaffer Stephen Kenny made just one change to the side that defeated the Scottish Cup holders Hearts 1-0 at East End Park the previous week. Cup-tied Stephen Glass returned to the side to replace young Scott Morrison who had to settle for a place on the bench.

Aberdeen won the toss, and decided to take full advantage of the freezing driving Easterly wind that whipped off the North Sea around the Dick Donald (formerly Beach) Stand.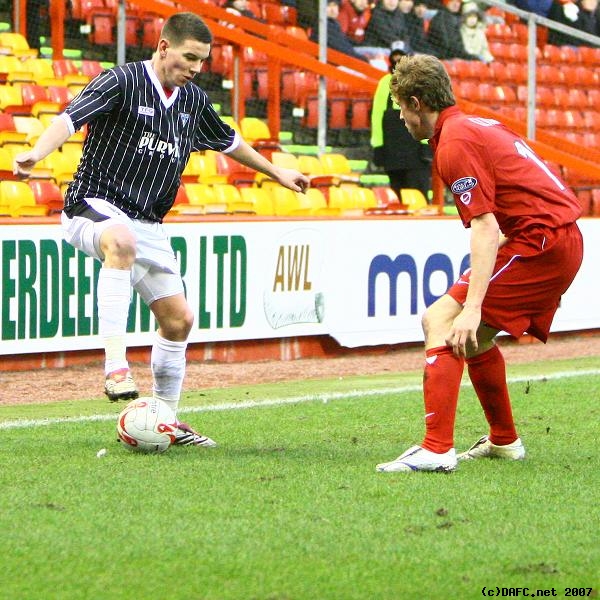 Early doors the Pars were doing well and were getting the ball into the wide areas that were patrolled by Jim O`Brien on the right and Adam Hammill on the left. Jimmy Calderwood having done his homework the week before by watching the danger posed by Hammill against Hearts knew how much of a threat Hammill was, and as well as having Michael Hart marking him Jimmy had other guys in there at the same time to crowd Hammill out.

In saying that it did not help with the Pars kicking into the wind and how de Viries ever thinks that Stevie Crawford and Mark Burchill will win the ball in the air against the likes of Russel Anderson and company I`ll never know.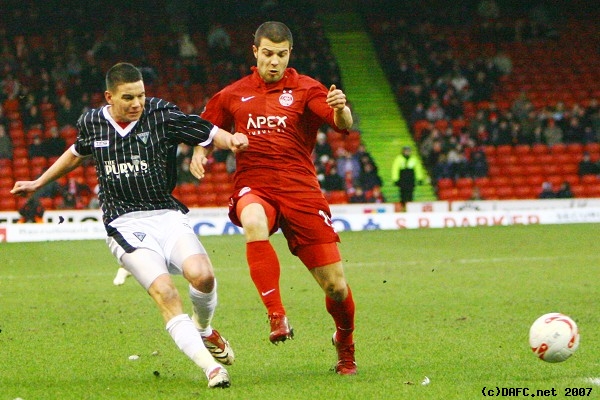 Aberdeen did have a couple of chance to take the lead but thanks to good tracking back from Phil McGuire and a clearance from Scott Wilson the home team were kept at bay.
The first real chance for the Pars came on the 27th minute when Burchill fired in a shot on the turn to force former Pars goalkeeper Jamie Langfield into a save.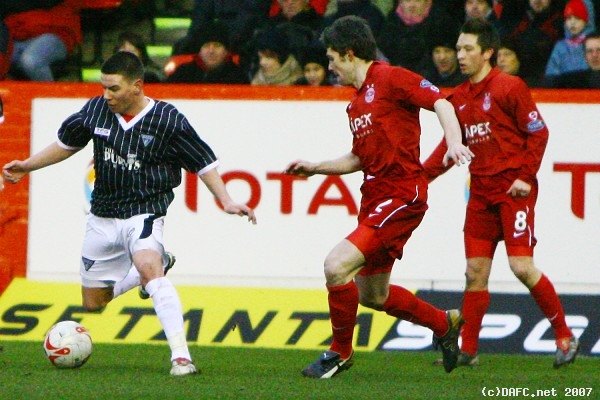 Aberdeen did however take the lead on the 33rd minute. The ball was fired into the crowded Pars penalty area and it appeared to bounce of an Aberdeen leg to DARREN MACKIE who slotted the ball into the far post from 12 yards on the right-hand side of the penalty area. 1-0

Before the break both Greg Ross and Adam Hammill teased the Aberdeen defenders on their left side before Hammill hooked a ball into the near post area. The corner was conceded before Stevie Crawford could get to it. Stephen Glass fired in the ball low into the area and Wilson connected before it deflected of an Aberdeen player above the bar.
Tubby referee Brian Winters awarded a goal-kick to much moaning from Pars own Victor Meldrew - Scott Wilson.

Chris Wilson for Aberdeen failed to double the score for Aberdeen and to be honest the Pars were lucky to be just 1-0 down. Half Time 1-0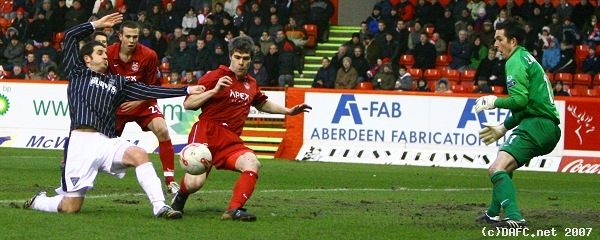 After the break Scott Severin blasted a shot from 25 yards which de Vries fisted down. Lovell somehow put the ball wide when he was right in front of goal but it wouldn`t have counted anyway as he was offside. Burchill pounced on a poor passback, but Langfield did well to recover the situation.
On 58 minutes Aberdeen were awarded a penalty when Winters decided that the ball that hit Stephen Simmons hand was deliberate hmmmmmmmm. But then Winters knows as much about penalties as he does eating salads on yesterdays evidence.

Stevie Crawford advised de Vries which way Nicholson was likely to put the kick. As de Vries went to his line he kicked the ball from the spot and got a yellow card in the process for timewasting.
BARRY NICHOLSON put the spot in the OTHER direction because as he admitted later, he was going to put it away in his normal way buT saw de Vries move early and he changed his mind at the last second. 2-0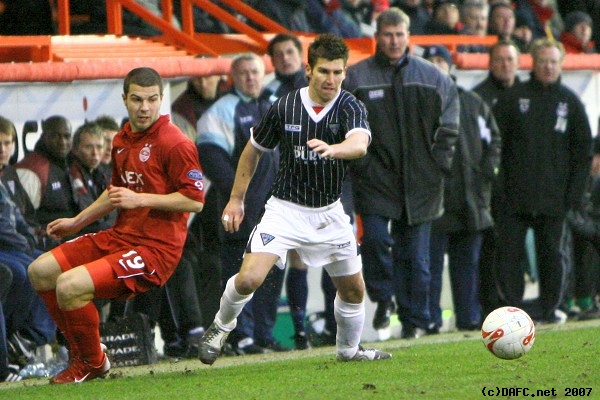 Phil McGuire had a great chance for a goal following a well placed Adam Hammill free-kick but his header went narrowly wide.

Later Hammill played the ball out wide right to Jim O`Brien and his ball was played into the box for Jim Hamilton to blast the ball with his head and Jamie Langfield did well to block it.



views: 2,984