DAFC Financial rescue plan
Author: Brian Duncan Date: Sunday, 1st Apr 2007

DAFC.net have recently uncovered a financial rescue plan should the Pars be relegated to the First Division next season. Unfortunately many Pars fans may well find this proposed solution unpalatable !
In recent years a a number of Scottish Football clubs had financial problems particularly related to getting fans through the door (i.e. not enough were coming to watch) and a resultant drop in income. Dunfermline also had problems and in the last two years have been trying to come to terms with financial stability and succeeding quite well.

However, this year the club finds itself 6 points adrift at the foot of the table, and should relegation take place then other income streams will need to be found and very quickly to ensure that the club retains its players for the one year drop into the First Division.
Cloak and Dagger talks have reputedly taken place to allow another Football Club to rent out East End Park for its sole use for one year to another club who expect to join the SPL elite. This tenure would mean exclusive access and use for that club meaning that Dunfermline Athletic would have to groundshare elsewhere. We can exclusively reveal that the preferred choice (and cheapest option) is to move 5 miles further east to Central Park.

Dunfermline fans have long complained that "Terracing should be brought back", well now the moaning can stop as there will be adequate terracing for the Pars fans at Central Park.

Hopefully the fans will turn out for this standing room only venture and perhaps bring the good-old-days back East End Park (sorry, I meant Central Park).

Central Park
Sammy`s Golden Squares will also be stopped next season, as the club will not be at East End park and I`m sure the fans don`t want to pay for the grass that Gretna owner Miles Brookson and his team will be using.

For next season a new scheme Rocky`s Rectangles will operate to help raise funds for DAFC, with 50% of the proceeds going to Central Park in lieu of rent.

Sammy will not be allowed to move from East End Park so a mascot swap will be in place for the one season. (SPL Rules!)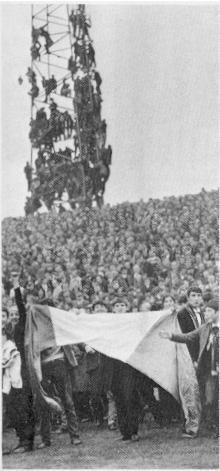 back to Terracing?
A real down-side to this plan of action is that DAFC.net will also have close due to the inability of being able to do live updates, match reports and even pictures will be a problem due to the harsh copyright issues of the SFL.

This may be welcomed by the admin team, giving them a holiday from manning the forums 24/7 !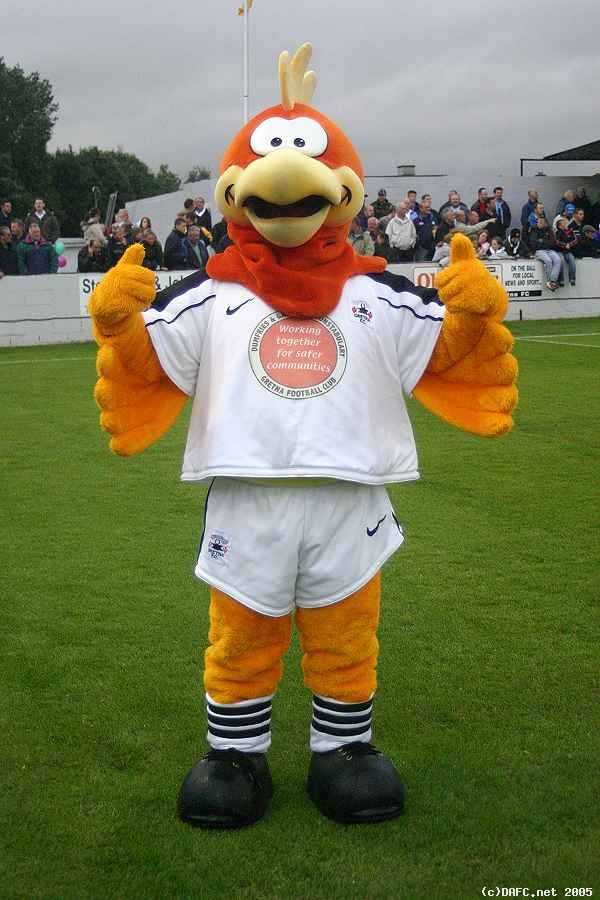 The Gretna mascot
complete with `bingo-wings`.




The "sucker-punch" to entice pars fans to take this option up will be that the cost of a season ticket will be heavily subsidised (due to the income from said other club moving up to the SPL and renting the ground and all the facilities) and that next seasons ticket holders will be offered a season ticket for next season for the princely sum of £50.

HOWEVER, this offer will need to be taken up by 12noon today. To do so, you can fill this online form to pre-order for this offer (you will not have to pay today, you will be sent instructions on how to pay within 7 days). Please come back later in the day to get details on how to apply.


Well as many of you spotted today was April the 1st!

However, what we should not forget that DAFC is your club and that you need to support it as best you can. There is still a long way until the end of the season and I see no reason why your or the players give up ! The team cannot win every game, so they will lose some and win some, there are still winnable games left and hopefully those that are now back from injury will be fully match fit - so don`t get on the players backs too much (please :o) )






views: 3,225