Dunfermline Athletic 1 v 1 Kilmarnock
Author: Stephen Taylor Date: Sunday, 18th Feb 2007

The Pars at last scored a league goal but still allowed to 2 deserved points to escape their grasp and the worry is they are running out of games.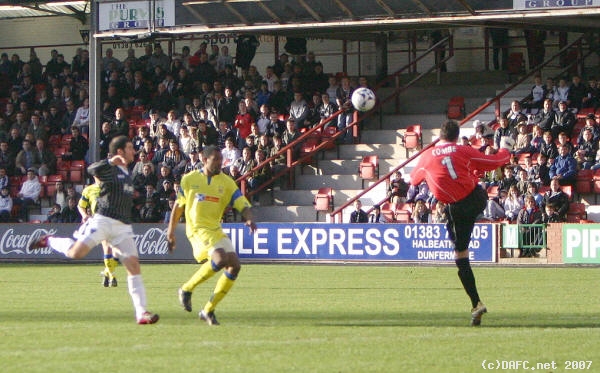 There is no doubt the Pars have to treat every game now as if it was their last and to try and take their Scottish Cup form into the closing SPL matches. After a bad defeat last week at Aberdeen it was vital they produced a good performance and won the match. Well, the performance was good but the lack of a cutting edge still plagues this team.

The Pars lined up with De Vries in goal and a back four of Ross, Wilson, McGuire and Glass. In midfield Mason and Simmons held the centre area with O`Brien out on the right and Hammill on the left. Crawford and Hamilton were the forwards.
The game was being played in near perfect conditions. Adam Hammill showed intent as he hit a good shot just over in 2 minutes which was something unusual seeing a Pars player have a shot from outside the area. Stephen Glass put over a good cross from a free kick in 5 minutes which was cleared for a corner. Another Pars corner in 7 minutes was quickly taken by Hammill and the resultant cross was cleared for another corner. It was clear for all the home fans that the Pars were "in the mood".

Yet, ironically, it was Killie that came close to scoring with their first attack in 8 minutes as Nish set up Naismith who was stopped by a fantastic save by De Vries. That was a warning not heeded by the Pars defence as Naismith scored a minute later easily turning McGuire and shooting past De Vries.
Dunfermline 0-1 Kilmarnock
To their credit the Pars set about Killie once again and Crawford had a good shot saved by Combe. Another Pars free kick (Killie were being their usual physical selves) resulted in another free kick. Hammill hit another shot wide in 14 minutes as the Pars looked for the equaliser.

There was a worry in 16 minutes as Wilson went off for some treatment but he returned a few minutes later. Stephen Glass also had a shot blocked then a quickly taken free kick by Ross and O`Brien saw a low shot going wide.

In 30 minutes there was a loud shout from the Pars fans for a penalty as Hamilton was barged to the ground in the Killie area. Hammill tried again as he hit another good shot and probably his best yet but the keeper made a good save turning the ball around the post. Simmons had a great chance being through on the goalkeeper but he sclaffed his effort which Combe easily saved.
A rare attack by Killie in 37 minutes saw a good shot by Quinn saved by De Vries with Nish attempting an overhead kick from the corner.

This is now starting to sound familiar but Hammill had another shot saved in 39 minutes. Leven shot for Killie when given too much space but De Vries was not troubled. Crawford made a good turn and shot in 41 minutes.

Then Killie got themselves into trouble approaching half time as Hammill robbed Ford and as the youngster charged in on goal Ford trying to retrieve the situation scythed Hammill down for a clear penalty. Ford was also red carded as the last man. Stevie Crawford stepped up and hit the ball past Combe to score that elusive SPL goal and to stop that horrendous barren run. It was very timely as there was no way the Pars deserved to be a goal down. Half time 1-1
Killie took of Quinn at half time and brought on Gary Locke to bolster their midfield area. The Pars started where they left off. A free kick by Hammill was chipped forward but there were no takers. Without trying to make this sound like a one man show Hammill hit a superb diagonal ball to O`Brien on the right wing. The winger left two defenders for dead but wasted his final ball.

A Simmons header in 53 minutes kept the pressure on. Killie had a free kick in 55 minutes which De Vries was able to take. Scott Wilson had a great chance to score after a surging run forward and Gary Mason had a shot blocked then again from the resulting corner. Wilson then had one of the best chances of the game when set up by Crawford he mishit his shot wide in 61 minutes.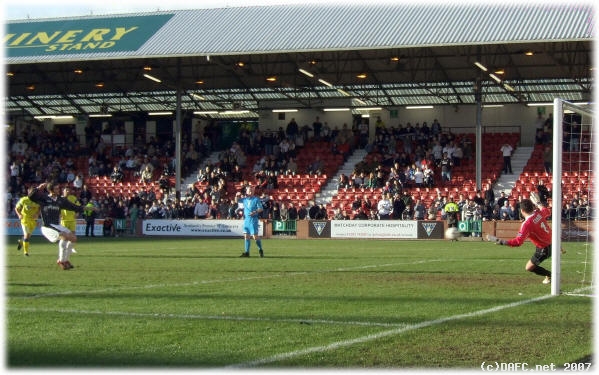 Ford scythes Hammill and Stevie Crawford is brave enough to step forward. 17 Feb 2007
Hamilton headed over from a Hammill cross in 65 minutes. Then the Pars made a surprising change with Stevie Crawford going off and being replaced by another youngster Ian Williamson. It was the former Pars youngster Colin Nish who almost caused a major set back as he headed over from a corner.
Related Stories


views: 2,631