Hibernian 0 - 0 Dunfermline Athletic (SC S/F)
Author: Stephen Taylor Date: Sunday, 15th Apr 2007

The Pars had their chances to win this semi final but once again they failed to score, as did Hibs, which meant the final score and a looming replay was just about right.
With players cup tied, suspended and simply injured Stephen Kenny had to earn his money by coming up with a line up that would repeat last weeks league win over Hibs. It was good to see Scott Wilson come back into the side and even more of a surprise to see that his replacement Sol Bamba had retained his place in the back four with Phil McGuire moving forward into the midfield area, himself replacing Stephen Glass. So the Pars lined up with De Vries in goal and Greg Shields at right back, Wilson and Bamba at centre back and Scott Muirhead playing instead of Scott Morrison.

The midfield had McGuire, McCunnie, Mason and Hammill. The attacking duo was McIntyre and O`Brien.
Bamba was to the fore in the first minute making a good tackle which would be the first of many by the big defender. A Hibs corner in 3 minutes was headed wide, not troubling De Vries.

Benji had a chance to run at the Pars defence which backs off allowing the Hibee to shoot albeit wide. Despite the Hibs perkier start it was the Pars that came closest to opening the scoring in 9 minutes as Jamie McCunnie thumped a low shot off the post with O`Brien making the keeper save his shot. At the other end Hibs had a half chance after a minor slip by Bamba allowed.

Adam Hammill was looking dangerous on the left wing with Hibs doubling up cover each time the youngster had the ball. He eluded his defenders in 15 minutes but his cross was blocked for a corner for the Pars.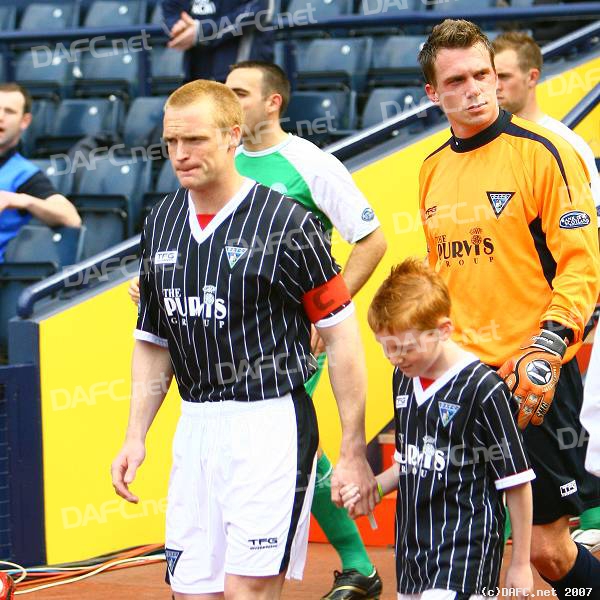 Greg Shields leading the team out.
Despite playing in midfield McGuire made a great covering tackle to help out Scott Wilson who had been left for dead by Benji. McGuire had a good shot well saved in 19 minutes as the Pars continued to take the game to Hibs.

Scott Muirhead and Wilson got beat in 20 minutes but it was Bamba who again stepped in with a good clearance. Hammill put over a good cross from the left in 32 minutes as he continued to trouble the Hibs defence.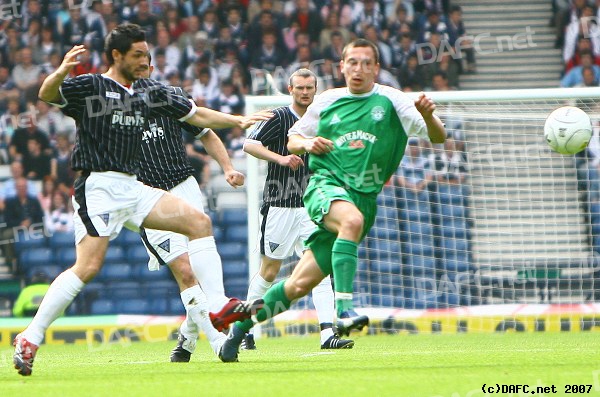 Gary Mason v Scott Brown.
Hibs had a shot well over the bar in 38 minutes and then Hammill put over another cross which the Hibs defence struggled to clear. Greg Shields picked up a yellow card for a foul in 42 minutes. Half time 0-0.

There was a surprising change for the Pars at half time as McGuire went off to be replaced by Greg Ross. Hibs also had to change goalkeepers and brought on Simon Brown. It was however the other Brown in the Hibs line up that seemed to come to life in the second half. He made it to the bye line in 48 minutes but his shot was blocked.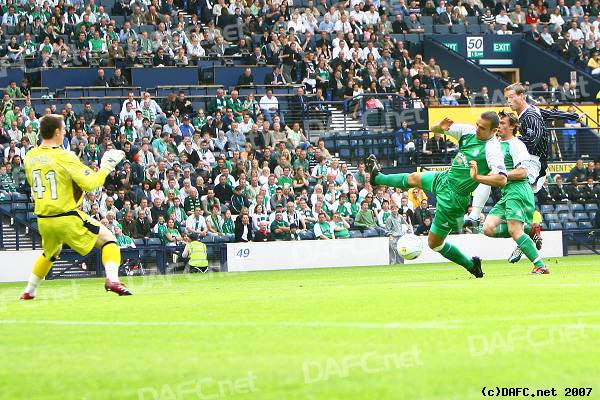 Jamie McCunnie hits the post. (1 of 3)
Whittaker was booked for a foul on Hammill which was the only way he could stop the Pars youngster. Brown again ran strongly into the Pars area but Muirhead made another vital and telling tackle.

Gary Mason was doing his best to get forward and in 58 minutes had a shot blocked for a corner and then a minute later he had a great chance to score after he was set up by Hammill. He shot over when he had time to compose himself and shoot or to lay it off to O`Brien on his right.
De Vries seemed to be ailing and made a hash of a clearance hitting it low to a Hibs midfielder but the lobbed response was wide.

Scott Wilson was also booked for a foul and will miss the next cup game.

Adam Hammill was replaced by Owen Morrison in 79 minutes which seemed to spark a late rally by the Pars as they won a number of corners in the final 10 minutes and looked the more likely team to score. In 82 minutes Bamba made a great goal lien clearance which was probably the closest Hibs came to scoring in the whole game with De Vries hardly having to make a serious direct save. Final score 0-0.
Related Stories


views: 3,398