Interview with Stewart Petrie
Date: Friday, 15th Nov 2002

DAFC.net sponsor Stewart Petrie in his testimonial year and we had a chance to talk to him about his career at East End Park.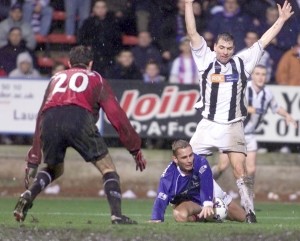 | | |
| --- | --- |
| | That was a good good reception for you recently Stewart. Yes, the support I received on Saturday [at home, Motherwell game] from the supporters was great, on Saturday, it was good to get a reception like that. |
How are you getting on with team selections.
It`s getting harder to get games now, the club has improved so much so its good to get involved especially at home, we have so many good players now, and when you look at the stadium and the facilities its tremendous.
I`m only happy to be part of the squad now, we have a really good squad of players and its credit to the management and the club that we have come so far in the last 10 years.
What teams have you played for?
I played at Forfar for 3 full seasons then I came down to Dunfermline. I`ve been with Dunfermline now for 10 seasons.
How did you get on with the pre-season trips ?
I spoke to the manager about the trip [to NZ and Holland] when it was announced as it was a big surprise. 3-4 years ago we were going up North to Inverness to play against Ross County,
All of a sudden were off to Holland, been to Morocco and New Zealand so the club has taken massive strides forward in attitude. It`s a lot more professional. Things like everybody having lunch together after training. Previously we`d just shoot away after training, it all helps with team bonding.
The trip was good to New Zealand for the new players Scott Walker, Gary Dempsey for example, they get to know the boys. The facilities were fabulous in NZ, the training facilities in Holland were second to none. We started the season were so the trip was a success.
What was your best game for the Pars ?
I`ve had many good games but the Dundee United game in `96 was good and remembered well by the fans. Its good to get points away from home, and the fans enjoyed the team performance that day also. There has been some low points and many high points. Gaining promotion was great although we were extremely disappointed not to go up as Champions.

What is your opinion of the Old Firm playing in England ?
I think its still best to have the two best teams in the country in the league. They come here with a big crowd and we haven`t done ourselves justice against either of the two teams but hopefully this season we can get a result at home.

Its great for the players to go Ibrox and Parkhead to play against teams with crowds of 50-60,000. For the players, especially younger ones, its a great experience. There is a call for them to go down to England but I still think they would be better off here.

Its possible that some form of British Cup would be a good idea, that could be tried and they can see how they get on with that. At the end of the day they are Scottish clubs and are part of the SPL.

What about young players at East End Park ?
We have a few good players coming along at East End Park, George Forthingham, Mark McGarty we haven`t seen a lot of, obviously wee Chris [McGroarty] has established himself, there is other guys Scott McNicoll, I`m impressed with him, I`ve been in the reserves games most of the season, and he`s the one that`s impressed me most.

Who was the hardest player you had to face ?
There are a lot of players in the premier league most of the league has quality defenders and a lot of them are internationalists and hard to play against. One of the hardest I had was Gus [McPherson] while he was down at Kilmarnock. Bjodnick at Rangers he had pace and strength he used to push you off the ball, but there has been a lot of good defenders.

What`s your opinion th eupcoming Cup game against Falkir ?
With regard to the Falkirk Cup game it will be different, last one was Scottish Cup game at Brockville I scored that day, we ended up getting beat 2-1 so it will be fine to have another go at them. With the rivalry between the teams and fans we are all up for it and we hope for a result this time. [yep you got it the rsult Stewart!]

What will you do after leaving the Pars ?
I`m not sure what I want to do but I`d certainly like to keep playing for as long as I can. I`d also like to go into coaching and will be pursuing as I`ve been getting my coaching certificates.

We wish you all the best Stewart for the future.

NOTE: at the end of the season we will have Stewart`s Home Top for a comepetion prize.
Related Stories


views: 2,477