Pars player ratings v Motherwell
Author: J Barber Date: Saturday, 21st Sep 2002

Dunfermline today managed to grind out another three points at home to Motherwell. It was not pretty and it was not the free flowing football we know they can play, but the three points were won which is the important thing. This was a tricky tie for Dunfermline who have been getting praise lavished upon them recently, they were in a no win situation today so thankfully came up with the goods in the form of those three points.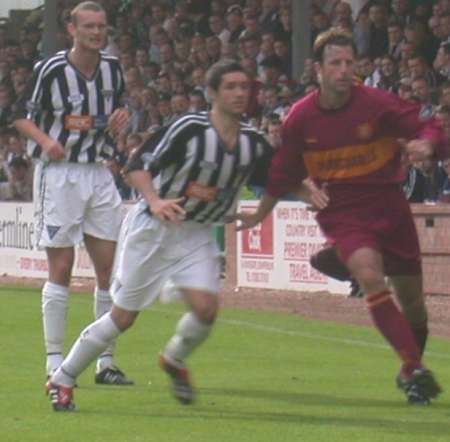 The team lined up in the same formation as had been successful on our recent travels, the only change being Sean Kilgannon coming back in on the left flank in place of, the perhaps unfortunate, Scott Walker. Here are my thoughts on how the players rated:

Marco Ruitenbeek: Will not get a more straightforward clean sheet for a while! Rarely troubled by a lacklustre Motherwell attack, who were snuffed out by his defence when need be. 7/10
Scott Wilson: A potential man of the match. Put in some crunching, telling tackles early on and was more than happy to cover the entire back line at time. Look in a determined mood. 8/10
Andrius Skerla: Another potential mom. Outstanding marking job on the press darling that is McFadden. Did not give the striker a minutes peace all afternoon, superb display at the back. 8/10
Scott Thomson: Only criticism was that he perhaps gave the ball away too early on occasions, rather than take his time and make a more telling pass. Not troubled on the defensive front though. 7/10
Sean Kilgannon: Perhaps too deep for him to shine. Struggled when on the back foot but always a threat going forward. Had a few rash tackles made on him and will have sore ankles tonight! 7/10
Gary Mason: Poor game from Mason. He will know he can play so much better, but the OPTA stats will not look good for his passing this afternoon! 5/10
Barry Nicholson: Covered a lot of ground and almost got things to work, but was caught playing too deep for his own liking. Crossed ball for the winner though! 6/10
Gary Dempsey: Only midfielder constanting looking to attack. Had a couple of half chances in 1st half that never threatened Woods, but always probing forward which is great to see. Subbed AGAIN! 7/10
Lee Bullen: Worked a tireless shift on the right and showed some nice confident touches in midfield. Scored his 1st of the season and walked away with the sponsors man of the match award. Crucial goal. 8/10
Stevie Crawford: Did a lot of work as Brewster was struggling this afternoon. Covered a lot of ground as game drew to a close as he kept possession very well. 7/10
Craig Brewster: Took a bad head knock early on and had to receive lengthy treatment. Never seemed to recover as little fell for him today. Might be a time to rest him against Cowdenbeath. 6/10

Subs used were Jason Dair and Chris McGroarty on the hour mark (for Brewster and Kilgannon ) Scott Walker replaced Gary Dempsey with 10 minutes to go.



views: 1,211