Gym Discounts
Topic Originator: PARrot
Date: Wed 19 Sep 04:06

Hands up who would like a discount on their gym membership.

Squealadeal is now able to give you fantastic discounts at over 3300 gyms throughout the UK and Ireland. We were going to charge a small admin fee to cover our costs, but Crackers being absolutely crackers insisted we do it FREE.

All you have to do is click on the Mygym Discounts button in the Affiliate offers section on www.squealadeal.co.uk (JUST CLICK THE PARROT BELOW) and join the gym you want - with a wee discount.

MYActive Discounts is there now too The reference asked for is Squeal.


Re: Gym Discounts
Topic Originator: dave67
Date: Wed 19 Sep 08:34

At the gym:
Me: "What does this machine do?"
"Sir, that's a bench."
Me: "Perfect."
Re: Gym Discounts
Posted from the Android app

Topic Originator: widtink
Date: Wed 19 Sep 08:40

They got a new machine in at the gym that I go to... I was on it for ages last night.
It does everything... Mars bars, snickers, twix... It's great 😂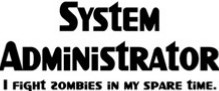 ---