Dunfermline Athletic 2 - 0 Partick Thistle
Author: Stephen Taylor Date: Saturday, 24th Feb 2007

A comfortable win that deserved a bigger winning margin earns the Pars another appointment at Hampden Park for the Cup semi final.
Manager Stephen Kenny made some changes with Stephen Glass cup-tied there was a real surprise to see Stevie Crawford on the bench. Dorus De Vries was in goals with Ross, Wilson, McGuire and Scott Morrison. Simmons and Mason in the centre of midfield with Hammill on the right and a surprise recall for Owen Morrison on the left. Jim O`Brien was played in attack with Hamilton.

The Pars must have lost the toss as they played somewhat unusually for the first half towards the home end. Whether the direction would make any difference was brought into focus as the Pars opened the scoring with an excellent header from Simmons. A cross from Owen Morrison on the left was met by the in-rushing Stephen Simmons at the back of the six yard area. A great finish and a great start for the Pars. It completely silenced the impressive 3,000 travelling support.
Owen Morrison was in the mood and tormented the Thistle defenders with good attacking runs and in 7 minutes another cross just evaded Hamilton. McGuire and Hamilton both jumped for a header in the Thistle area from a Pars corner the ball going wide.

Scott Morrison hit a free kick loosely over when the Pars wanted to further pressurise the Partick defence. Thistle had their first foray forward in 15 minutes winning a corner and indeed a further two corners in succeeding minutes. De Vries had to look sharp in 21 minutes coming to the edge of his area to clear.

In 23 minutes a strong run by Hammill was patially stopped the ball broke to Owen Morrison and his cross was just missed by Hammill who appeared to be taken out in mid air by the keeper. No penalty.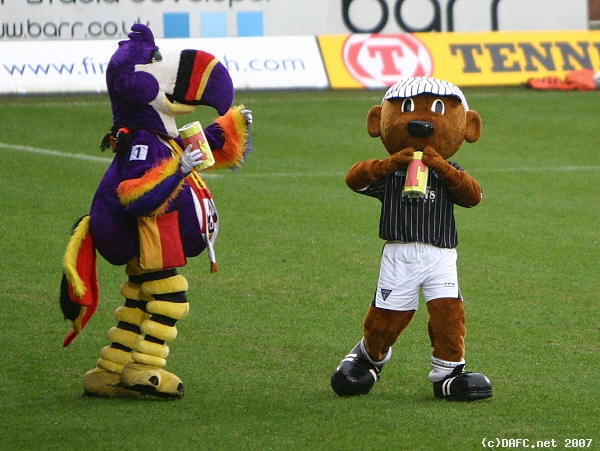 Another good move in 28 minutes involving Greg Ross to O`Brien then to Hammill saw the young Liverpool player hesitate caught in two minds and the chance disappeared.

Hammill put over a low cross in 31 minutes but there were no Pars takers and the ball went out for a corner. The Partick`s Keogh was booked for a bad foul on Owen Morrison. The Pars had a good chance in 36 minutes as O`Brien was through on the keeper but he was taken out as the keeper managed to get to the ball first.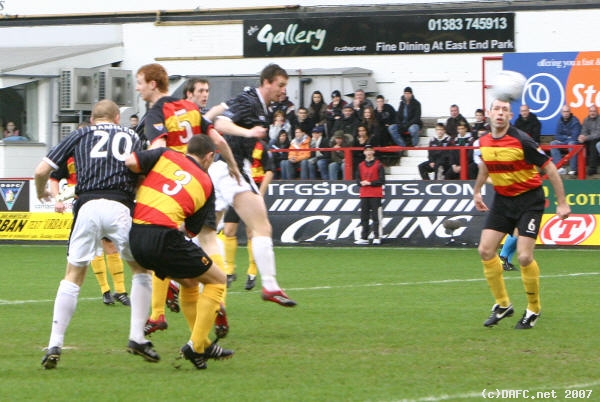 There was another yellow card for Thistle`s Boyd fouled O`Brien as the pacy Pars youngster were troubling the Partick rearguard. Simmons had a great chance to score in 43 minutes as he again arrived at the back post but his header was wide. McGuire had a good header in 45 minutes which was deflected for another corner. Half time 1-0.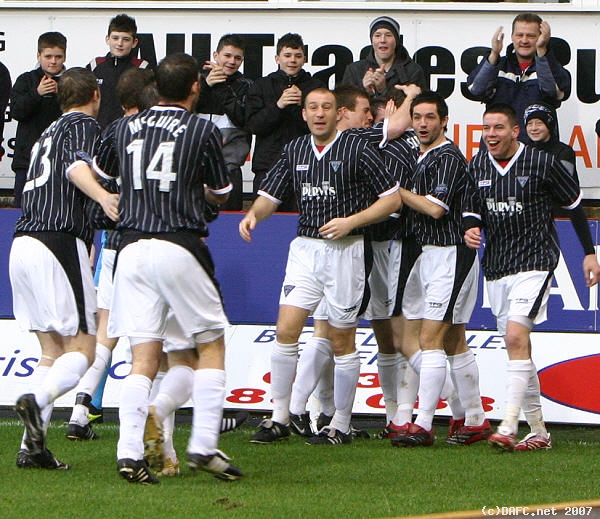 The lack of goals no doubt was causing Stephen Keneny at half time as the Pars had dominated. He would have been even more worried as Thistle hit a good shot wide.

Partick made an early change Smith off and Strachan on in 49 minutes.

At last a good early throw out by De Vries to Owen Morrison saw the youngster run from inside his own half to the Thistle penalty area but with no end result. In 59 minutes it looked as if Owen Morrison had found his goal as he cut in from the left and his shot came back off the post.



views: 3,361