About Us
Date: Thursday, 28th Dec 2017

DAFC.net was around in 1996 to provide information and chat for Pars Fans and was running before DAFC had an official web site. Links to DAFC official site and other DAFC related web sites can be found on our front page.
This site has been around in one form or other since October 1996. Brian Duncan and a colleague were producing a web site for John Scott and Sons the butchers in the High Street, Dunfermline. Douglas Scott, the owner, asked Brian if he could produce a forum related to football. Brian further tinkered with this new fangled internet and setup a basic forum in October 1996.

In fact we even still have a record of the first day working on this new technology:

-- In the beginning
-- Home page Number 1
-- First outline reports

Douglas Scott quickly used it to start writing match reports:

-- First match report SCOTTISH CUP v FALKIRK Saturday 15th February 1997

It was around this time that we became aware of a mailing of Pars fans which had been around for a few years. [Link to story to follow]

more to follow......

Over the years the following people have been involved in one way or another, with match reports and photos, Jason Barber, Stephen Taylor, Craig, Brown, Neil Farrell, Alastair Campbell, Andrew Meldrum, Dave Allan, Stuart Meldrum,

The name "dafc.net" was born after a meeting between Brian Duncan and Douglas Scott on the 26th March 2000. Brian was driving home and realised that this `beast` needed a proper domain name. With this a football site ".net" was decided on. In those days it was not always easy to register a domain especially a .net. However, it ws registered and the rest is history as they say.



In 1999 we were approached by Rivals.net to join a European network of Sports sites. During this period much of this effort by Douglas Scott, Andrew Pattison and Johny Wardlaw saw a dramatic rise in popularity of the site. We are indebted to them for putting DAFC.net where it is today. After a buy-out from Football365 in 2002 Rivals decided to drop all their Scottish Sites.

At the end of 2000 Douglas Scott was promoted to the Clubs Official web site with Jason Barber and Stephen Taylor stepping into the breach for dafc.net.

In 2002, it was decided that DAFC.net should revert to being an independent site and so we developed the site as we see it today, although we are continually updating and improving the features on the site.

We have come a long way since then even though the current forum software has been in use for almost 20 years. Technology has also changed a lot since then, we`ve had to cope with ensuring hackers don`t break in. We do need to look at how we look forward to the next 25 years. Ian Morrison has recently developed a Mobile application for Android and iOS. Lorna Morton has done Live Text Updates

The reason we stopped adding Match Reports and Photos on this site was it was being duplicated on the Official site [ DAFC.co.uk - (COWS clubs official web site) ]. Brian was involved in the development of the official site [2015] and didn`t have the time to spend on both (at that time).

We are again currently looking for people to write stories for dafc.net

We also require to start the photography again after a spell of 5 years.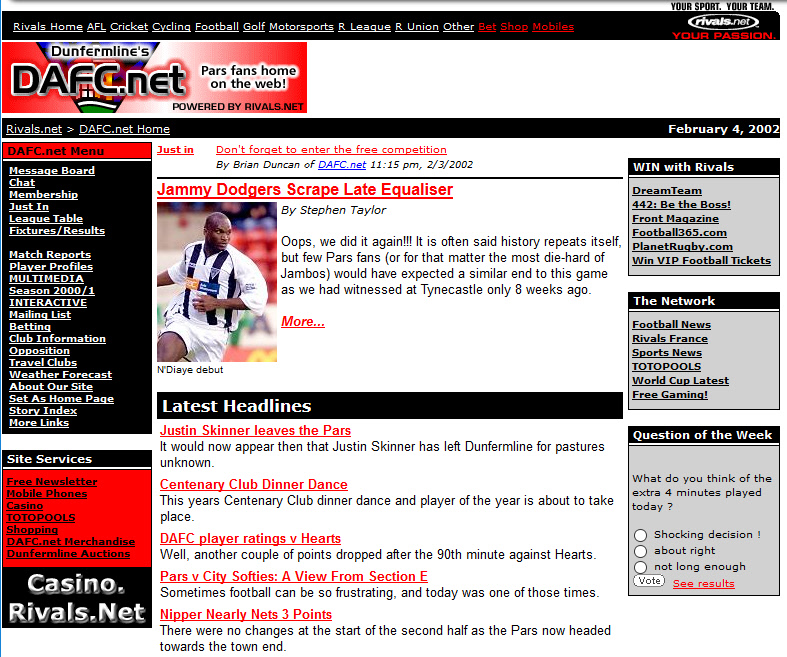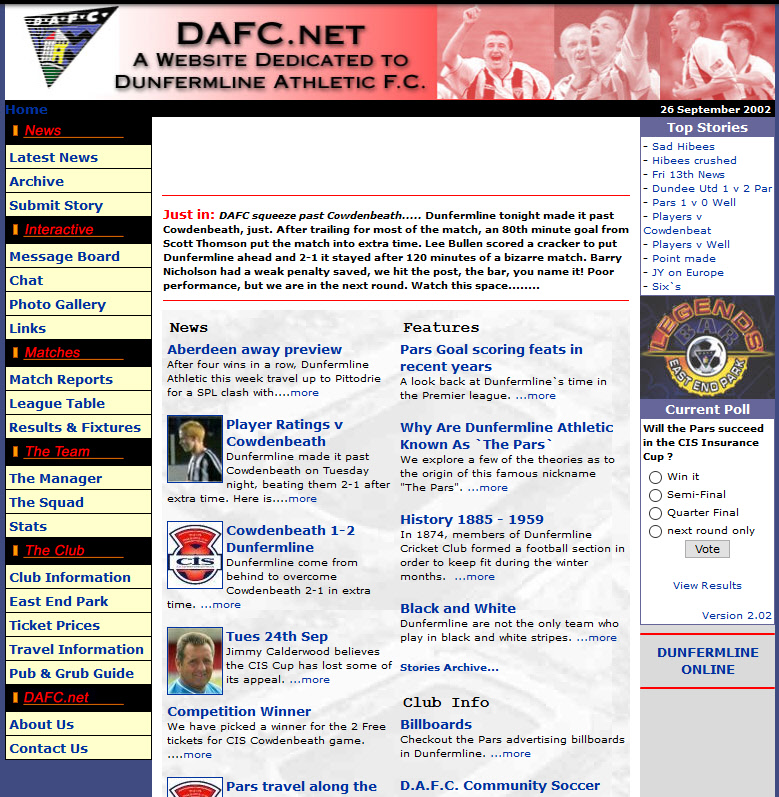 Related Stories


views: 22,360