Search:
The next meeting of the Supporters` Council will be on Thursday 14 May at 7pm in the Kingdom Suite, which has disabled access.
Read more
A 4th year student currently undertaking a dissertation at the University of Stirling is currently doing a thesis and wants the help of Pars fans, the focus of research is on fans perspectives of fan ownership.
Read more
Support Pars United (costs you nothing) when you shop online with 2700 retailers and insurance firms etc, including Argos, Amazon, John Lewis, Tesco, LV=, O2 etc.
Read more
Our site uses cookies to help your use of our web site.
Read more

27th January 2014 sees the launch of the Pars Wash Pars Wash is located at the rear of the north stand – take the road between the ground and the garage up to the car park at rear of stand.
Read more
Barbara Dickson, a benefit concert for Pars United in association with the Pars Supporters Trust
Read more
1885 Worldwide is a new internet-based fans' organisation, open to absolutely everyone, but designed specifically to help Dunfermline Athletic go global, establishing links all over the UK and the world by appealing to existing expatriate fans and any potentially new fans who might be interested in adopting the Pars as their second or Scottish club.
Read more
The dafc.net Prediction League
Read more
Pars Fans have been fantastic over recent months with auctions and donations.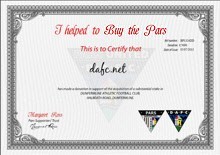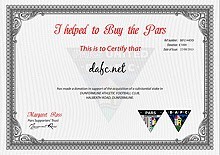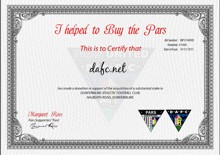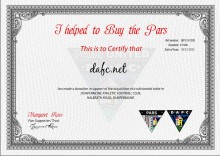 A donation of £5,000 was handed over to the PST by Kenny Mclachlan on the day that Pars United were awarded Preferred Bidder status.
Further donations of £10,000 wer made on 11th December 2013 and a further 2 certificates were received.
Read more
As a result we have decided to form a Roll Of Honour for all of those who have donated or purchased items
To Give greater detail the Roll Of Honour has been divided into 2 sections
Business Donations and Private Individuals Donations
Read more
On Sunday 14th April 2013 there will be a Charity Football Match at East End Park, Dunfermline with all funds raised going to CHAS, Aberlour Childrens Charity, Tartan Army Childrens Charity, Clic Sergent, Homestart and DAFC Community Programme.
Read more
A loyal band of expats continue the community spirit at Dunfermline Athletic by buying season tickets for deserving Pars fans who would otherwise not be able to attend games.
Read more