Search:
I`ve met two fellow Pars in Dubai in the last year. I`ve also recently found where I can get wheelcovers custom made.
Read more
... let`s face it, this one has been a belter if you are a Pars fan.
Read more
You can still sign up to become a member of the Pars European travel club however.


Read more

Despite Jimmy Calderwood (left) and Jimmy Nicholl heading up North where it`s grim apparently, the pre-season jolly to Holland will continue.
Prior to that for the stay-at-home brigade, which includes myself, there are three enticing away trips to Dumfries, Arbroath and sunny Methill.
Read more
The Dunfermline Athletic Supporters Club held a meeting tonight to develop their plans for the Pars march into Europe!
Read more
The 83rd Annual General Meeting took place tonight at East End Park.
Read more

Many thanks go to Lee for taking the time out from his move down South to Sheffield Wednesday. The now ex Pars defender/midfielder/striker/utility man is in the process of moving his family down to Yorkshire but here he answers many of your questions to him:
Read more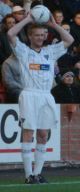 No doubt the new head coach, Davie Hay, will be hopeful of adding a couple of new names yet into the list as he takes charge of the Pars for the first time.
Read more