Search:
new EARLY BIRD OFFER you can take advantage of a whole range of extra offers WORTH OVER £150!!!
(Only available if you renew your season ticket by 31st May 2005.)

Read more
Highlights from interviews given by Jim Jeffries, Jim Leishman and Willie Young after the game against Kilmarnock.
Read more
Should be ok for live updates throughout the game today. Final game of the season should not be nerve-racking.
Ha Ha Ha Nice one Brian :o)
Read more
Help save St.Mirren by signing this internet petition.
Read more

An excellent turn out from the playing and coaching staff saw Jim Leishman make his first appearance since being confirmed as the new manager of The Pars!
Read more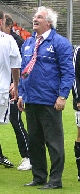 Jim Leishman, along with Craig Robertson and Hamish French, was today given the reigns to manage Dunfermline Athletic. (the worst kept secret of today!)
Read more
Hardly surprising that the players were delighted at Tanadice after the late goal to secure SPL status.
Read more
SUPPORTERS CLUBS FOOTBALL CHALLENGE that will be taking place on Monday 13th June 2005 pm at VIDA Sports, Pitreavie Playing Fields, Dunfermline.
Read more
Well, here it is at last – the definitive Dunfermline Athletic Dream Team. We have worked in association with the fans` website dafc.net over a number of weeks to ask Dunfermline fans for their choices for the very best Pars team ever. And our knowledgeable fans have certainly not disappointed. Their votes - more than four thousand of them - have produced a team of mouth-watering quality. Toughness, skill, and that other very special ingredient, 110% for the cause, are combined together into this magnificent eleven:




Read more
Highlights from interviews given by Jim Leishman, Jim Duffy and Derek Young after the game against Dundee.
Read more
Free Buses to Tanandice on 15th May.
Read more

In a move widely predicted by Pars fans, Jim Leishman will be Dunfermline manager from now until the end of season, returning to the position he last held back in 1990.
Read more

It has been officially confirmed that Davie Hay, Billy Kirkwood and Paul Hegarty are all now leaving East End Park. A short term replacement will be put in place before the Dundee game on Saturday, who will have the sole task of getting Dunfermline off the bottom of the league. Here we take a look back at the short lived Hay era.
Read more
Highlights(?) from interviews given by Davie Hay, Richard Gough and Scott Thomson after the game against Livingston.
Read more