Ajax Amateurs Select
Date: Tuesday, 15th Jan 2008

Dunfermline Athletic Legends V Ajax Amateurs Select,
this Sunday a fixture like no other - our own home grown legends of yesteryear take on Dutch side Ajax Amateurs, in a charity event pitting a DAFC select side against a team hand picked by former Pars goalkeeper Marco Ruitenbeek.
Due to be held at East End Park this Sunday afternoon (2pm), past Pars players such as Roy Barry, Bobby Robertson, Andy Tod, Jim Leishman, Hamish French and Ziggy Bowie will be donning their black and white shirts once again in aid of charity.

Prices for the game will be £3 Adults and £2 Children, through a cash gate in the Main Stand.

In addition one lucky Pars fan will manage the team of DAFC Legends in the "Manager for the Day" competition. Meeting the team in the dressing room of East End Park prior to the game, the winner will lead the team out of the tunnel for the all important game.

After the game, both teams will be heading to Legends for a special auction of the shirts, signed by the players themselves with all proceeds going to charity.

So if you want to walk away with your legend`s shirt then be sure to come to Legends and enjoy the after match party!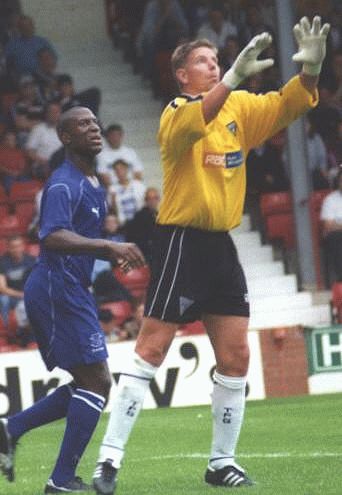 Marco making a save against Everton




views: 3,948