Annan Athletic 1 - 2 Dunfermline Athletic
Author: Alistair Campbell Date: Saturday, 30th Jul 2011

The Pars have often struggled to overcome lower league opposition in the 1st round of the League Cup in all its various sponsored guises, but have generally made it through to the next round. This year they maintained that trend with a hard-working if uninspiring defeat of Annan Athletic by the odd goal in three to move into the draw for the 2nd round, goals from Barrowman and Kirk making the difference.


An easy place to find - at least if you're coming from Junction 20 of the A74(M)– just follow the signs to Annan - Galabank is a trim ground on the right hand side of the road, to the north of the town. The pitch is narrow and slopes from south-east to north-west, and has some shallow terracing and small stand to the north. Many of the fans took the opportunity to stand in the sun on what was a beautiful day for football (and also for golf – July football still seems wrong to me...)

The locals were pleased to welcome their first ever SPL visitors, and quizzed by the stewards before kick-off I said I expected us to name our strongest available side. Hardie and Graham had disappeared from Monday night, with Dowie coming into a 4 man mid-field along with Burns, and Barrowman starting instead of McDougall. So we went with Gallacher in goal, a back four of Jason Thomson, Potter, Keddie and McCann; Burns, Mason, Dowie and Cardle in midfield and Barrowman and Kirk up front. Buchanan and Boyle appeared on the bench, alongside Ryan Thomson, McDougall and keeper Smith.

Annan also named a 4-4-2 – Sean O'Connor, once advised to retire following a knee injury, is still plying his trade in Dumfriesshire (albeit not at Queens any more) and would lead the line alongside the experienced Ian Harty, and Cardenden favourite Bryan Gilfillan would be busy in mid-field.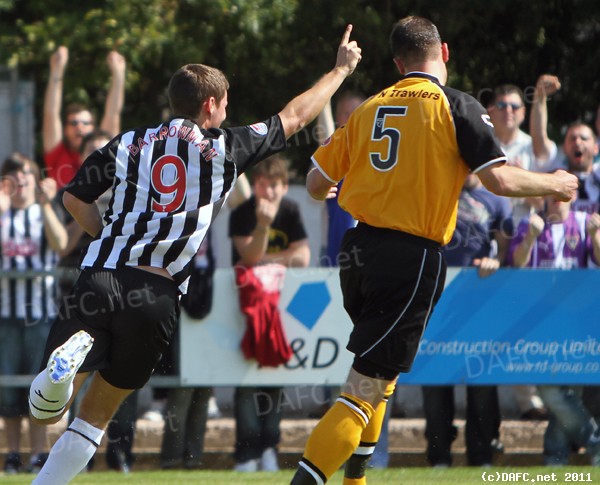 Andy Barrowman celebrates the opening goal
The Pars won the toss, and elected to play with the sun at their backs and towards their own fans for the first half. An early excursion up the right by Thomson earned a first minute corner and Gallacher was also on his mettle early on to dive at O'Connor's feet when the big centre-forward had managed to power between Keddie and McCann.

The first real chance came as early as the 4th minute – an early ball found Kirk suspiciously clear of both the defence and his own strike-partner, and so he had to go it alone, crashing a shot from 15 yards off the bar. An early goal would surely have relaxed the Pars but undeterred they pressed on and soon created another chance when Cardle, despite being tripped, managed to recover and cross to the back post where Burns sent a looping header high and wide.


Perhaps buoyed by these let offs Annan hit back and were unlucky not to do better in 13 minutes when O'Connor's persistence allowed him a shooting chance from close in – Gallacher was already in on the ground and was fortunate that the shot hit him.

However, the Pars took the lead in 18 minutes. Dowie picked out Cardle with a diagonal pass, and Joe forced a decent save from Summersgill low at his right-hand post. Cardle's first corner was deep and defended at the expense of another at the far side; Joe trotted across, hit this one to the front post where Barrowman lost his marker and found the net with a firm, glancing header. 1-0 Pars.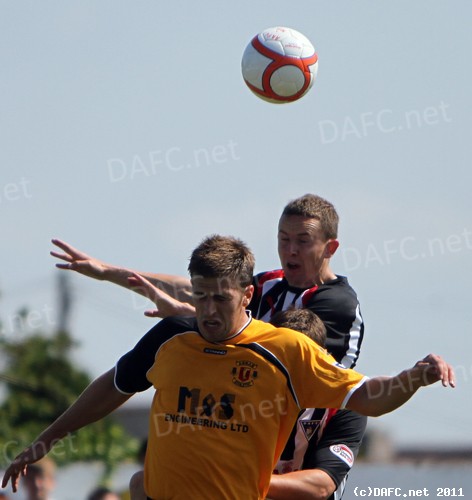 Paul Burns jumps the highest from a corner




The lead didn't last long as Annan scored a terrific equaliser. Cox overcame one insufficient challenge from Potter before rounding Thomson rather too easily and whipping in a shot high to Gallacher's left. A fine finish and enough to secure the Lanark lad the man of the match award. One apiece.



Despite this set-back, the Pars carried on with the same game=plan – get the ball wide to Cardle (mostly) or in some cases Thomson and look for a quality cross to pick out one of the Andies.
Cardle nearly obliged mid-way through the half, but the home team were just as dangerous, putting together some decent passing moves for which O'Connor providing a more than able focus. Just after the half hour, Keddie's slack pass following some sustained pressure conceded possession and O'Connor's shot was blocked, before Kirk headed a Harty over-head kick off the line.

At the other end the Pars won a series of corners but couldn't create much of note other than a Keddie header which was easily cleared and a difficult Burns volley that he saw late and couldn't keep down.

Half Time: Galabankies 1 Pars 1



Both teams emerged to the sound of the theme from "The A team" and showed no changes for the second half. The Pars were now playing down the slope, and soon McCann was testing Summersgill with a lobbed cross, which saw the keeper take the ball over his own line under the merest of pressure from Barrowman, but predictably referee Mr Richmond penalised the forward. The Pars kept up the pressure though, recycling the ball left to where Cardle and McCann were taking it in turns to fire in crosses and in 51 minutes they made the breakthrough – McCann with the cross and Kirk with the text-book header, to the keeper's right. 2-1 Pars.





views: 4,403