CIS Insurance Cup Final tickets
Author: Brian Duncan Date: Friday, 3rd Feb 2006

Dunfermline have been allocated 17,500 tickets, the same number as we had for the Scottish Cup Final in 2004. The batch has been split into 12,000 and 5,500. If the second batch have not been sold then they will obviously be returned.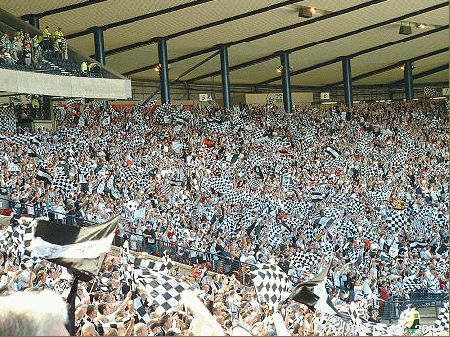 The CIS Insurance Cup may not have the same `wow-factor` as the Scottish Cup, but it is one of the two major cups in Scotland to compete for. Its up to the fans to make it a special occassion this year.

It has been decided that Dunfermline should be allocated 17,500 tickets, the same as previously. Its not possible for any other combination (e.g. 20,000 is just not possible to split Hampden up for that seating arrangement).

Please note that if 5,500 block is not sold then they will be returned to be sold to Celtic (or I guess any neutral fans that want to turn up :o) )

The whole ticket allocation will depend on how many fans want tickets so its important to apply for your ticket as soon as possible. My feeling is that if the 12,000 aren`t sold reasonably quickly then pressure will be on Dunfermline to return the 5,500 so they can be sold elsewhere, so get your order in quickly.

Ticket prices are £24 and £20. [details added after original story] Family section: £20 and £10.

[UPDATE: ] I`m told the best thing to do to now is to phone up as the Ticket Office now have more staff to deal with the large number of enquiries.

Obviously the ticket office will ascertain whether the tickets are for bona-fide Dunfermline supporters, or groups like the Balingry Green Kids :o). As usual, if punters are found to be in the wrong end, such as Celtic colours and those that demonstrate for Celtic will be ejected from the Dunfermline end.
The official Press release is below:

The CIS Cup Final – Sunday 19th March 2006 KO 3.00pm

Following discussions with the Scottish Football League we are pleased to advise that Dunfermline Athletic have been allocated 12,500 tickets for the CIS Cup Final against Celtic FC. There is the possibility of obtaining up to 5,000 additional tickets but this will be dependent upon how quickly the initial allocation is sold. If the take up of tickets is slow then the remaining tickets will be allocated to Celtic FC. So the message to our fans is once we start taking pre-bookings get your order in so that you are not disappointed.

In view of the above it is felt that the requirements of our supporters will be met in full and as such it is not considered necessary to have a priority period for Season Ticket holders and those supporters who went to the semi-final.

Prices have been set as follows:

Adults
South West Stand Upper - £24.00
South West Stand Lower - £24.00

West Stand Section A7 - £20.00

Family Area
West Stand Sections A1 – A6 – Adult £20.00
Child £10.00

Pre-bookings will commence on Thursday 9th February 2006 and there will be a dedicated hotline for bookings using the following number: 0870 300 1201. There will be a £2 Administration Charge for telephone orders. Orders can also be placed in person at the Ticket Office.

Ticket Office Opening Hours

Thursday 9.2.06 9.00 am – 7.00 pm
Friday 10.2.06 9.00 am – 6.00 pm
Saturday 11.2.06 10.00 am – 12.00 pm

Opening hours will be updated on the website on a weekly basis and also displayed in the Ticket Office window.

Related Stories


views: 5,677