Centenary Club anniversary season approaches
Author: Jason Barber Date: Friday, 4th Jun 2004

Nearly £500,000 in cash as well as thousands of pounds more on advertising and hospitality has been given to DAFC since the Centenary Club started up in 1985. That target will be met shortly and there is a special incentive for non members to sign up over the next few weeks!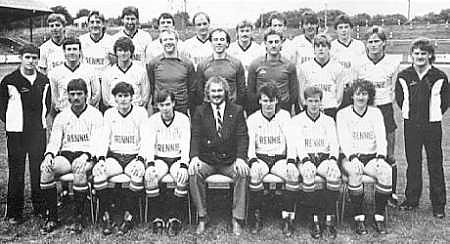 As well as weekly £250 cash prize winners, and the £500 quarterly winners, members are going to have plenty of events in the social diary over the next few months.

To mark the 20th year of the Centenary Club, more events are being planned in order to hand over more donations than ever before to help out DAFC.

A visit to Bolton Wanderers in 1985 by then team manager Jim Leishman, set the ball rolling. Bolton had formed their own Centenary Club and the ideas were soon put into place at Dunfermline Athletic. Bolton legend Nat Lofthouse came to East End Park to help launch the club and before long, there was well over 1,000 Pars fans signed up at one point.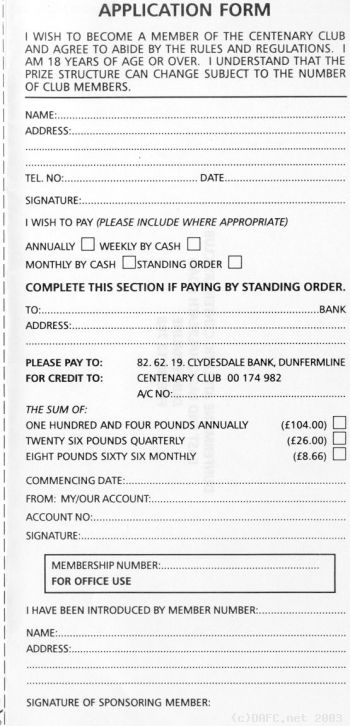 You can even save this and print it out!




As well as all available funds being donated to DAFC over the years, prizes for members have included foreign holidays, new cars as well as the regular cash/hospitality prizes given throughout the season.

Numbers have been steadily increasing over the last few months, which means DAFC can be handed donations on a more regular basis! Hence the constant recruitment drive for new members!

Now is a good time to sign up if you are not already a member. A regular newsletter is about to be revamped, and the next one will include a voucher to get 5% back on your season ticket price.

Anyone signing up over the summer will be automatically entered into a prize draw with a trip to Amsterdam as the main prize!

If you are an existing member, you can claim £10 for each and every member you sign up. All you need to do is add your own name and number to their application form.

The popular member`s handbook is about to be reintroduced for season 2004/05 and will be free for all existing members. This fact filled book has been missing for many years due to costs, but the timing of the 20th anniversary will see this collectible book back once again.

Events for the anniversary year will be announced shortly, though it is hoped that as many different events will be organised as possible, to suit all members. Two players will again have their shirts sponsored by the Centenary Club, and hopefully they will be available to attend as many of these events as they can manage.

So, as the old campaign used to say "Don`t delay, join today" and find yourself helping out the Pars as well as gaining from numerous membership benefits for a cost of just £8.66 a month. The membership fee has never increased since the club started in 1985, a rarity in this day and age!

Application forms can be downloaded from this website, or an original can be emailed/posted to you immediately. Recent members have signed up from as far afield as Australia.

http://www.dafc.net/index2.php?ID=984&CATEGORY2=

Copy and paste this link if you want to print out a form, otherwise please email Jason@dafc.net





views: 9,328