DAFC.Net Player of the Year
Author: Stephen Taylor Date: Sunday, 27th May 2007

The DAFC.Net Player of the Year Awards were presented at the Open Day at East End Park.
The 2006/07 season ended with a very busy Open Day at East End Park. Despite the Cup Final defeat 24 hours earlier the general mood by Club and supporters alike was one of optimism.

During the course of the afternoon DAFC.Net "Editor in Chief" was able to announce and present the DAFC.Net Player of the Year awards. These awards have been voted for by the users of the Pars top "unofficial" website both on a match to match basis and a recent poll on the forums and taking cognisance of the MOM awards throughout the season.
It will surprise noone that the Young Player of the Year Award went to Adam Hammill. Adam took a few minutes out from signing autographs to receive the award from Brian in the packed marquee.

There is little doubt this young man has a great future in the game and must have a great chance of breaking into the Liverpool. He almost singlehandedly lit up the season for the Pars with his trickery and attacking style. He is going to be a big loss from the team next season but he leaves East End Park with best wishes from everyone here.
The award for the main Player of The Year Award was a fairly close call with three players in the running but it was for his consistent level of performance throughout the whole year that Scott Wilson just edged out Dorus De Vries and Sol Bamba.

Scott has been immense this year. As everyone knows he is a great competitor and a very bad loser which is a great combination. He also stood in as Captain of the side when Greg Shields was sidelined. There cannot be many defenders in the SPL who are better than Scott and he should get much more attention from the media than he does. It is a great comfort to the fans and the Club that Scott is already signed up for next season having signed an extension to his contract earlier in the year. Scott will be a major factor in the Pars bouncing back up to the SPL at the first time of asking next year.

The only downside is that having held his DAFC.Net trophy for barely 5 minutes he managed to break the thing! Thankfully, nothing that a touch of glue can`t fix.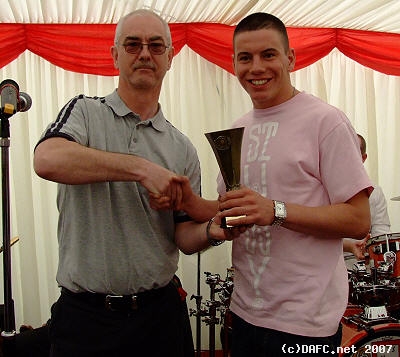 Adam Hammill
Fans Young Player of the Year
2006-2007
The following comments were sent in with the votes, they are in no particular order, but they convey the sense of pride with the Dunfermline players for ther performance in the last 3 months of the season.

To be honest when you look at the comments you`d hardly believe that Dunfermline have been relegated, but the last few months have shown what the new management team can do and so Pars fans are quite excited about the coming season. [this para added by Brian]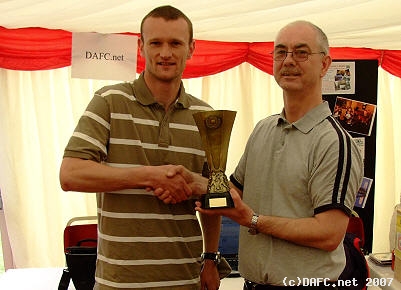 Scott Wilson
Fans Player of the Year
2006-2007




Both have been outstanding in very difficult circumstances!

Our best defender this season (McGuire)

Mon the Dorus!! :)

A young man far away from home who has given everything (Hammill)

wilson has been a tower all season,hamill came in when we needed a new lease of life

Both showed great enthusiasm and caused most excitement (for various reasons) (Bamba Hammill)

Gary Mason outstanding all year. So has Adam Hamill when he came

Both players always gave 100% (Scott Wilson Hammill)

Shields for sheer commitment and consistency, Hammil for bring a spark to the team

Greatest keeper in the SPL? Without a shadow of a doubt! (DE Vries)

Scott Wilson has been outstanding this season and easily takes my vote. Personally I don`t think loan players should be included in the poll either Player of the Year or Young Player of the Year but Adam Hamill has been far and away the most "entertaining " player of the season and I have to forego my opinions on this occasion

Scott Wilson consistently plays from the heart and for the jersey. Adam Hammill was a breath of fresh air whose skill and invention brought new fans through the gates and brought new belief to the fans.

Jim O`Brien has been consitently good for months. Hard working and not scared to track back.

Wilson=Solid, Hamill=Unforgettable

Hard to argue with Scott for player of the year. Rock solid throughout. Adam`s been a breath of fresh air.

Phil, steady and consistant (except Well away!!). Jim, not as tricky as Adam but hard worker and effective (except St Mirren!).

Stephen Kenny Manager of the Year

Both deserving winners. Scott has been an absolute rock at the back while Adam has entertained us superbly.

If only Tam had been with us from the start of the season....

Would have been down a long time ago if it wasn`t for Dorus - some of his saves this season have been out of this world and Hammill`s got the potential to play at the top level for club and country.

The Monk must stay!

Gary (Mason) has worked hard and played well all season without taking many plaudits.

No contest for Young Player, other choice tougher (Wilson or De Vries possibles)

The two players I voted for deserved the award and com on ye pars in the final and were coming straight back up !!!

Bamba has improved alot and is a brillaint player who plays for the team and the badge and the fans. Quick player

I think that our players that are thinking about jumping ship because we have dropped a division need to show some loyalty ,and fight to get us back where we belong ,as these are the guys who put us there at the end of the day .

This will be another awards ceremony without Mason getting anything I bet!!!

Scot Wilson came close to my PoY - Only selected PoY from players here all year.

Dorus has been amazin all season, and no player in the SPL can compete with Adam Hammill

Greg (Shields) has been an amazing captain all season

If it had not been for Dorus we`d have been relegated by march. Hold no grudges for his mistake at inverness. Hamill, what can i say, wins hands down the kop wonderkid!!!

Scott (Wilson) was solid throughout the season. Adam - a joy to watch

Wilson been a stand out leader all season! Hammill cause hes the only young player to have made an incrediable impact on the spl 4 dunfermline this season!

2 absolute legends and class players (De Vries, Hammill)

anybody who has watched EVERY game this season has to agree that scott wilson has been our most consistent player this year!

Despite the Inverness game we could have been down a lot quicker if it had not been for Dorus, it has been privilege to have him. Adam Hammill was a great signing at a time of need for the Pars. He gave a new dimension to the team, he will be a quality player for years to come, glad we had him for a few months.

scott wilson rock solid every week hasnt let us done once this season. adam hammil has made an excellent contribution to the team and gives 110% every week wish he came back on loan next year.

The team was extremely unfortunate to be relegated in the end and it was truly hard to take after such a good fight back and i thought gary mason was the player who really showed his quality after he was played along with a decent central midfielder in stephen glass. Which allowed gary to concentrate on his own game finally and be more dominant in the middle of the park rather than having to deal with other players mistakes so often. Adam hamill is a clear winner of the young player after his thrilling wing play even on his wrong side, which was definately a highlight as a pars fan to see so much skill and agility as i reckon he could go on to have some tremendous achievements in the game if he fulfils his potential.Fair play to the team and hopefully all the fans will get behind them next season and saturday`s cup final. [ED: they did ! :o)]

Keep the head up Dorus! We still love you more than ever! We`ll support you even more!

The Sol man deserves it

Although I`ve voted for Scott Wilson for his Contribution over the season, we must do all we can to keep Tam McManus.

two players that if they don`t stay will be sadly missed by the club. Thank you for your time here and trying to help us stay up. (McManus, Hammill)

both scott (Wilson) and greg (Ross) have been stand outs for me this season, hope theyre both with pars for next season-its a vital one.

Scott Wilson - Another year as a consistantly top performer.

(scott) wilson has been outstanding all season and hammill has shown teams HOW to play football

Dorus De Vries has been an absolutely amazing goalkeeper this season, and is extremely popular with the Pars fans! Adam Hammill has been outstanding and always had me on the edge of my seat everytime he was on the both! Both excellent players/goalkeepers!

Saturday`s game showed how important Gary Mason is to us, a big loss for the final.

De vries de best keeper this season

Dorus Devries was the best goalkeeper i had ever seen !!!!

Bamba has become a fantastic asset, Hamill is pure class

(Scott) Wilson plays for the jersey every game, the leader!!!!

(Scott) Wilson has been a consistently good performer all season. O`Brien can win games and has a big future.

greg sheilds is sensational

Mason has been the most consistent player this season and young hammill has been a breath of fresh air for us.

(Scott) Wilson has been a rock in the defence

scott (wilson) has outstanding all season and adam has been a godsend since he arrived at eep

Shields has been a vital player in the back line for us this season, and is one of few who never seems to give up. Hamill brought a lot of life into the attacking play and has been a key player in the last part of the season

Scott Wilson - by far most consistent player.

Both been amazing this season! COME ON YE PARS!!!!!

solid,dependable and simply outstanding all season

Scott (Wilson) for his consistently reliable and strong performances and Adam for the flair and excitement he has brought to the Pars

Mason has been mr persistent once again, no words are needed for hammill

gary mason is rarely apreciated for how much he does and this season has been fantastic. scott wilson and shields have also been amazing but mason has done fantastic this season

shields,consistant and reliable all season. hamill,exciting and full of enthusiasm which was catching

Dorus, despite his error at Inverness, has been in excellent form throughout the season, whilst Hamill is a young lad with a very bright future

McGuire and De Vries would also be up there for player of the year in my eyes, but Wilson out did them. Put his body on the line in every game, played with passion, commitment and was the rock that Kenny has built his team around. Hope to see him (along with McGuire) in a Pars shirt for a very long time. Hammill should be the young player of the season. Guilty at times of doing to much but he had the desire and drive to make things tick for us, he got the fans excited again and done everything he could to try and keep us up and to get to the cup final, i`m sure we`d have been down long before now if it wasn`t for Hamill`s play going forward

Scott Wilson, is not the most popular player but he leads from the front and doesnt like to loose and is prepared to do something about it

Young Adam hasn`t really had any competition, but `Dinger` has been head and shoulders above everyone else this season.

Did us proud at the end of the season there!!

Whatever happens this weekend these two players can hold their head high and say we gave our all for league and cup glory! (Scott Wilson, Hammill)

I think Phil Mcguire has been good all season so has Adam Hammil

(scott) wilson has played majority of games and has played out his skin every time! hamill has been a sensation

(scott) Wilson gets better each year and Hammill was a joy to watch

dorus has been quality throughout season & hammil is the best

De Vries is the reason we were still in with a shout with two SPL games left, no blame should go to him for his mistake. Hamill has been a breath of fresh air.

votes based on consistancy and inspirational leadership from both scott (wilson) and adam. thank u lads.

Dorus has been in excellent form all season, Inverness notwithstanding, and Adam has shown what someone with the ability to do the un-expected can bring to the team.

pity i could`nt give it to shieldsy and mcguire too!

Jim (O`Brien) has been a great player for us this season and hopefully will be allowed out on loan to us next year.

Still looking forward to Cup Final and Europe!

Phil`s a grafter and an inspirational force, Adam gave the young fans a hero to match any in the OF

Tam has made such a difference with his skill, enthusiasm and goals - pity it was just too late

What can i say; Wilson has been solid all season and is one of the best centre halfs in Scotland right now! Whilst Adam hasn`t been at the club all season; he has more ability than any other player at the club. Was always commited to the cause!

Phil & Adam have been the most consistent players for us all season. Hammil deserves to go back to liverpool with this award!

For me McManus` commitment and workrate inspired his teammates to follow suit.

both players (mason, Hammill) have done amazing sad to see mason miss the cup final but he did us proud

Scott Wilson has been rock solid and 100% reliable all season. A hero.

Both have made a telling contribution in the games they have played in and have aided those around them. McGuire in particular has been solid in every position he has played in.

Dorus certainly helped us a lot to have a chance in staying up. Hope he stays with us in the 1st division

Gutted for Mason missing the final.

Sol Bamba didnt play that well at the start of the seson but he is brike solid in defence now and I think Woods Was a super sub every time he came on .

big sol will be a key player in the cup final [yep, he was!]

Mason is an under rated player in the spl and is not given the credit he deserves for his 110% effort every game.

Close between Greg and Scott Wilson, but Greg just wins it for me. Adam Hammill....well, speaks for itself, bring on the final!!

mr consistency - one or two others may have hit greater heights but not getting yourself sent off so you can play every week has to be part of todays game too, well done gary (Mason)

(scott) wilson has been consistant through the season and hammill has been different class since his arrival from liverpool

Gary Mason is so consistent.takes a fair bit of stick,but does the dirty jobs with quiet efficiency.Will be our biggest loss in the final. as for Adam Hamill he has been a breath of fresh air to the club and i will be sorry to see him go. Good luck to him.

Gary Mason is an unsung hero for us in the last two years

it`s obv hammil is gonna win yound player so a decided to go for jim obrien who is a worthy contender, phil has been terrific all season and a bit of a un sung hero imo

(Scott) Wilson was solid as ever. I would say that this is the first season he has been given the credit he deserves.

I was proud of the team at today`s cup-final !




views: 5,292