DAFC.net kickabout
Author: Neil Farrell Date: Tuesday, 17th Jun 2003

A crowd of erm, 9 gathered to watch the messageboard members strut their stuff and put the mercenaries to shame on a glorious sunny afternoon on Fathers Day.

14 players turned up for the event, although it looked as though Brian had turned up for the game when he was seen strolling up Queensferry Road, but he had just come to offer support...you could at least have been a ball-boy Brian!
After a lengthy warm up, the teams were drawn by numbers by my good self who had my back turned whilst Super Ally (I think), allocated a number to each player. The teams turned out as follows:

Home team: Super Ally, Bigtallpap, Chicken Wing, Sinky Pars, Tafka Super Petrie, Turp Par and Wee Par.

Away Team: Chinns, Ivo, DA STU, Myself (Neil aka Obi-Wan Kenobi),Ginger Par, Lazy BW, Dafc alltheway.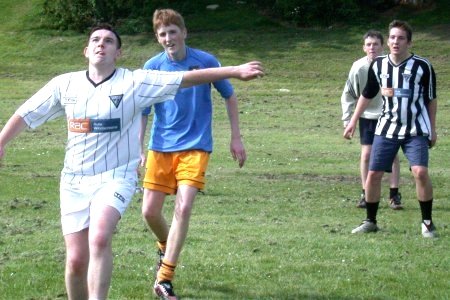 There were mutterings among the away team that we were due a humping from the home team, as they looked stronger. However, it was the away team who got into the routine quickly by using the space from the "wide" pitch, cough, cough.

Both teams adopted a 2-2-2 system, although the away team often went forward in all out attack leaving players un-marked at the back. Luckily Chinns was in fine form between the sticks, erm jumpers.

Early on It was apparent that there was a number of players who had not played the beautiful game in a while, (Chicken Wing and Bigtallpap to name a couple, who were obviously frustated by their earlier passes that went astray.

Even from the start It was clear to see that it was not going to be a game for wimps as the tackles were flying in thick and fast, particularly from Sinky Pars and Super Ally.

What I was trying to do was support defence and attack, and I often found myself defending against Bigtallpap at corners, (no mean feat when he`s about 6` 8" or something!)

Needless to say I was relieved when he confessed that he was crap in the air...related to Marinus Dykehousen perchance?

Bex`s eagerly awaited 1/2 time surprise sadly turned out to be orange slices... most of the slices alledgedly ended up inside the stomach of Chinns, but I seriously doubt that. I blame it on Parfect myself. Thanks again Bex.

The teams were changed slightly due to injuries substained to Turp Par (who required hospital treatment), and Super Ally who took the pictures for the second half. TafkaSuper Petrie came on to the Away side to even the sides.

Chinns went outfield and he was replaced in goals by Ivo.

This time it was the home team that took their chances most and were winning 6-4, when it was decided to make it "last goal wins".

Chicken Wing stuck away a superb volley to win the match and produced a celebration to match.

Each day I`ll put in different pictures in this story for you to see, and hopefully many more of you will attend the next one.

All in all it was a good day and I thouroughly enjoyed myself, and so did everyone else it seems. It was good to put faces to names and no doubt there will be another before the start of the season.
Related Stories


views: 2,652