DAFC Dream Team Midfielders
Date: Tuesday, 12th Apr 2005

In association with the matchday programme, we are asking you to record your votes for you favourites players. From your votes, the team that is deemed the greatest will be immortalised in a Dream Team limited edition print. One copy of this print will be given away free in a competition.

Being a fantasy team, it's likely that a couple of silky ball-players with defence- splitting passing ability will feature, but where does that leave the hard-tackling 'minder' who is often just as popular with the fans? A further complication arises with the old 2-3-5 system, where the half-backs were considered little more than defenders and the inside-forwards were most definitely strikers. As tactics changed during the Sixties, a new phenomenon appeared - the 'midfield' player.

VOTING HAS NOW CLOSED



We start with the captain of the 1961 Cup winning team, Ronnie Mailer. Signed in March 1951, Ron was a versatile player who gave everything he had for the full ninety minutes, so much so that he became known as 'Marathon Man'. Finally settling at right half, he proved equally adept at breaking up opposition attacks or opening the play up for the Pars, the cross-field pass being something of a speciality. Ron made 325 appearances for the club, the last of these coming on 4th April 1964, and scored 32 goals, the most memorable being a spectacular forty-yard rocket against Kilmarnock in 1960.
Many Athletic supporters regard Alex Smith as one of the greatest players ever to wear the black and white. His superb control and accurate passing were the main features of his game and he was recognised as the 'brains' behind the team. An inside-forward for most of his time with the Pars, Alex was no slouch in front of goal either, netting 98 times in 298 matches, third highest in the club's post-war rankings. In August 1966 he was sold to Rangers for a then Scottish record fee of £51,000. Sadly, his performances there didn't match his fee but that was largely because Rangers were intent on playing him as a striker.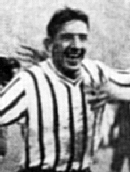 Ronnie Mailer
Fortunately, Dunfermline had other talented players to help fill the gap, one of them being Tom Callaghan, brother of right-back Willie. Signed from Lochore Welfare in 1962, he was one of Jock Stein's real bargain buys, costing £20. The perfect link between defence and attack, Tom was a skilful, hard-working left-sided midfielder who recovered from a broken leg to help the Pars lift the Cup in 1968. He also won international honours when he was capped for the Scottish League against the League of Ireland. Jock Stein was impressed enough to sign him again, in November 1968, for a Celtic record fee of £35,000. He had made 190 appearances for the Athletic and was still only 23 years old.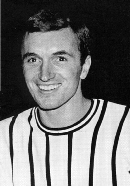 Alex Smith
Although there are many who would regard Bert Paton as more of a forward, for 'Dream Team' purposes he'll be considered a midfielder. Certainly, his unselfish style of play as an inside forward helped strikers such as Alex Ferguson and Pat Gardner to the best form of their careers. He signed for the Pars in 1961 after being released by Leeds United and took a while to establish himself in the side but once there he became indispensable. Bert had a knack of making space for himself and others even in the busiest goalmouth and was a hard man to take the ball from. Ideally suited to European football, he played some of his best games on that stage and remains the club's top scorer in Euro competition. In 214 matches Bert scored a very creditable 86 goals despite having a career blighted by injury. The second of his broken legs saw him retire from the playing side while still in his twenties.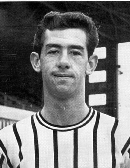 Tommy Callaghan
It shouldn't be surprising that so many of our choices are from the Dunfermline Athletic of the 1960s, and our next player was also from that era. Hugh Robertson started life as a winger, and indeed, was a member of Dundee's famous Scottish League winning side and of Scotland's World Cup squad in 1962. It was quite a capture when manager Willie Cunningham recruited him at the age of 26 in 1965, and playing him in midfield proved to be a great piece of management. Very powerful and stocky in build, Hugh had a great eye for goal and a very powerful shot, and was always among the top goalscorers every season with Dunfermline. He was a member of the 1968 Cup winning team as well as a regular starter during the Pars most successful European era. Hugh scored 61 goals in 237 Pars appearances.
The early 1980s were not the happiest times at East End Park, but one man who helped to take them out of those doldrums days was popular midfielder Steve Morrison. Stevie was signed as a striker in 1981 from Aberdeen for a £7000 fee by then manager Pat Stanton, but it soon became evident that he would play a more significant role as a creative midfielder. Stevie had good vision that allowed him to play long sweeping cross field passes, but it was his ferocious shot that helped him become a favourite with the fans. Stevie helped Dunfermline from the Second Division into the First and then the Premier, playing a total of 275 first team matches and scoring 48 goals.

Select Steve Morrison
---
| | |
| --- | --- |
| | Craig Robertson |
Craig Robertson
The modern game demands that midfielders have to be good all-rounders and one of the best in recent years was Craig Robertson. First signed in 1987, Craig was the top scorer with 13 goals in Dunfermline's inaugural Premier Division season and made a big enough impact to be transferred to Aberdeen for £200,000 during 1988/89. He returned in 1991 and gradually made the transition from an attacking midfielder to one that could easily adapt to sweeper if the need arose. After making 322 appearances for the Pars he was surprisingly released in 1998, but nobody will ever forget the massive contribution he made following the tragic death of Norrie McCathie.

Select Craig Robertson

---
| | |
| --- | --- |
| | Istvan Kozma |
Istvan Kozma
There's little doubt that Istvan Kozma was one of the most talented players seen at East End Park during the past thirty years. The Hungarian international signed in September 1989 for a club record fee of £540,000 and had an immediate effect as the Pars played some great football and briefly topped the league. His intelligent play was sometimes too clever for some of his teammates but he linked well with George O'Boyle and Ross Jack and his hat trick against St.Mirren was unforgettable. Kozma's influence on the team waned as, inexplicably, he was moved out to the wing, where all he could do was wave his arms at colleagues unable to get the ball to him. With the Pars heading for relegation, Liverpool came in with an offer of £300,000 in February 1992 and Kozma headed off to play for Graeme Souness. His hero status was, however, confirmed when he returned to play in Stewart Petrie's Testimonial match. Even then, at the age of forty, he showed some of the skills that made him one of the Pars' all-time favourites.

Select Istvan Kozma

---
| | |
| --- | --- |
| | Barry Nicholson |
Barry Nicholson
Our final choice is a player who is still with the club today. Barry Nicholson was transferred from Rangers in 2000 and went from being an occasional first team player at Ibrox to a mainstay at Dunfermline. In his five seasons at East End Park he has been a regular notching up more than 200 appearances and scoring 30 goals. He captained the team in Scott Thomson's absence, taking them to their first Cup Final for over thirty years in 2004. He has scored some remarkable goals for the club and he remains one of only five Dunfermline players capped by Scotland while serving with the club.

Select Barry Nicholson

---


views: 11,200
Story Archives
2022
2021
2020
2019
2018
2017
2016
2015
2014
2013
2012
2011
2010
2009
2008
2007
2006
2005
2004
2003
2002
2001
2000
1999
1998