DAFC Dream Team Results
Author: Duncan Simpson Date: Monday, 9th May 2005

Well, here it is at last – the definitive Dunfermline Athletic Dream Team. We have worked in association with the fans` website dafc.net over a number of weeks to ask Dunfermline fans for their choices for the very best Pars team ever. And our knowledgeable fans have certainly not disappointed. Their votes - more than four thousand of them - have produced a team of mouth-watering quality. Toughness, skill, and that other very special ingredient, 110% for the cause, are combined together into this magnificent eleven:




Goalkeeper: IAN WESTWATER

Bent Martin, Hugh Whyte and Jim Herriot all had a considerable following, and early 1990s star Andy Rhodes had an even bigger one, but in the end it came down to two men. Eddie Connachan, who single-handedly held Celtic`s defence at bay in the 1961 Scottish Cup Final, to help the Pars to their first major trophy won 134 votes. But the man whose career at Dunfermline spanned the best part of 15 years, who Jim Leishman bought for £3000, and who helped Dunfermline through from Second Division oblivion to top ten status, was the fans choice with 150 votes.




Full Backs: WILLIE CALLAGHAN and JOHN LUNN

Poor old 1940s full back Bobby Kirk didn`t win too many votes, but former manager Willie Cunningham and 1980s captain Bobby Robertson both had their supporters. In the end though, this one went right to the wire with three players vying for the two places. 1990s starlet Jackie McNamara has gone on to a wonderful career at Celtic, but as a youngster with Bert Paton`s emerging Pars side, he enjoyed a lot of support, winning 168 votes.

Second top spot, and as it happens the player who will fit neatly into that left back slot, went to the late John Lunn with 181 votes. Top of the poll with 218 votes was former Scotland right back and a man with over 400 Pars appearances, Willie Callaghan. Fans who had the good fortune to watch this pair in action together would agree that there could be no better combination.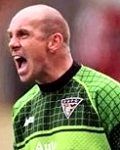 Westwater
Centre Halves: ROY BARRY and NORRIE McCATHIE

Interesting that the two players who topped the poll overall were these two inspirational centre halves. That`s not to say that others didn`t get votes, because they did - Jim Fraser, Barry`s partner in the successful 1960s side was next best, followed by Kenny Thomson, Jim McLean and John Salton.

But these two hogged most of the votes cast, and it is easy to see why. They were similar types in many ways - neither was very tall yet both were brilliant in the air; they could both read the game, and their ability to tackle was second to none. But the thing they both had that perhaps set them above others in every sense was their leadership qualities. Roy gained 260 votes, while Norrie was just behind on 255.





Callaghan and Lunn
Midfielders: ISTVAN KOZMA, ALEX SMITH and BARRY NICHOLSON

Dunfermline has been in the very fortunate position of having more than its share of classy midfielders over the years, and this showed in the voting with every midfielder getting a good return. Former stars like Hugh Robertson, Stevie Morrison, Ron Mailer and Tom Callaghan all did well but not enough to take a place in our team.

Current Coach Craig Robertson had a lot of admirers gaining nearly one hundred votes. But this was also the closest vote of the lot with just four votes separating the 2nd, 3rd and 4th placed players. Unfortunately, one had to go and that was Bert Paton, arguably one of the most skilful players seen in midfield at Dunfermline. Bert got 123 votes, but just two votes more saw Alex Smith into the team. Smith was at one time Scotland`s record transfer fee to Rangers, and another man with Rangers connections got into second place.

Barry Nicholson won 127 votes, and although there is much speculation about his future at Dunfermline, fans will not forget the contribution he has made to the team over the last five successful years. At the top of the midfield pile, however, was one man who did accumulate a whopping 240 votes, and that was Hungarian maestro Istvan Kozma.





Barry and McCathie




Winger: ALEX EDWARDS

Dunfermline have had so many good wingers it seems incredible that the likes of 1920s international Jimmy Stein, 1960s legends George Peebles, Harry Melrose and Jackie Sinclair, and 1980s favourite Jim Bowie couldn`t make it into this team. But the reason for that is fairly clear - the player who did win this vote - with 153 votes in his favour - was Alex Edwards, a youth superstar and arguably the best ever player for Dunfermline.




Forwards: CHARLIE DICKSON and JOHN WATSON

1920s stars Andy Wilson and Bobby Skinner both suffered from the fact that few fans will still be around when these guys were playing. Wilson in particular was one of British football`s biggest stars at the time and would surely have appeared in anyone`s Dream Team in other circumstances.

Alex Ferguson and Ross Jack both were popular strikers and that shows in the votes they both won. It was, however, a very close call for the second-placed striker with Stevie Crawford on 89 votes just being edged out by 1980s hero John Watson on 93. Not surprisingly, the club`s top goalscorer of all time Charlie Dickson took top place on 129 votes.







So there you have it - it might not have been your choice, and no doubt some of you will debate this on the Forum pages on dafc.net. But not too many people will argue that this is a really great Pars team, and one which you will shortly have the opportunity to have hung up on you`re your own wall at home in a quality frame. Details of how to get your Dream Team print will appear soon on the club`s website, but in the meantime, thank you for voting!




views: 9,545