Dundee United 1
Dunfermline Athletic 0 (Co-op Insurance Cup 4th Round)
Author: Stephen Taylor Date: Tuesday, 28th Oct 2008

The Pars were edged out of the CIS Cup in a thrilling match at Tannadice where the visitors did not look out of place against their SPL hosts. A big travelling support gave their side tremendous backing and a standing ovation at the final whistle.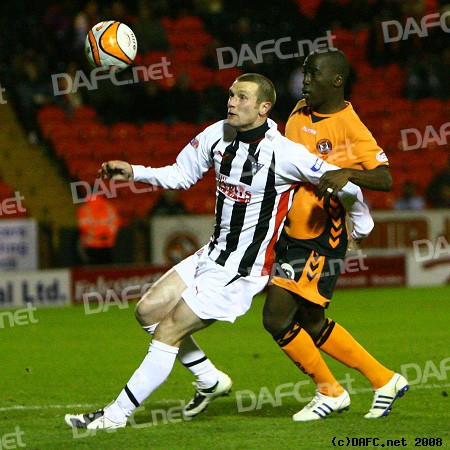 With no game last weekend it gave Scott Wilson a bit more recovery time and it paid off with the big defender putting in a great shift. The Pars looked pretty strong with Gallacher in goals. Woods, Shields, Wilson and McCann the defensive line up. Harper, Phinn, Glass and Burke the midfield quartet and with Bayne and Kirk in attack.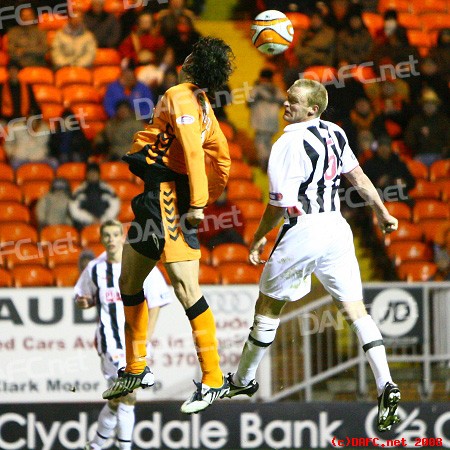 Greg Shields in action.
The Pars started the game very well with some excellent crisp passing with the home side left standing aside as spectators. A great dipping shot by Glass in the first couple of minutes almost gave the Pars an early lead. It certainly gave the Pars fans early encouragement. It was disappointing, therefore, to see United take the lead with virtually their first shot at goal as Robertson latched onto a loose ball that was not cleared properly and he slammed it past the diving Gallacher. That could have been a big set back for the Pars but to their credit they got right back into their stride.

Kirk and Bayne were toiling hard against Dods and Wilkie and the Pars were winning corners and putting the big United defence under pressure. Kirk came very close to equalising in 32 minutes when he hit the keepers left hand post as he was closed down on the edge of the 18 yard box getting his shot away as he was bundled over.
Harper was being quite effective as he cut into the middle of the park ably supported by Glass and Phinn. As the half progressed United were starting to use their strength and were coming more into the game. Half time 1-0.

Again the Pars started the half well. Woods made a good run forward in the opening minutes. United`s Donovan wildly hits a ball well over which showed a complete lack of composure. Austin McCann hits a ball that just slips over the top of the bar. Very much end to end stuff. The Pars are being pressed back a bit deeper and their own passing was not quite as sharp but despite both sides winning plenty of corners there were few direct efforts at goal.


Referee Dougie McDonald started to make a poor impression on the Pars fans not least in 71 minutes when the Pars cleared a ball from inside their own area. Andy Kirk was clear away from two United defenders who were lying on the ground after taking each other out, nothing to do with Kirk, but he was penalised despite the referee being miles away from the incident.

Willo Flood hit a tremendous shot off the Pars crossbar as United tried to finish the Pars off but some stout defending kept United anxious for the final few minutes.It almost appeared the Pars were taking the game to extra time as Stephen Glass hit a tremendous shot that Zaluska tipped over the bar. Final score 1-0.
No disgrace for the Pars in this defeat. They certainly deserved to take the game to extra time. United possibly had just that little bit extra quality but when the Pars got their passing together, United found them hard to live with. Paul Gallacher played well but at times struggled with United`s corners and cross balls where his lack of inches means he flaps at some balls. The defence were very good with Scott Wilson just edging out his team mates for the DAFC.Net MOM. The midfield had Phinn and Glass playing well with the latter having one of his best games for the Pars. Harper disappeared from the game as usual despite showing some good touches in the first half. Alex Burke worked hard but his lack of pace was shown up more in this game than against 1st Division teams. Bayne and Kirk worked tirelessly without having too much success with direct attempts at goal.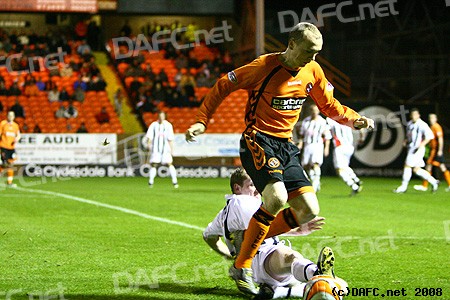 Alex Burke v Scott Robertson.




If the Pars can perform like this in the forthcoming league games they will surely keep themselves right in the promotion hunt over the next few months.



views: 3,077