Dundee United comments
Author: Brian Duncan Date: Friday, 6th Dec 2002

A happy Jimmy Calderwood appeared in the Press Room after the 4-1 win over Dundee United at East End Park.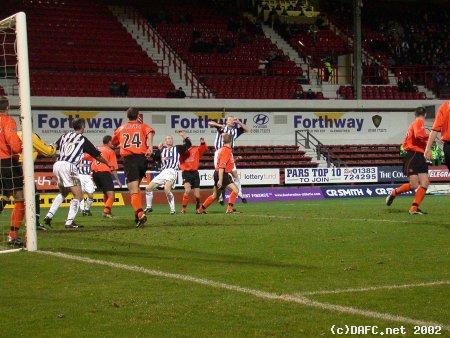 Jimmy Calderwood
I was pleased with the first half performance tonight, there could have been more goals. Stillie made an important save for us in the first half and it was important to recover from Saturday (as that felt like a defeat). The response was magnificent from the lads as on Saturday we got sloppy.

Craig Brewster has been magnificent all season, with the two up front they [other teams] cant handle them. Jimmy [Nichol] and myself thought that he would be a key player for us and he has done really well. The young players should watch him and learn from him. With Craig and Stevie they are both so clever, they are both scoring goals week about, with wee Barry getting in on the act now and again.

Gary Demspey had a bad eye, he had some feeble excuse for his bad pass so I had to take him off :o)

Kilgannon also did well with cross to Stevie - just a bit like Johnson [you older ones will remember him was Jimmy`s crack to the older Press boys!]
Paul Hegarty
That`s ten games I`ve been manager now and thats the worst of the 10 games. We showed the other side of how we shouldn`t play (in the first half). We will rectify it in the next few weeks, we had some fighting spirit towards the end so I was pleased with that. It was apoor defenive mistake forthe first goal, I can`t accept that, the penalty I can`t judge.

The players new what Dunfermline were liked and shoudl have had teh big lads marked.
Scott Walker
We started well as a team, but they couldn`t handle it. I had to do better than against Hibs so I was much happier with my own performance tonight. I`ve played in a fe wpositions, but I don`t mind where I play.

The second half they could have sneaked another goal or two but we held out. For my goal I saw Craig, who ducked, and then I thought he as maybe looking for his hat-trick ! [sorry Craig]

Saturday`s game will be another hard one as Partick Thistle are another hard working team who look like they will stay up, so it will be a tough game at Firhill.
Related Stories


views: 3,771