Dunfermline`s history of Scottish Cup semi finals
Author: Jason Barber Date: Tuesday, 6th Apr 2004

It`s been a while, but at long last today`s generation have a chance to sample what the regular doses of "cup fever" experienced by Pars fans back in the 1960s were all about.

A rare trip to Hampden Park is approaching as we play Inverness Caledonian Thistle for the first time in the Scottish Cup.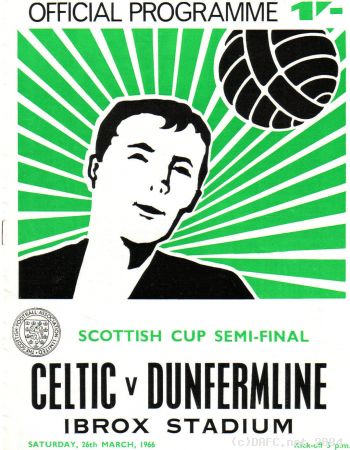 For all their previously mild success in Scottish Football, it was not until the 1960s that Dunfermline made the slightest impression on the Scottish Cup. A League Cup final back in 1949 proved to be a one off that could not be built upon, and a yo-yo league status continued until Jock Stein took over in March 1960.

His first full season in charge saw the club win their first ever major trophy!

Dunfermline`s first ever Scottish Cup semi final took place on April Fool`s Day 1961. Drawn against St Mirren, the first game was a negative and tight affair that ended nil nil. Tynecastle was used for the match and the subsequent replay just four days later.

This time around, one goal was enough to seperate the teams in another close match. Saints defender Stewart was the unfortunate match winner as he scored an own goal to settle the tie and put Dunfermline through to meet Glasgow Celtic in the final.

Dunfermline obviously went onto win the cup in 61, but they were not able to put up a defence for long. St Mirren got revenge by knocking The Pars out in the 4th round in 1962.

The second semi final took place in 1963/64 season. After strolling their way past Fraserburgh, East Stirling and Ayr United (scoring an average of seven goals against them!) Dunfermline drew Rangers in the semi final. The Hampden tie ended in an anti-climactic one nil defeat.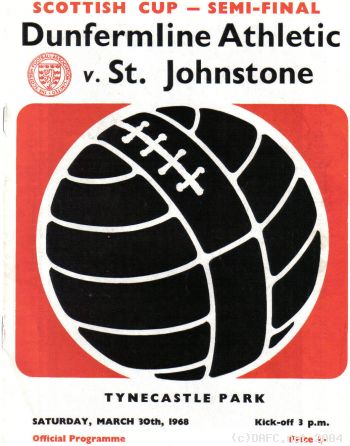 DAFC`s Long standing `last` semi final appearance
Dunfermline were again back fighting in the latter stages the following season though. Playing Hibs in the semis for the first time, with the match again at Tynecastle, Harry Melrose and Alex Smith scored the goals which put Dunfermline through to their second final, again meeting Celtic!

Runners up after that final, Dunfermline yet AGAIN reached the semi finals the following season! No prizes at the back, but Celtic were the opponents. Jock Stein`s side once again had the upper hand over his former club and they ran out 2-0 winners to deny Dunfermline successive cup final appearances.

An unusually short cup run in 1966/67 saw Dunfermline have to wait a whole year before their next semi final slot, almost unheard of during the 1960s!

For a change, St Johnstone were drawn out the hat at the last four stage and Tynecastle again hosted a Dunfermline semi final. A 1-1 draw, Pat Gardner scoring for Dunfermline, saw a replay four days later. This time, Dunfermline won through 2-1 (Bert Paton and Ian Lister) to reach their third, and so far final, Scottish Cup final.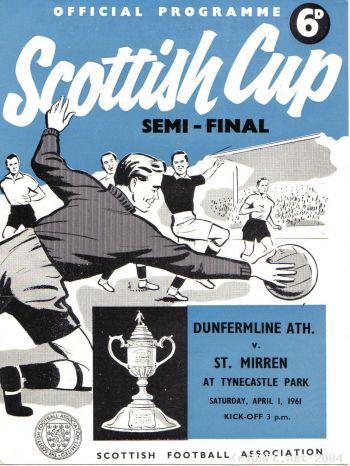 Pars 1st Scottish Semi Final
After beating Hearts in the final that season, Dunfermline were not to know it would be 2004 until their next semi final appearance. After five semi finals in just eight years, it has been an incredibly long time which has not even seen too many quarter final appearances to cheer about.

For a club who are always deemed to have such a fine Scottish Cup pedigree, a 34 year gap without reaching the last four has been hard to comprehend for a lot of Pars fans brought up on previous successes.

The forthcoming match will now be only Dunfermline`s sixth Scottish Cup semi final in their history, so it is clearly something to favour! Fans back in 1968 were not to know they would have such a long wait for another one, so hopefully numbers will be out in force for this seasons match.

For the record then, Dunfermline have the following historical semi final record:

Played 5, Won 3 and lost 2.

Everyone connected with the club will be putting all their efforts into making sure that Dunfermline Athletic make a fourth Scottish Cup final appearance. No matter what the score is, or how the team perform, if that was to be the end result of the Inverness match, it would be a tremendous achievement for all concerned.

There is now the perfect chance to write a new chapter in the club`s history after a long 34 years.

COME ON YE PARS!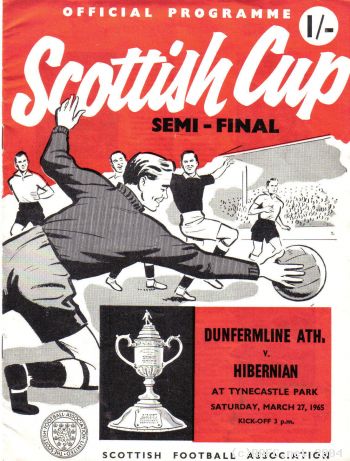 Hibs at Tynecastle, 1965
Related Stories


views: 3,463