Dunfermline 0-1 Morton
Author: Stephen Taylor Date: Saturday, 11th Aug 2007

No plastic pitch to blame this week just a stuffy Morton side that defended well and showed the Pars how to be efficient in attack. A bad 1-0 defeat for the Pars with some truly shocking performances by key individuals.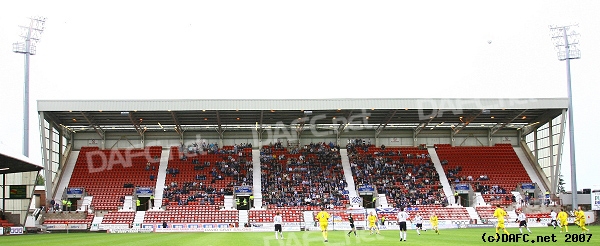 After hosting the stars of Manchester United in midweek the Pars were back to the reality of league duty with their first home match of the league campaign. A large expectant home support turned up to see the Pars kick start their season after their opening league defeat at Hamilton.

With no Phil McGuire and Scott Wilson out injured there was a welcome return for the "want away" Sol Bamba to play alongside Scott Thomson in centre defence. Shields and Muirhead were the full backs and Roddy McKenzie in goals. Stephen Glass was in the midfield with Darren Young with Harper on the right wing. Stevie Crawford, Burchill and McManus were the forward trio with all three rotating the positions they were playing.

Even from the start it was clear that Morton were going to sit in deep with former Par, Chris Templeman, playing in attack on his own. Harper put over a good cross in the 3rd minute which was eventually cleared. McKenzie then had to rush to the edge of his area to save at the feet of the inrushing Templeman. Scott Thomson made a good run forward getting to the Ton 18 yard area before he was tackled with the Pars getting a corner. Harper then won another corner in 10 minutes as the Pars continue a lively start.

Stephen Glass v Jim McAlister.
Burchill playing over on the left wins a corner as he tries to cut a ball back across goal in 12 minutes. Stevie Crawford was playing well and set up Burchill with a good chance in 13 minutes but the keeper does well to save.

Bamba made two quick blocks from shots as he kept himself very much involved in the thick of the action.

Morton take the lead in 21 minutes as Weatherson seems to have all the time in the world to clip a delightful lob past McKenzie which goes in off the keepers right hand post to give the visitors a deserved lead. Weatherson hit a long shot from about 45 yards out but McKenzie still had to get down to hold.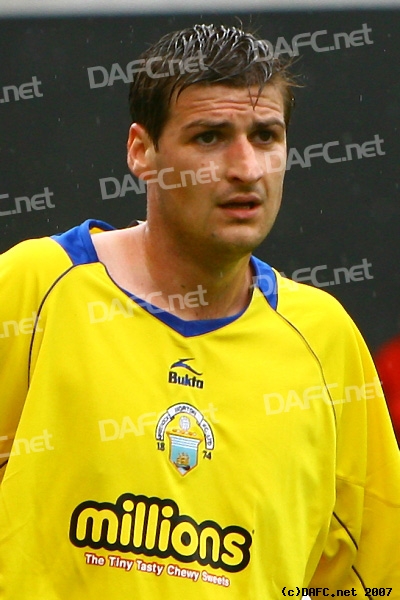 Former Pars Chris Templeman.
At this stage the Pars instead of stepping up a gear were lacking in inspiration. It seemed everyone wanted to get rid of the ball and noone wanted to take responsibility. The number of times the ball went sideways or backwards was extremely telling but when you have Darren Young in the team what else do you expect?

Stevie Crawford looked like one player who could unbolt this Morton defence and he was unlucky with a shot well saved by Robinson but Burchill could not put away the rebound. Darren Young did have a shot in 37 minutes but it was wildly over the bar.

Crawford was on the end of a good passing move but chose to cross than shoot in 43 minutes and the chance was squandered. McAlister was booked for a foul on Harper. Half time 0-1.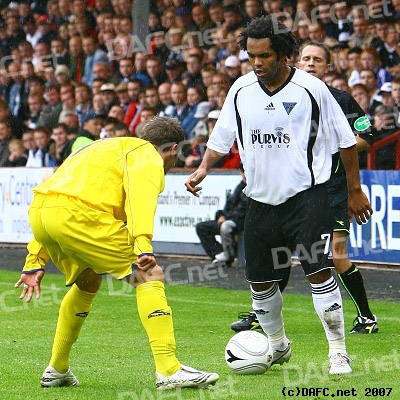 Kevin Harper in action.
Stephen Glass picked up a soft yellow card for a trip when the player appeared to have crossed in front of him and it was particularly harsh given some of the challenges that had been dished out by Morton.

Walker had a great chance to make it 2-0 for the visitors when he eluded Muirhead but his shot was wide although it appeared McKenzie had actually saved it but there was no corner. Burchill headed over for a good cross from the left by Harper in 53 minutes. McManus had a good shot wide after set up play by Crawford.

Owen Morrison came on for Burchill in 55 minutes as no doubt Stephen Kenny was looking for more wing play. Sadly it looked as if Morton had done their homework as everytime Morrison got the ball he was surrounded by three defenders to crowd him out. As usual, Morrison very quickly lost interest. But he was not alone.

Harper charges down the right wing laying back to Shields but his cross is blocked. In 66 minutes another good chance for Morton to score from a corner as Weatherson headed over completely unmarked.

Templman was booked for a foul on Bamba but for persistent fouling in 69 minutes. Nipper Thomson made a strong run forward but simply took too long to decide what to do and was dispossessed. Hamilton replaced Crawford and did manage to cause the Morton defence a bit more of a problem with his physical presence. Young was replaced by Simmons in 80 minutes.

A great chance for the equaliser in 85 minutes as Pars had numbers forward but the ball in from Glass was poor and the chance lost. Just to add the Pars misery Glass was sent off for another weak yellow card which should have decreed some common sense from the referee. Final score 0-1.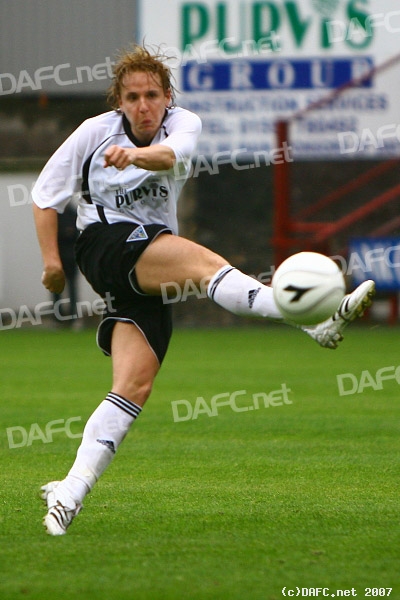 Tam McManus. Pars v Greenock Morton 11th August 2007.
At the start of the 2006/07 season there should have been more changes in the Pars side especially in midfield. That proved to be a major problem area for the whole of last year and this season is already shaping up to be the same. The lack of physical presence and pace makes the midfield simply disappear. Young and Glass do not have these attributes and apart from passing sideways or backwards give nothing to the midfield which, frankly, at this level for two such experienced players is shocking. The number of times the midfield picked up the ball and passed back the way or sideways when there was an acre of space in front of them was appalling. Why is it necessary for the centre midfield players to pick up balls from the defenders deep in their own half? Are the defenders incapable of walking to the half way line with the ball, it is beyond a joke!

Last week the defence were particularly bad and, sad to say, it was the same today with the notable exception of the DAFC.Net MOM, Sol Bamba. Shields looks well off the pace and his passing was terrible. Thomson`s career at Dunfermline should be finished with immediate effect. He is too slow in thought and deed and he no longer has that ability to hold off a challenge. Scott Muirhead was not brilliant either but he got little support from the players in front of him. Roddy McKenzie had little to do and could not really be blamed for the goal but his distribution is still a weakness.

Bamba did make his mark and stopped a couple of good chances for Morton. He even found time to make good runs forward. Sol is a big lad and the very physical nature of the teams in this division he is one Pars player who will not be easily pushed off the ball plus for a tall player he has good pace.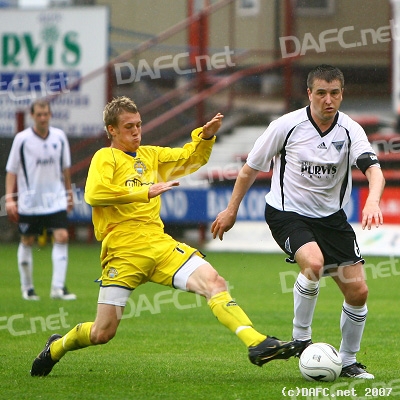 Scott Thomson in action.




Harper still does not look match fit and if he is he had a very poor game. He hardly got past the Morton full back all afternoon and the quality of his crosses was poor.

The forwards got little support but did not help the cause by not being able to hold the ball up. Crawford was the best of the bunch and looked like he was trying. McManus also worked hard but did not have a decent chance the whole game. Burchill. What does he actually give the side? He skips around the park but never wins the ball, cannot hold it up. With his supposed pace he should be closing down defenders and harrassing the living daylights out of them but I doubt the Morton players even noticed he was playing.



views: 4,869