Dunfermline 1-0 Hibs
Date: Saturday, 7th Apr 2007

Every recent game at this point is a must-win game, and today they did in style to claw to within 4 points of St Mirren.
McCunnie gets the nod in midfield, and McManus comes back in up front with McIntyre. Bamba and McGuire will pick up central defensive duties, while Nipper makes an appearance on the bench alongside Hamill.

Pars have a solid case for a push in the Hibs penalty area but Ref MacKay waves play on.
Phil McGuire v Abdessalam Benjelloun.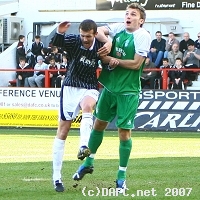 Pars penalty claim (1 of 3).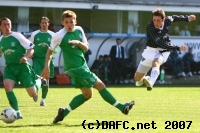 Jim O`Brien shoots.
Hammill takes a free-kick out wide about 20 yards out from the corner flag and finds McGuire in the box who heads in for the Pars goal.
Related Stories


views: 2,069