Dunfermline Athletic 0
Airdrie United 0
Author: Alistair Campbell Date: Saturday, 23rd Aug 2008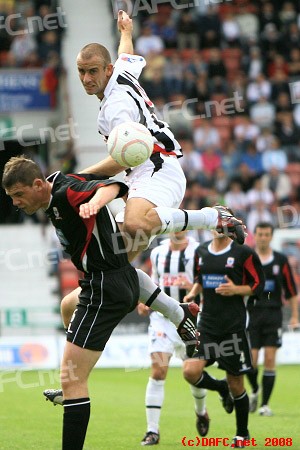 Speculation before the match had been varied - would Nipper Thomson walk straight back into the side; was the match official really on the fundamentalist wing of the refereeing profession; who was the mystery man seen sitting with the squad at the Alba Cup tie and, more importantly, could the Pars continue their promising start?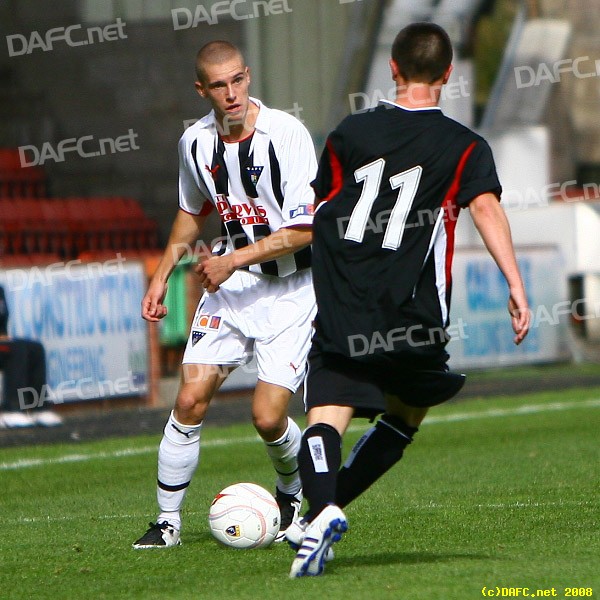 Calum Woods in action.
The first and third questions were answered with the arrival of the team-sheet - after his mid-week experiments manager McIntyre was sticking with the line-up that had played most of the 90 minutes at Perth - in goals Gallacher, a back 4 of Woods (recovered from his dead-leg), Shields, Wilson and McCann; Williamson, Glass, Phinn and Burke in midfield and Kirk and Bayne up front. On the bench were sub keeper Reidford (who didn't feature in the warm-up), Muirhead, Thomson (S), Bell and the surprise: Simon Wiles - the former Blackpool man who had been correctly identified on DAFC.net as the strange face in Wednesday's crowd.

Playing in their black and white stripes and shooting towards the Cowdenbeath end, the Pars started the better of the two sides, but without really threatening early on - a couple of corners came to nothing and Burke's 8th minute shot hit Phinn, rather than finding the target.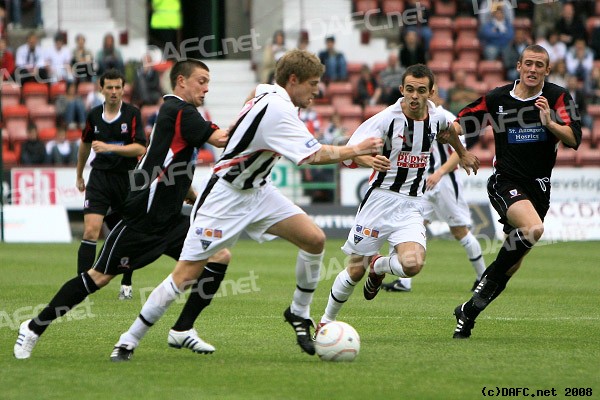 Iain Williamson and Nick Phinn in action.
There was a slight concern when McCann suffered a head -knock after 11 minutes but there were no long term effects; two minutes later the Pars had a half chance when Burke's scuffed shot came too quickly for Kirk to get any accuracy with his deflection.

In the 18th minute good play by the home side led to McCann picking out Glass at the far post but the midfielder, in what has been a much rarer forward foray this season, could not get over his header.

Burke was keeping possession well, usually managing to find half a yard of space and featured in a good move in 27 minutes which ended with Bayne firing well over.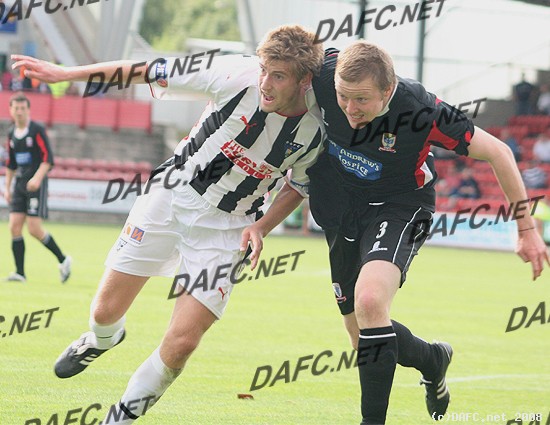 Ian Williamson fighting for the ball
On the half hour mark there were 2 moments of controversy - firstly what looked like a Pars corner was given as a goal-kick to Airdrie, and then when Phinn appeared to win the ball from Cardle at the edge of the box, a free kick was given, with the young midfielder getting a yellow card for his trouble, an incident which would have later repercussions.

The off-field temperature rose a couple of notches and Lynch was next to be carded for dissent.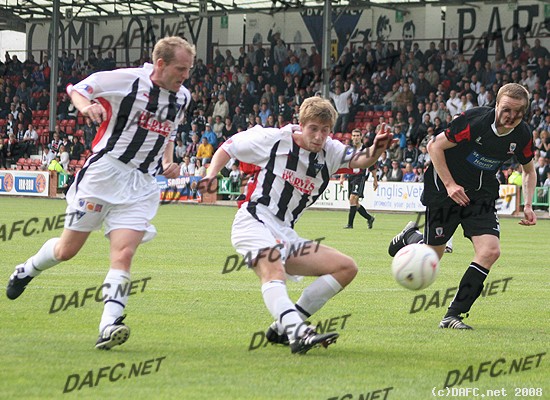 Willamson puts his effort over the bar
Calum Woods was not messing in defence and in 34 minutes he virtually tackled Shields when sending a firm high backpass to Gallacher - fortunately the no 1 had time to chest the ball down and clear.

The Pars finished the half strongly - Burke got a shot on target in 44 minutes, but with his weaker right foot and a minute later he looked like he was about to do better following a good run, but the ball was virtually taken off his toe by Williamson, only for the latter to shoot over.

Half time: Pars 0 - Diamonds 0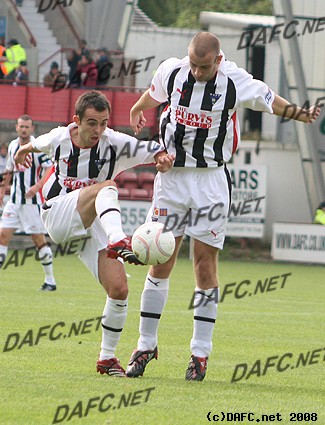 Bayne and Phinn get in each others way




There were no changes at half-time, but the Pars nearly got off to a flyer after only 35 seconds when a 25 yarder from Kirk whistled past keeper Robertson's right-hand post.

Burke had another couple of chances 5 minutes later - first Woods went on one of those runs where he perpetually seems just about to lose control - this time he threw in a step-over before feeding the experienced no 11, but his shot from distance was high - his next effort, from much closer in, seemed to be deflected behind the predatory Kirk and cleared.

Then in 54 minutes came the game's defining incident - Glass's shot was deflected and as Phinn chased the ball to the bye-line he fell under minimal pressure from Robertson. The referee glanced at his assistant, and with there being no indication of contact, flashed a second yellow, followed by the inevitable red.





views: 3,297