Dunfermline Athletic 0 - 1 Dundee
Author: Neil Farrell Date: Saturday, 22nd Mar 2008

Not for the first...or last time a "Pars reject" comes back to haunt us by scoring a rare career goal against Dunfermline Athletic. This game was simply mince without the tatties, a shocker, and what alarms me most is we have players who are alledgedly playing to try and earn new contracts. Time to get Anne Robinson in...
An unchanged side from last Saturday at Queen of the South saw the return of Scott Thomson on the bench following his recent thigh injury picked up at home against Hamilton 2 weeks ago. The Pars kicked off the game towards the "Cowdenbeath end" in front of what to me was a small Dundee support of about 800 on what was a very cold day for the time of year.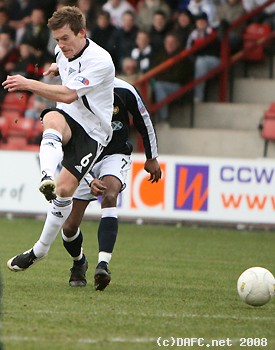 Scott Morrison shoots
Early doors, not much to write about at all with both sides giving the ball away cheaply. Calum Woods left the field on the 12th minute to go to the physio room underneath the Norrie Stand to try to patch up a cut. Stephen Simmons took his position for a short time until Scott Thomson came on to replace Woods with Thomson partnering Wilson in the centre and Greg Shields reverting to right back.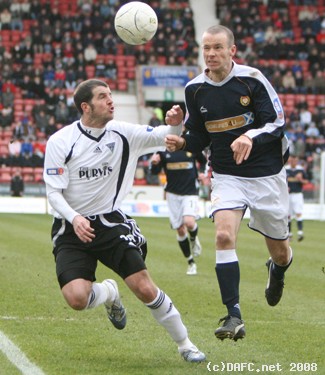 Crawford forces the corner
Nick Phinn and Stephen Glass had a couple of efforts on goal which did not trouble the Dundee keeper in any way.
What annoyed me the most was the Pars amazing ability to take the game backwards or to the side, rarely forward. Alex Burke in particular is guilty of this. You could argue that a lack of games is perhaps contributing to this but for me a winger is to take the ball forward as he usually has the space to do so. More often than not in the first half an "opportunity" to attack on goal often ended up getting passed back, and back again into the feet of Gallagher and then "booted" up the park for the diminutive Mark Burchill to attemt to beat his 6`1" counterpart in the air. Why do/have Dunfermline Athletic continually adopted this ineffective tactic for the past couple of years when it clearly (to me anyway) does not, and will not ever work?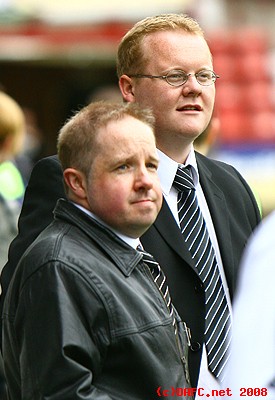 Mcintyre and Rae
Pars got their first corner on 41 minutes, that`s how good it got by the way. Former Newcastle United player Stephen Glass put in a worse ball than my granny could straight into the keepers hands. Evidently Mr Glass does not spend as much as the 4 hours practising dead ball situations as Mr Beckham does on the training ground. Totally unnaceptable as far as I`m concerned. I cannot recall a single decent corner Glass has put in in the recent games. Hardly rocket science isn`t it?

Burchill did have an opportunity to score just before the break when he gathered the ball from 30 yards out and blasted a dipping shot into the corner. Dundee keeper Craig Samson could only parry the ball to Simmons and his cut back was deflected for a corner. Glass flghted the ball to Nick Phinn and his shot was well over. Half time 0-0.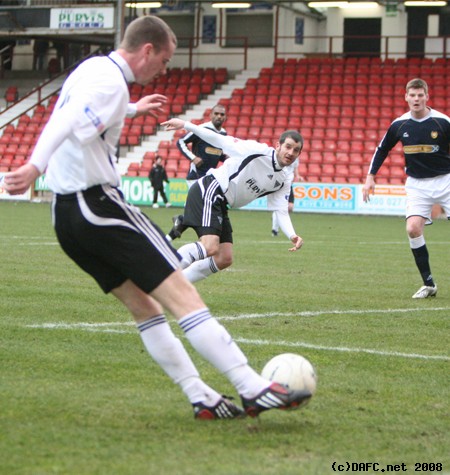 Simmons crosses to Crawford
Full match report will appear here later...........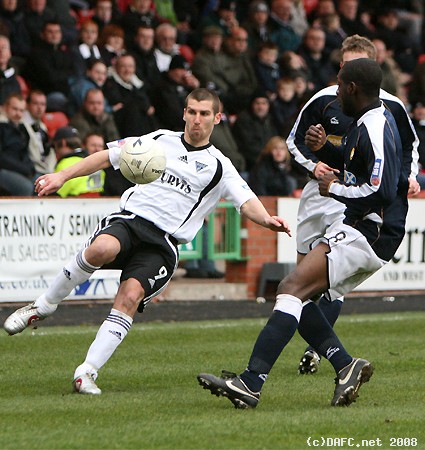 Burchill attacking




views: 1,851