Dunfermline Athletic 0 - 2 Hamilton Academical
Author: Alistair Campbell Date: Saturday, 2nd Feb 2013

Off-field events appear to be catching up with the Pars as they delivered another insipid performance, despite an unusual but generous private sponsorship offer, in what had seemed a "must win" game. After Hamilton had missed two veritable sitters, Stevie May shot the visitors ahead early in the second half with an absolute cracker, and a good Routledge finish soon after ensured it was the visitors who can look forward to the potential of a money-spinning tie in the quarter finals. What the Pars can look forward to is questionable.


Scottish Cup day used to be a treat, a chance to step out of the humdrum of league business, with the prospect of a blood and guts encounter and the tantalising potential of future glory. However, rather dully, both this season's ties have been against fellow first division teams, even it was more than 20 years since today's contenders had met in this competition. Back in 1990 George O'Boyle belatedly, after more than half a season of trying, scored his first goal for the club to win a replay at old Douglas Park. It seems half a season ago that Dunfermline won in the previous round at Firhill, and in the intervening 8 matches the Pars' form had hit the skids, with only two wins and five losses. With another mini-injury crisis, there was some ambivalence about over the match going ahead once it became clear that there would be a noon inspection. However, conditions relented, and it was game on.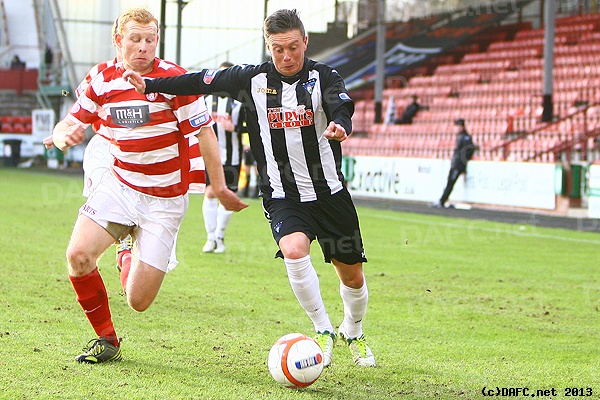 Joe Cardle v Ziggy Gordon.
None of the pre-match variations on a theme of what to do were Stephen Jordan to fail a fitness test materialised, with Jim Jefferies handing a surprise first team debut to 18 year old Ross Millen, who hadn't even featured on the bench before now. Ross, whose father Andy Millen enjoyed an incredible 25 year long career as a player, was given the right back slot, with Jordan McMillan moving across the back four to left back. For some reason Andy Dowie stayed at left centre-back, with the returning Callum Morris on his right. Stephen Husband was also back in midfield instead of the injured Andy Geggan, but Cardle, Falkingham, Byrne, Wallace and Kirk all kept their places, as did Gallacher in goals. On the bench were Whittle, Dargo, Thomson, Potter and Hrivnak, the latter two for emergencies only, presumably, and of course not only was Barrowman suspended, but everyone knew that fact.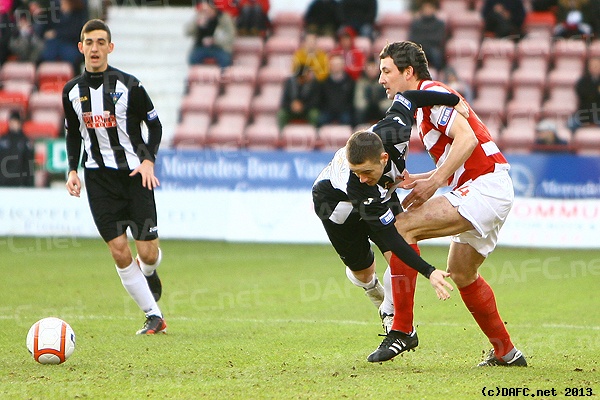 Ryan Wallace v Martin Canning.
Hamilton lined up as expected in a 4-1-4-1 formation – the experienced Alex Neil sitting in front of the back four, with Stevie May alone up front, like a marauding Miguel Angel Jiménez.

Skipper McMillan's sequence of winning tosses was broken, and it was the Pars who kicked off, kicking "the right way", but hopes of matching Dundee United's lightning start earlier in the day were quickly dashed by Wallace being flagged off-side within 20 seconds. Millen got a couple of early touches, although these were more clearances rather than passes as understandably he didn't want to get off to a bad start. Morris on the other hand had one of those awkward decisions to make in 6 minutes, choosing to rely on Gallacher getting to a through ball ahead of Routledge, which he did, just.

The Pars were desperate for an early goal – and had a decent chance in 9 minutes, Kirk just about holding off Page to set Wallace free, and Cardle met Ryan's cut-back at the edge of the box, but his shot was blocked. At the other end May broke through on the right, and Byrne had to be alert to cut-out the cut-back.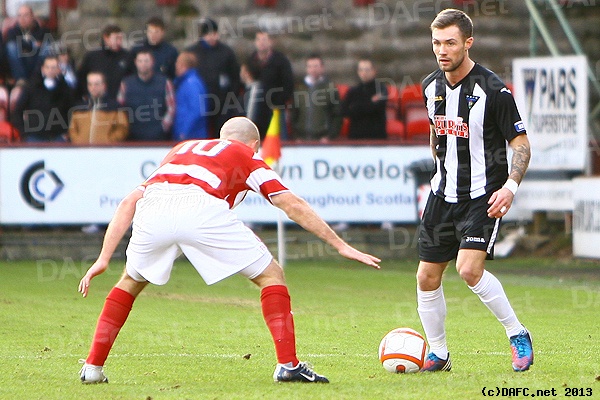 Jordan McMillan v Alexander Neil
Millen was on the corners, and he soon got a chance to chip one to the penalty spot, but Dowie's firm header was off target. The Pars had a much better chance a minute later – Cuthbert hit a poor clearance from a back-pass, which Cardle just about controlled, giving Gordon a sniff of a chance to tackle, but after he lunged in Joe was too quick and was away, setting up Wallace 12 yards out, but Cuthbert was out like a flash and blocked.

If that was a good chance, then Hamilton missed a complete sitter a minute later. Dowie and Morris between them seemed in two minds about what to do with the ball, Morris, eventually hitting a firm pass back to his keeper, but off the ground. Gallacher stumbled as he controlled it and under pressure from Routledge fluffed his clearance, straight to Stevie May. With the Pars defence struggling to get back May drew the keeper and squared to Routledge, who unbelievably missed his chance from 6 yards as Morris arrived from nowhere to stick in a leg in to knock his shot wide.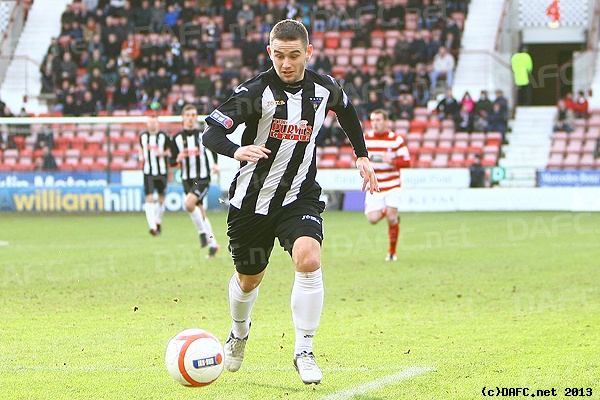 Ryan Wallace in action.
That was a real let off, and one hoped that the Pars would take advantage somehow, but they continued to be hesitant and uncoordinated, with the ball going sideways and backwards more than it was going forwards. The only half-chances came from two more Millen corners, where first Husband and then Dowie got their head to the ball but Cuthbert was untroubled, the half petered out.

Half time: Pars 0 Accies 0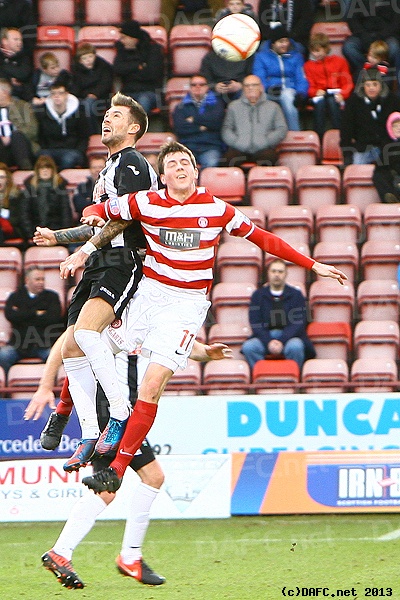 Jordan McMillan v Louis Longidge.




Hamilton kicked off the second half, and soon had another amazing miss to add to their collection. The ball was swung quickly from right to left, giving the visitors a 3v2; Millen looked hesitant and when Stephen Hendrie fired in his cross from Stevie May completely miscued in front of a gaping goal.

It looked as if it wasn't going to be Hamilton's day, but barely 5 minutes later they took the lead – May collecting the ball from a throw and seeming to ghost through a half-hearted tackle at the corner of the penalty area before crashing an unstoppable shot off the underside of the bar. 1-0 Accies.





views: 3,533